Forest Oil (NYSE:FST) yesterday announced a joint venture with Schlumberger (NYSE:SLB) for the development of Forest's Eagle Ford acreage in Gonzales County, Texas. Under the agreement, Schlumberger will pay a $90 million drilling carry to earn a 50% working interest in Forest's Eagle Ford acreage position. Forest will be the operator. The agreement excludes existing producing wells.
From a valuation standpoint, the announcement may appear a major disappointment: the transaction effectively values Forest's entire undeveloped acreage position in the Eagle Ford (~86,000 net acres at the end of 2012) at $180 million, a far cry from the $0.5-$1.0+ billion range that some sell side analysts were anticipating back in 2011 when the Eagle Ford M&A activity was at its peak. The low valuation should not be a big surprise, however. Due to expiration deadlines, the acreage is perishable goods - only 55,000 acres are expected to be held at this point under the new accelerated drilling plan. Most importantly, the acreage is located outside what is being considered by the industry as the play's "core." The map below from a recent presentation by Penn Virginia (PVA) shows that Forest's entire position (shown in light blue) is essentially outside of the "prime" corridor (Volatile Oil and Condensate Rich Gas). Marathon Oil (NYSE:MRO), one of the most significant operators in this part of the play, provides a similar map of the "core" in its recent presentation (the second map below).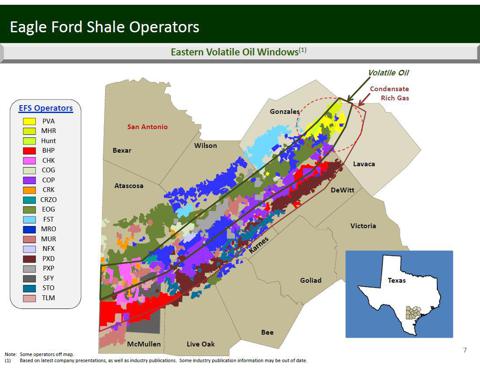 (Source: Penn Virginia April 3, 2013 Investor Presentation)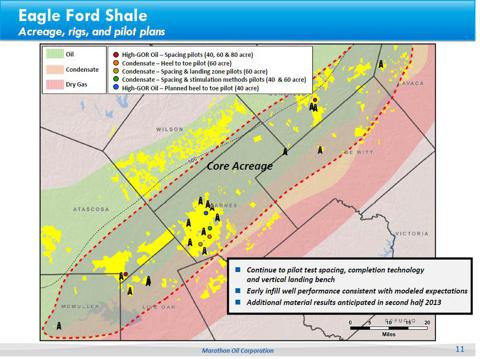 (Source: Marathon Oil March 18, 2013 Investor Presentation)
Ultimately, the industry's current view of the Eagle Ford's productivity outside of the core corridor may prove too conservative. Forest estimates average EUR on its acreage at 300 MBoe per location. At $6 million drilling and completion cost per well, such EUR should already be solidly economic. Assuming some future improvement in recovery techniques, there is a good chance that one day Forest's acreage will be viewed as part of the Eagle Ford solid "Tier I." Those considerations are almost irrelevant though. Forest has limited capital resources and is unable to accelerate drilling to retain more acreage on a "go-it-alone" basis. The company has essentially run out of time and took the best deal it could get at this point (while Forest has terminated the formal divestiture process last summer, the joint venture alternative has clearly always remained on the table).
The announcement brings a sense of reality to the market with regard to Forest's Eagle Ford asset valuation. Still, overall, the transaction is a strong positive for the stock. Effectively, the company will end up with ~12,500 acres less than under its initial plan in exchange for $90 million of "equity-like" capital. From Forest's perspective, this implies a valuation of ~$7,200 per undeveloped acre (some discount due to pressing lease expirations should be expected). By comparison, Penn Virginia just acquired Magnum Hunter's (MHR) Eagle Ford properties at an implied valuation of ~$15,000 per undeveloped acre in the "core" section of the highly sought-after volatile oil window. Magnum Hunter's acreage is well delineated, blocked up, has significant gathering infrastructure in place, and has demonstrated spectacular well results (EURs are estimated in the ~500 MBoe range, a tremendous difference in drilling economics relative to the 300 MBoe per well on Forest's acreage). In that context, Forest is receiving an excellent price in the transaction (even making some allowance for the service contract rates with Schlumberger that are essentially locked in for the duration of the drilling carries). The valuation also compares favorably to last month's $265 million acquisition by Sanchez Energy (NYSE:SN) of Hess Corp's (NYSE:HES) 43,000-acre Eagle Ford position which included significant reserves and production (13.4 MMBoe of proved reserves and 4,500 Boe/d of production).
The importance of the $90 million consideration being received by Forest should also not be underestimated. The capital injection is very material to the company in the context of its total ~$580 million market capitalization, projected budget deficits in 2013 and 2014, and very high debt level ($1.5 billion net, following recent divestitures) relative to projected cash flows from operations.
Another very positive aspect of the announcement is Schlumberger's commitment to a multi-million development program, on top of the $90-million upfront payment, that signals their high degree of comfort in the acreage's economics. Schlumberger's capital-validated endorsement is certainly news to consider.
The Transaction
Forest started looking for a joint venture partner for its ~100,000 net acres in the Eagle Ford back in 2011. After almost a year or unsuccessful marketing effort, which included a prolonged data room process, Forest was forced to abandon its JV strategy in June 2012 and follow a "go it alone" plan instead. Due to severe capital constraints, Forest decided to run a one-to-two rig program that should have allowed it to hold by production ~40,000 most prospective and "blocked up" acres in the oil window of the play before lease expiration deadlines.
In conjunction with the agreement with Schlumberger, Forest will accelerate drilling activity to four rigs (two "net" rigs to Forest's interest) by the end of the third quarter of 2013. The accelerated program should hold an aggregate of 55,000 gross (27,500 net) acres in Gonzales County. The increased acreage position has 688 gross (344 net) locations identified based on 80-acre spacing. Forest anticipates being able to drill 80 gross (40 net) wells per year beginning in 2014, which implies a ~8-year development drilling inventory.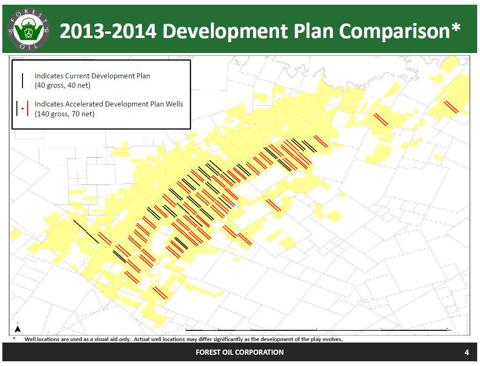 (Source: Forest Oil April 12, 2013 Investor Presentation)
Forest expects that the drilling carry will be fully realized in 2014. After that point, Forest and Schlumberger will participate in future drilling on a 50/50 basis. Forest projects that the capital carry amount combined with the accelerated pace of development will bring forward approximately $250 million in PV10 economics.
As part of the agreement, Schlumberger will provide assistance to Forest in the form of integrated service offerings and asset management support, including drilling, completion and lifting technologies; reservoir management technologies; and development of unconventional resources workflows.
Forest's Budget Gap In The Eagle Ford To Increase To $45 Million In 2014
Forest estimates that its share of capital expenditures in the accelerated development plan for 2013 and 2014 will total approximately $125 million and $220 million, respectively.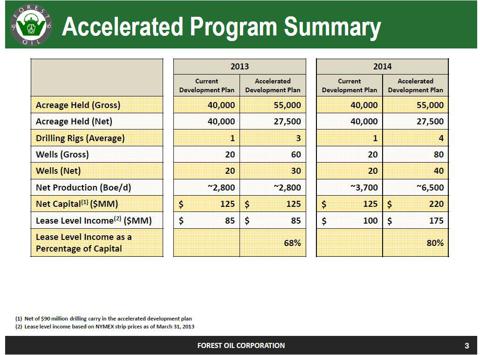 (Source: Forest Oil April 12, 2013 Investor Presentation)
The accelerated development plan will result in ten and twenty additional net wells being drilled in 2013 and 2014, respectively. The 2013 additional net wells are primarily scheduled to be on-line later in the year and thus will not materially change Forest's average net sales volumes for 2013. However, average net sales volumes from the Eagle Ford are expected to more than double to 6,500 Boe/d during 2014 from 2013.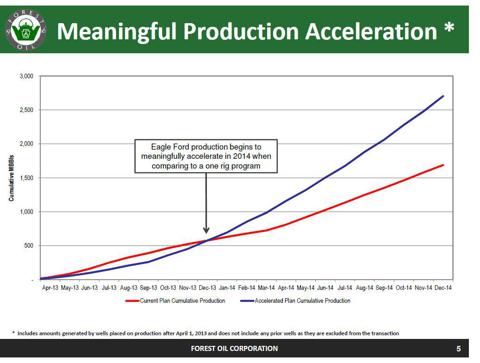 (Source: Forest Oil April 12, 2013 Investor Presentation)
Forest's Divestiture Program Almost Complete
Following two significant producing property divestitures in the course of the past six months and successful bond refinancing last fall, Forest has essentially addressed its most urgent finance-related issues. With the Eagle Ford JV announcement, the only divestiture initiative that the company still has ongoing is the potential monetization of the Permian undeveloped acreage position (two packages are currently being "shown" in the market). The debt level still remains very high relative to internal cash flows, the issue that may not go away for some time.
Schlumberger Captures A Sizeable Market Opportunity
The headline of Schlumberger buying into Eagle Ford acreage has already caused an animated reaction from the analyst community. The key question being asked: is this an emerging trend among oil service companies (who in fact are the bearers of cutting edge extraction technologies and, arguably, are best positioned to assess quality of prospects in new plays), or a one-off episode.
The answer, in my opinion, is: the latter. While precedents of such strategy certainly exist (Nabors Industries with their ill-fated foray into the E&P sector certainly comes to mind), it is hard to imagine this to become a scalable business model. Capital intensity of the upstream sector is the primary reason.
Having said that, the benefit that Schlumberger is receiving from entering into the joint venture with Forest is obvious: Schlumberger gains exclusivity in providing a full suite of services, under a contract, for an extra one hundred wells to be drilled in the next eighteen months, in addition to potential returns on the E&P investment.
Conclusions
The Schlumberger transaction is a positive for FST stock and has the meaning of accelerating future cash flows at the expense of selling down part of the working interest (no different from any other JV transaction). Price received is clearly not overwhelming, but is very understandable in the context of the existing M&A market environment.
The transaction illustrates the trend that has become very apparent in the course of the past eighteen months:
The abundance of acreage packages offered for sale in horizontal oil and liquids-rich plays has shifted bargaining power to buyers and reduced per-acre valuations.
Buyers appear more realistic in their assessment of economics at the project level; financial sponsors and international investors are better educated.
It may be precarious to use older precedent transaction metrics in valuing undeveloped assets within various companies' portfolios as the market environment has changed.
Disclaimer: This article is not an investment recommendation. Any analysis presented herein is illustrative in nature, limited in scope, based on an incomplete set of information, and has limitations to its accuracy. This article is not meant to be relied upon for investment decisions. Please consult a qualified investment advisor. The information upon which this material is based was obtained from sources believed to be reliable, but has not been independently verified. Therefore, the author cannot guarantee its accuracy. Any opinions or estimates constitute the author's best judgment as of the date of publication, and are subject to change without notice.
Disclosure: I have no positions in any stocks mentioned, and no plans to initiate any positions within the next 72 hours. I wrote this article myself, and it expresses my own opinions. I am not receiving compensation for it (other than from Seeking Alpha). I have no business relationship with any company whose stock is mentioned in this article.