Actionable Items:
Highest Positive Spread: Cornerstone's Funds
Focus Stock: Lazard World Dividend & Income Fund
Last Week's Focus Stock: Eaton Vance Tax-Advantaged Global Dividend Opportunities Fund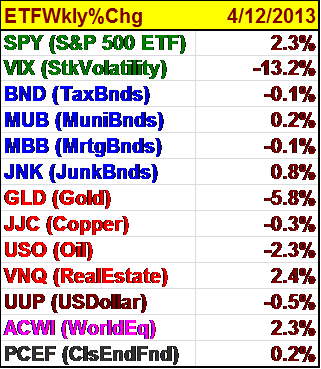 Consumer Sentiment Level Lowest Level Since 2012: Consumers reacted to the tax increases and consumption was waylaid for the first part of April. Thomson-Reuters/University of Michigan consumer sentiment index's preliminary April reading dropped to 72.3 from a final March level of 78.6. The April reading matches a recent low of 72.3 in July 2012. Economists surveyed by Dow Jones Newswires had expected the early April index to increase to 79.0.
The Commerce Department reported earlier Friday that retail sales dropped a larger-than-expected 0.4% in March. While treasury(s) climbed on weak retail sales. Sequester is making its way around the country.
Gold's is heading down as SPDR Gold Trust ETF (NYSEARCA:GLD) tumbled to its lowest level in two years. GLD may be selling at a climatic change as the "technical level" of gold is in violation. Oil (NYSEARCA:USO) has declined 2.3% for the week.
Mutual Funds: While mutual funds are in arrears (4/3/2013), the S&P 500's and the mutual funds' Domestic Equity funds seem to be at odds (See Chart).
Total taxable bond funds seem to be at a high for 7 weeks at $6.36 billion, for a total $8.8 billion dollars take for the week.
Both funds flow and S&P 500's may change in a week. However, bonds seemed to be a favorite choice as consumer retail sales weakened.
The ETFs: The ETF sectors are arranged year-to-date (YTD) in order as of 4/12/13. Health Care, Consumer and Mid-Cap were leaders. Natural Resources, Pacific/Asia and Commodities were laggards.
Commodities decline, notably (adjacent chart). Gold and U.S. Oil (in the chart above) were down -5.8% and -2.3%, respectively. We're not seeing an economic recovery until the second half.
CEF Weekly Fund Type Performance: This week saw price rises for GenEqFnds (+1.6%), SpecEqFnds (+1.1%) and WrldEqFnds (+1.0%). The laggards were SingleStMuniFnds (-0.3%), USMrtgBndFnds (-0.3%) and NatlMuniBndFnds (-0.1%). Most of the CEFs prices were down below their NAVs (PrcNAVSprd) as were SpecEqFnds and WrldEqFnds, down -0.5%; ConvtSecFnds and WrldIncFnds down -0.4%.
Highest Spread and Stock for the Week: Cornerstone Total Return Fund (NYSEMKT:CRF) was ahead by a price increase of +2.6% (increase of 1.4% in dividend 4/12/13) and NAV per share came flat. The PrcNAVSprd was +4.0%. (A positive number may mean a future decline in share price). The annual monthly distributions are 16.5% which are all return-of-capital ("ROC"); therefore, eating into the NAV. Total premium is 28.9%. The total assets are $53 million and the management fees are 1.98%.
Cornerstone Strategic Value Fund (NYSEMKT:CLM) has a dividend of 16.9% for two months both May and June. The dividend is return of capital. CLM recorded a price increase of +1.8% (increase 1.4% in dividend 4/12/13) and NAV per share came in around -0.5%. The PrcNAVSprd was +3.2%.
Both CRF and CLM have 2/8/13 distributions for 2 months: May and June. Based on CRF monthly distribution, the yield per month is close to $1.0 million. From an annual rate, the distributions are costing you $12.0 million (total assets $53 million). From 3/31/10, the share price was $10.35 per share while the steep current slide is to $6.64 per share.
CRF is all ready for some "rights offering".
Lowest Spread and Focus Stock for the Week: Lazard World Dividend & Income (NYSE:LOR) share price declined -0.8% for the week with a positive 2.3% from its NAV per share. Its PrcNAVSprd decline was -3.0%. LOR discount is 6.4%, but not exceeding its average of -3.6%. It only has $113.7 million with structural leverage of 10.1%. Its monthly distribution is $0.0792 per share; it has increased its distribution 17.8% from the first month of the year. The annual distribution yield is 6.7%. The ex-distribution was paid on 4/10/13.
Focus Stock & High Price for Last Week: Last week's "Focus Stock" for the week was Eaton Vance Tax-Advantaged Global Dividend Opportunities Fund (NYSE:ETO) which was up 2.0% for the week-ending on 4/12/13. The ex-distribution payment of 4/19/13 (Friday) is $0.135 for a monthly.
Disclosure: I am long LOR, USO, GLD. I wrote this article myself, and it expresses my own opinions. I am not receiving compensation for it. I have no business relationship with any company whose stock is mentioned in this article.