Shift to Mobile
Right now, we are all living with a front row seat to watch one of the biggest revolutions of modern technology. The widespread adoption of smartphones and tablets is almost as revolutionary as the personal computer wave and the internet. Think about it; now the computer has feet for most people and is accessible in any situation. There is a time and a place for laptops, but smartphones and tablets can be used anywhere at anytime. This is big.
What it Means for Internet Companies
Internet companies primarily derive revenues from advertising. They must continuously adapt to technological changes to maintain and improve site traffic. There are now two new platforms for access to the internet: the smartphone and tablet. What this means for site traffic is that more traffic will come from these new platforms, less traffic will come from existing platforms like the desktop and laptop, and more traffic will come in general because the internet is more accessible. If I'm an internet company, my priority is to make sure that I stay in the equation as the internet shifts to mobile. Let's take a look at a company that has done just that.
Google Takes Mobile
Google (NASDAQ:GOOG) was one of the first movers into mobile. I give Larry, Sergey, and Eric all the credit in the world for recognizing how significant the smartphone revolution is for the internet search and advertising industry and acting early on. Google, just like Baidu (NASDAQ:BIDU), runs an internet search engine and makes almost all of its revenues through performance-based internet advertisements. Google's advertising revenues are performance-based in that Google gets paid a specified amount for every consumer click on its advertisements. The more clicks the company can generate, the more it makes. The nature of this payment system makes site traffic critical to the company's performance. Google recognized early on that the transition to mobile internet access could make or break the company. That's why the company took serious steps to ensure that it would be the mobile search engine of choice.
Google did so primarily in two ways. The company acquired Android Inc., a smartphone software-developing startup, in 2005 and worked with Android's talent to create an open source mobile operating system (also called Android). Like most things Google has done, the company did it well. Today, Android is the widely accepted champion of open-source mobile operating systems. According to Strategy Analytics, Android enjoyed 68.4% market share of the global smartphone market in 2012.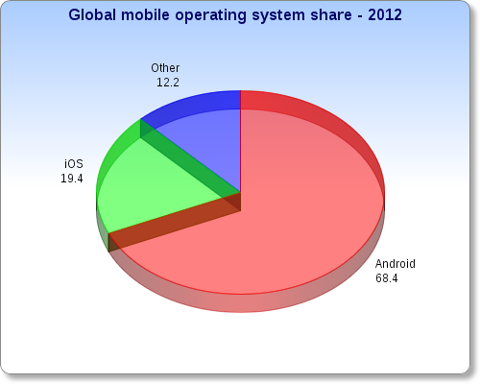 Provided by Venturebeat.com
The OS is also quickly approaching majority market share in the tablet market according to a recent SA article: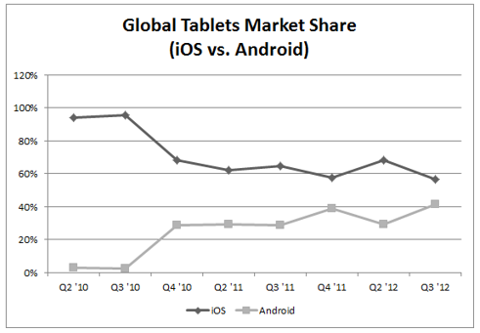 Chart provided by Dividend Pros. Data provided by Statista.
Google strategically offers Android to device makers free of charge. The company does so to give the OS the 'low cost provider' competitive advantage, fueling its popularity with a price tag that competitors can't compare to. The company is extremely financially intelligent for doing so. Google recognizes that its lines of business are related. It also recognizes that the company benefits most when total profits are highest.
Because of this, the company operates its many segments to optimize total profits rather than the profits of each individual line of business. The company could easily charge device makers royalties for using Android, but the added popularity that the OS achieves now when it is free adds more to advertising profits than the opportunity cost of the lost OS royalty profits. Android contributes to Google the most at its current price, even though the company is taking a loss on that particular product.
So why does Android add to advertising profits? For Google, being the creator of Android has its perks. The company has control over the default settings of the OS. One important setting is the default search engine. Of course Google is the default search engine on Android phones. Users are statistically unlikely to switch this setting and so Google keeps most internet traffic coming from Android devices. But what about non-Android devices?
Google has an answer to that too, and its much more simple. The second highest market share OS is Apple's (NASDAQ:AAPL) iOS, which runs the iPhone, iPad, iPad Mini, and iPod Touch. Because Apple does not have a search engine of its own, the company doesn't much care what search engine is used on its devices. Apple is also a very smart company though. Realizing how critical the default search engine setting on its devices is to companies like Google, Apple decided to sell the default search setting to the highest bidder. Google must have outbid Microsoft (NASDAQ:MSFT), the owner of the Bing search engine, Yahoo (YHOO), and InterActiveCorp. (IACI), the owner of Ask.com, for the default setting privilege.
According to Techcrunch.com, Google pays Apple per device. Currently the cost is about $3.30 per device, but the cost rises every year. In total, Google paid Apple about $1 billion in 2012 for the default setting, about one third of Google's Traffic Acquisition Cost [TAC]. Google also paid various other OS providers like the Mozilla Foundation for the default setting privilege. Bing is currently the default search engine on Nokia (NYSE:NOK), BlackBerry (NASDAQ:BBRY), and of course Windows-powered devices though.
Through Android and strategic TAC investments, Google has ensured itself a place in the smartphone/tablet revolution. We can be pretty confident that Google will continue to dominate search in the future, and Google should be pleased with that. The real kicker behind Google's mobile strategy is Android. Anyone can spend money to become the default search engine, but Google is the only company that will ever have that status on Android devices. So long as Android maintains its market share, Google maintains the lead in mobile search.
Google did what everyone else is now trying to do better and earlier than everyone else. Everyone in the internet industry is now scrambling to create a software 'kicker' as a way to sustain and expand internet presence and traffic.
For example, Facebook (NASDAQ:FB) recently announced the release of Facebook Home, a mobile software system that lies somewhere between an app and an OS in size and function. Some are saying that the technology will be huge for Facebook, because it includes free voice over internet protocol (OTCPK:VOIP) access that could potentially cut out the carrier and save consumers a lot of service dollars.
The purpose of this article is not to applaud Google or Facebook though. I am trying to explain why Baidu needs a software kicker similar to Android through peer analysis.
Baidu Needs to Make Itself Needed
Management at Baidu seems to understand the gist of what I am recommending. In the company's FY 2012 earnings call Robin Li said the following:
In this time of disruptive change, having a killer app is the key and Baidu's LBS and MAP services continue to be stars.
The beginning of what he said is along the lines of what I've been suggesting this entire article. The 'software kicker' I've been describing doesn't need to be simply an app though. Like I said, it could be an OS or an app/OS cross like Facebook Home. Honestly, it could really be anything. It doesn't even have to be software. I've suggested software because that is Baidu's expertise, but the kicker only needs to make Baidu an integral part of the smartphone revolution in China. That is the goal, and as an investor, that is my primary concern.
From the quote above, it appears that Baidu is banking on its Baidu MAP app as the kicker that will allow the company to dominate mobile in China. As an investor interested in Baidu, the most important thing to determine, in my opinion, is if the MAP service will be an effective strategy, and if so, if it will simply keep Baidu in the competition or allow Baidu to actually win mobile. For me to actually buy Baidu shares at current price levels, I'd have to believe that Baidu will dominate mobile in the next few years.
Baidu MAP - Is it the Answer?
Baidu MAP is a Chinese GPS directional service. Its biggest competition is Autonavi (NASDAQ:AMAP). Autonavi provides mobile mapping services for Apple Maps and Qihoo 360 (NYSE:QIHU) among others in China and also offers its own Android app. Autonavi currently has a moderate lead on Baidu MAP for the #1 spot in the Chinese market.
Baidu MAP gained about 2% market share from Q1 to Q3 of last year but the increase was mostly attributable to Google abandoning its Chinese Google MAP app, not so much stolen market share from Autonavi. In Q4, both Autonavi and Baidu MAP gained market share, but Autonavi took about 3 times as much market share as Baidu MAP, further extending its lead.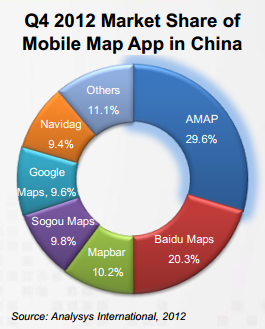 It appears that Baidu MAP is losing the battle to Autonavi despite having superior resources and recently making significant increases to R&D spending. Autonavi has 10 years experience in Chinese mapping services during which it accumulated a data collection that will take Baidu a while to match. Autonavi also has the content deals with big names like Apple and Qihoo and is taking market share faster than Baidu MAP.
All of this leads me to the conclusion that Baidu MAP is an inferior service to Autonavi, at least for the foreseeable future. I began my search expecting to find Baidu MAP leading the market. I thought I'd only have to determine whether Baidu MAP could eliminate the competition. I was surprised to find it wasn't even winning the battle.
Overall Look at Baidu's Mobile Grasp
I went into the MAP discussion because that's what Baidu claims to be its kicker. Clearly that's not the case, but the bottom line is how Baidu is doing in mobile search. The company's goal is to dominate search market share in China like Google does in the US.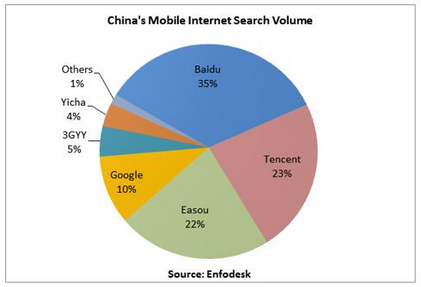 As you can see, Baidu does have the lead in mobile search, but it is far from market domination. I am drawing this information from an article by fellow SA contributor Jiang Zhang. Basically he believes that Baidu will struggle to improve upon its current market share because of fierce competition from Tencent and Easou.
Conclusion
In the first part of this article, I detailed how Google went about dominating mobile search in the US to give you an idea of what kind of strategy Baidu would need to do the same in China. Clearly the company is committed to mobile, CEO Robin Li said so himself. The company even has a clear strategy - it plans to invest in Baidu MAP and leverage it to gain more and more search market share. In my analysis of Baidu MAP, I found that the app service was losing the battle to Autonavi. On top of that, Baidu faces fierce direct competition in mobile search from Easou and Tencent.
My conclusion is that Baidu does not have a strategy to enter mobile that is nearly as effective as what Google did, and so the company probably won't come to dominate Chinese mobile search like Google did in the US. Right now we are in the middle of a technological revolution in which smartphones and tablets are fast replacing laptops and desktops as the platforms through which people are accessing the internet. Because there is a large drop-off in Baidu's market share from search to mobile search, Baidu's revenue and profit growth will likely decelerate and underperform in the years to come as its net search market share declines. The company will likely suffer from the mobile revolution rather than capitalize on it, and that means trouble for stockholders. I'm still interested in the company, but I need to see a lower price to justify the risk related to the shift to mobile.
Disclosure: I am long AAPL. I wrote this article myself, and it expresses my own opinions. I am not receiving compensation for it (other than from Seeking Alpha). I have no business relationship with any company whose stock is mentioned in this article.