I strongly believe healthcare real estate investment trusts (REITs) should be part of a diversified income portfolio. This thesis is based upon the aging of America's population. Our society requires growing healthcare services for the aging population. My investment analysis is based, in part, upon traditional financial statement metrics. This article focuses upon Ventas (NYSE:VTR), HCP Inc. (NYSE:HCP), and Healthcare Trust of America (NYSE:HTA). Income investors can benefit on this thriving income sector.
Healthcare REITs Work Long Term: Proof Positive
I will focus, first, to highlight the actual returns based upon dividend reinvestment. This is a clear signal whether the idea meets further scrutiny. I believe the data supports further investigation.
Ventas Stock Return with Dividends Reinvested: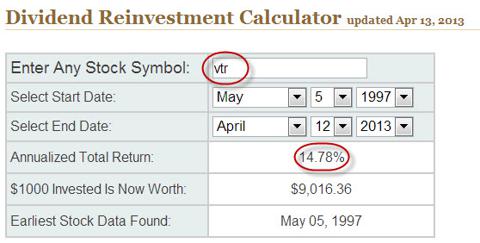 HCP, Inc. Stock Return with Dividends Reinvested: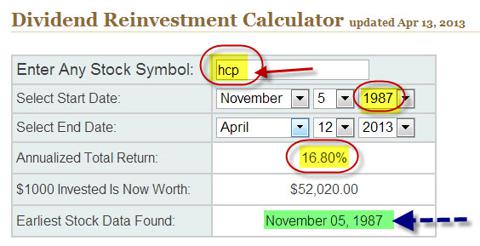 Healthcare Trust of America Stock Return with Dividends Reinvested: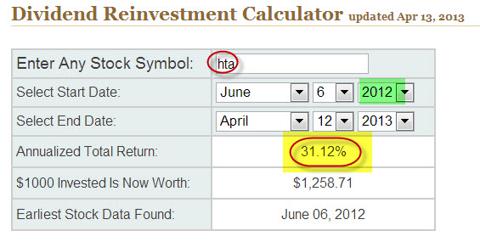 Sector Background
The senior housing and healthcare real estate market is estimated to be worth $1 trillion, of which merely 10% is owned by public REITs. The rest is held by independent private operators and presents tremendous opportunity for acquisition and growth.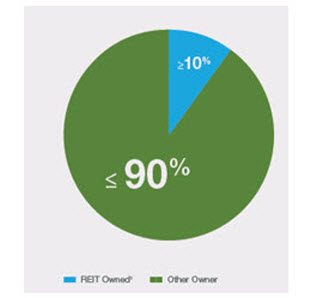 The donut chart below shows the largest healthcare property classes with outpatient facilities and medical office buildings (MOB's) accounting for 39% of the $1 trillion asset base, hospitals accounting for 31%, private pay senior housing for 15% and skilled nursing facilities (NYSE:SNF) for 10%.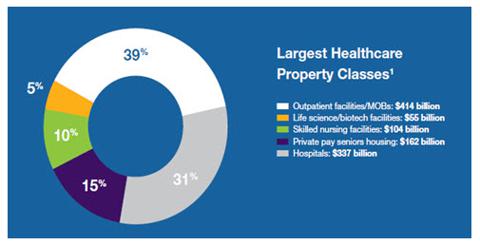 Moreover, U.S. demographic trends favor healthcare REITs that focus on senior care, with the seniors' segment projected to grow 120%, well above growth for younger generations.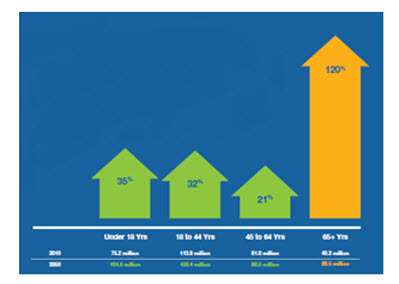 This growing population of 65+ yeas old seniors has resulted in 11 consecutive quarters of growth in senior housing communities, higher occupancy rates and strong demand for new construction. Growth in Skilled Nursing Facilities and continuing care retirement communities has, however, slowed over the past year.
For healthcare REITs, Funds from Operations (FFO) - a key gauge of a REIT's ability to pay dividends - are projected to grow 21% in Q1 2013 based on demographic growth trends. As a result, healthcare REITs are in high demand - for the dividend income stream they deliver, for the predictability of their cash flow based on long-term leases of essential facilities, for their revenue and earnings growth potential based on growing demand and for stock price appreciation. Moreover, investors view healthcare as a defensive sector that is relatively immune to economic cycles with stable demand for senior housing and care.
So, given bullish fundamentals in the healthcare REIT sector, I looked at three promising healthcare REITs - Ventas, HCP and Healthcare Trust of America - that have seen 20%+ growth in FFO and have active M&A strategies for growth in this sector.
Ventas
Fortune Magazine named Ventas the world's most admired real estate company. Ventas is a leading, publicly-traded healthcare REIT with over 1,400 diversified, high-quality healthcare properties in 47 states, D.C. and two provinces in Canada. Ventas owns 697 senior housing properties, 387 Skilled Nursing Facilities, 329 Medical Office Buildings (MOBs) and 47 hospitals. Across the US, Ventas' subsidiary, Lillibridge (acquired by Ventas in 2010), provides leasing, marketing, facility development, advisory and management services to prestigious hospitals and health systems, which nicely complements Ventas' real estate business.
In FY 2012, Ventas' healthcare properties generated net operating income (NOI) of $1.5 billion. In 2009, Ventas was rated top performing financial company of the decade based in its well planned and executed acquisitions that have significantly added to earnings without bringing down balance sheet quality. Since 2003, Ventas has made eight major acquisitions in senior living, housing and healthcare services. In 2012, Ventas acquired Cogdell Spencer's portfolio of 71 MOBs and minority ownership in Atria Senior Living. These accretive acquisitions give Ventas a solid footing in the healthcare REIT sector, supplemented by Ventas' strong balance sheet and investment grade tenants.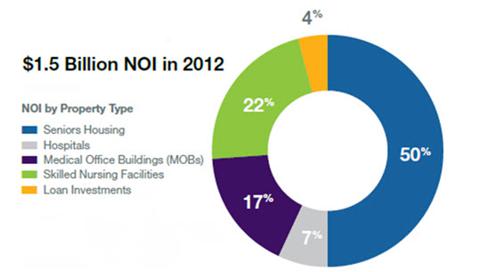 The donut chart above shows Ventas' NOI by property type. Seniors Housing brought in 50% of profits followed by SNFs at 22% and MOBs at 17%. So, within the healthcare sector, Ventas is well diversified by property type while also being 50% weighted in the fastest growing sector - seniors housing.
Ventas also has significant diversity with eight prime operator/managers including Brookdale, Atria, Kindred and Sunrise.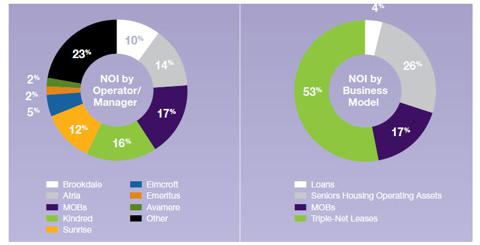 While healthcare is subject to government regulations and Medicare related budgets, Ventas gains some degree of protection from that because 83% of Ventas' revenue comes from private pay and 17% from SNFs and hospitals. 53% of its income comes from triple-net leases, 26% from senior housing assets and 17% from MOBs. By geography, Ventas properties in California, New York, Texas, Massachusetts and Illinois are the biggest contributors to revenue.

HCP Inc.
HCP, Inc., is the first healthcare REIT to enter the S&P 500 Index and the only REIT included in the S&P 500 Dividend Aristocrats Index because of its 28 consecutive years of dividend increases. The company owns 1,086 properties worth about $21.3 billion. In addition to growing its healthcare real estate portfolio, HCP is committed to developing energy-efficient properties which reduce energy costs over the long run and also generate savings tied to environmental tax incentives. HCP's operating income comes predominantly from senior housing, post-acute/SNFs, life sciences and MOBs, with well-known tenant-operators such as Emeritus, Brookdale, Sunshine, HCR Manorcare and HCA.
The table below shows how HCP has grown from two properties in 1985 (when it went public) to multiple properties in senior housing in particular, post-acute/SNF, life sciences, MOB and hospitals - through joint ventures, debt and development, with five deals in 2012. In a major deal in the healthcare REIT sector in 2012, HCP paid $1.7 billion to acquire 129 senior housing communities from a joint venture between Emeritus Corporation and Blackstone Real Estate Partners.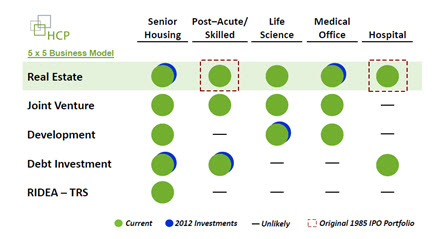 Including its Emeritus-Blackstone acquisition, HCP derives 36% of its net operating income (NOI) from senior housing, 31% from post-acute/SNF, 15% from life science, 13% from MOB and 5% from hospitals. HCR ManorCare accounts for 29% of its rental income, Emeritus for 13% and Brookdale for 8%, with the rest split amongst other high quality tenant-operators such as Amgen for life sciences.

HCP has a strong presence in California (23%), Texas (10%), Florida (8%), Pennsylvania (7%), Illinois (6%) and Ohio (5%), with 41% of its properties in other states.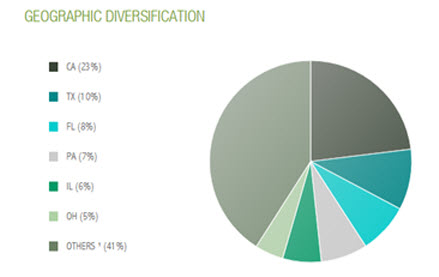 Healthcare Trust of America
Healthcare Trust of America was incorporated in 2006 and listed on the NYSE in June 2012. It is a leading owner of MOBs. Over the past six years, the company has grown its property portfolio to 246 MOBs and 19 healthcare facilities with an asset base of $2.6 billion across 27 states with average occupancy above 90%. Healthcare Trust is a fast growing healthcare REIT with a focus on acquiring, owning and operating good quality MOBs located on campuses of nationally recognised healthcare systems.
In FY 2012, the company made five acquisitions including St. John Providence MOB ($51.3 MM), Penn Avenue Place ($54 MM), a portfolio of 13 MOBs from Steward Health Care ($100 MM) and Rush MOB ($54 MM). The company is selective about the acquisitions it makes and prefers purchasing properties where the price is right, where occupancy levels are expected to be high, where its financial integrity and balance sheet strength are not compromised and where demographics favor long-term healthcare growth. As a result, the company slowed its acquisition pace in 2011 and 2012, as it absorbed past acquisitions.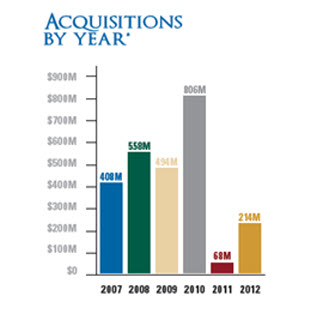 The table below shows hospital systems where Healthcare Trust has a strong MOB presence.

56% of Healthcare Trust's tenants are investment grade while 44% are not rated (as of December 31, 2012). Overall, 90% of its property portfolio is MOBs, 5% is hospitals and 5% is senior housing, across 27 states.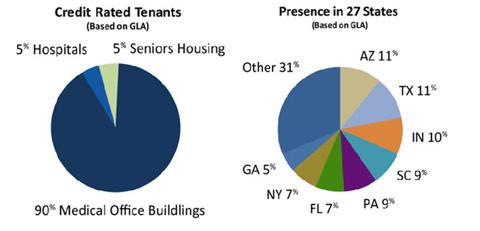 Valuation and Valuation Ratios
Of the three REITs - Ventas, HCP and Healthcare Trust - HCP is the largest by market capitalization ($23.3 billion), closely followed by Ventas ($22.3 billion), with Healthcare Trust a distant third ($2.5 billion).
Ventas has a rather high P/E ratio, more than double that of HCP. However, on other valuation ratios such as Price/Sales, Price/Book, Enterprise Value/Revenue and EV/EBITDA, Ventas and Healthcare Trust are roughly in the same range while HCP enjoys significantly higher Price/Sales, EV/Revenue and Market Cap/AFFO. Adjusted FFO (AFFO) is a key healthcare REIT metric - with Ventas and Healthcare Trust at about 12x each and HCP at almost 17. HCP also delivered significantly higher returns with ROE of 8% relative to 3% for Ventas and -2% for Healthcare Trust.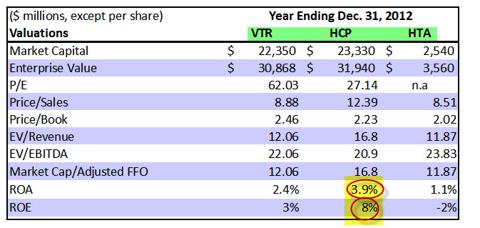 Revenue and Profits
Of the three, Ventas reported the strongest revenue growth - 43% for FY 2012, with a 2.4% return on assets (ROA) and a 3% return on equity (ROE). Ventas had positive earnings of $306 million, operating cash flow of $993 million, funds from operation of $1 billion and strong revenue per share of $8.57.
HCP generated $1.9 billion in revenues with $778 million of net income (more than double that of Ventas). The company ended FY 2012 with $1 billion in operating cash flow, $1.2 billion in FFO, 3.9% ROA and 8% ROE, making HCP fundamentally more attractive than Ventas because of its significantly higher profit margins of 41% versus 12% for Ventas and -8% for Healthcare Trust.
Healthcare Trust reported negative earnings but closed the year with $117 million in operating cash flow and $92 million in FFO.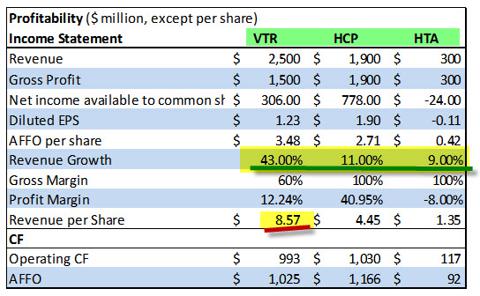 Debt and Balance Sheet Strength
Of the three, Ventas and HCP have comparable debt levels of $8.4 billion and $9.7 billion, respectively while Healthcare Trust has $1 billion in debt. All three have debt-to-equity ratios that range between 0.8 and 0.9, not overly leveraged as healthcare REITs go. HCP has a stronger balance sheet with a Current Ratio of almost 20, well above 2.0 for Ventas and 0.5 for Healthcare Trust. HCP also has a higher cash balance than its peers which it can use to fund acquisitions, development and growth.

Stock Performance
Stocks of all three REITs discussed here are near 52-week highs and reflect strong market demand for healthcare REITs. Healthcare REITs are also expected to outperform the broad market in 2013 because of their income stability, dividends, revenue growth potential and low beta relative to the broad market. As the table below shows, Ventas and HCP shares were up about 35% each, well above the 15% return generated by the S&P 500 Index. (Healthcare Trust did not have a full year as a public company).

While Ventas has the highest dividend payout per year, Healthcare Trust offers the highest dividend yield of 4.9% versus 4.1% for HCP and 3.5% for Ventas.
Ventas has doubled its dividend over the past decade, from $1.30 annualized in 2004 to $2.68 currently, with dividends up 8% over the past year. The chart below shows Ventas' dividend growth over the past three years with higher payouts tied to higher FFO.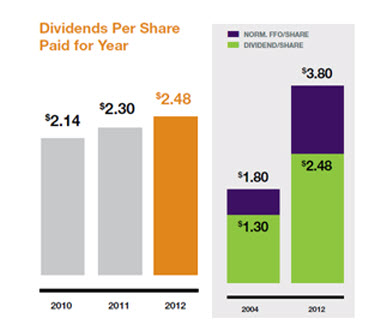 As the graph below shows, HCP has steadily raised dividends since 1985 with 28 years of consecutively higher payouts. Its most recent dividend, paid in February 2013, was $0.525 per share ($2.10 annualized) and was up 5% over the prior year quarter. This solid track record has made HCP part of the S&P 500 Dividend Aristocrats Index.

Healthcare Trust went public in June 2012 and has paid four quarterly dividends, with $0.1438 paid per share on April 4, 2013 (0.58 annualized).
Summary
Healthcare REITs have tremendous growth potential, particularly in senior housing, and are solid income-generating defensive plays that enjoy significant immunity from broad economic weakness but are susceptible to regulations and government cutbacks.
The three REITs covered above receive a large proportion of their revenue from private sources and are less susceptible to government cutbacks. With 50% of its NOI from seniors' housing, Ventas stands to benefit the most from the growing population of seniors. HCP has about a third of its income tied to seniors' housing and should also benefit from this trend. Healthcare Trust is predominantly (95%) focused on MOBs and may not see as much demographic upside. Healthcare Trust is also dealing with profitability issues but could just deliver stronger revenue and AFFO gains over the years because it's only about 1/10th the size of Ventas and HCP.
In 2013 and beyond, Ventas should see strong results tied to its $1.7 billion Emeritus-Blackstone acquisition though expenses may rise too, in the near term, as it absorbs this acquisition. However, HCP appears to have excellent profit margins and stronger AFFO than Ventas despite a lower revenue base, and represents a better oiled machine when it comes to squeezing AFFO dollars out of its revenue and delivering them to shareholders. Given a choice, investors may want to pick a combination of HCP and Healthcare Trust - HCP for its higher profit margins and cash flow and Healthcare Trust for its upside potential should it streamline expenses and turn past acquisitions into cash flow machines.
Disclosure: I am long VTR, HTA, HCP. I wrote this article myself, and it expresses my own opinions. I am not receiving compensation for it (other than from Seeking Alpha). I have no business relationship with any company whose stock is mentioned in this article.