The smartphone market is highly aggressive, with intense competition. Apple (NASDAQ:AAPL) and Samsung (OTC:SSNLF) dominate the smart phone market with a global market share of 52 Percent. Apple has its own mobile operating system while Samsung uses Google's Android operating system for its Smartphones. Android is the most preferred operating system with a market share of 68.4 percent in 2012. Moreover, Apple managed to capture 19.4 percent share in the same capacity. At present, android clearly seems to be the undisputed market leader of this industry. Although, there are other competitors, like Windows Mobile (Nokia: NOK) and BlackBerry (NASDAQ:BBRY) operating system, which have a small combined market share of 12 percent compared to the top two operating systems.
Facebook Home
Facebook (NASDAQ:FB) launched its new course of action called 'Home' that gives a new dimension to Android phones since it is only available for Android users. Facebook Home is a set of mobile applications that integrates the social network functions into Android phones with the goal to create a more exciting experience for Facebook users. The Home platform will bring Facebook contents right to the home screens of smartphones rather than requiring Facebook apps as a pre-requisite to check it. Messaging is also one of the pivotal features of Facebook Home. This feature will allow users to freely chat with their friends just by tapping on their friend's face appearing on the main screen, generally known as "Chat heads". In simple words, Facebook is developing its mobile presence with the help of Facebook Home.
Why a Mobile push?
Facebook generates most of its revenue from advertisements. In year 2012, Facebook managed to score 36 percent growth in revenue, whereas, approximately 9.5 percent advertising revenue came from mobile products. The mobile advertising industry is rapidly growing due to the aggressive shift from PCs to smartphones and tablets. It is estimated that the spending on mobile advertising will reach USD 12.8 billion and USD 24.5 billion by the end of year 2013 and 2016, respectively. Mobile advertising is creating new prospects for app developers, ad networks, mobile platform providers, special agencies and even communications service providers to market their products directly to the audience. Currently, Google is dominating the mobile advertising market with more than half of the entire market share. Thanks to Google search engine, YouTube and its Android platform!
The below table gives you an idea of advertising revenues and their growth, in accordance with the company's market share.
US Net Mobile Ad revenues

2011

2012

2013E

2014E

2015E

Google

750

2,171

3,984

6,328

9,294

Growth

189.5%

83.5%

58.8%

46.9%

Facebook

-

391

965

1,510

1,863

Growth

146.8%

56.5%

23.4%

Others

728

1,550

2,340

3,496

5,018

TOTAL

1,478

4,112

7,290

11,334

16,174
How 'Home' helps Facebook?
According to Facebook, out of 1.06 billion monthly users, 680 million users logged on to Facebook using smart mobile phones, and this number is growing at a surprising rate. The United States advertising revenue increased from USD 391 million in 2012 and to USD 965 million in 2013. The launch of Facebook Home corresponds with the rapid growth of users who access social network from Smartphones. With this new Home platform, Face book users will be able to see Facebook contents right on the home-screen, called "Cover Feed", including Facebook news feeds. As we all know, last year Facebook started showing advertisements to its mobile users by corporate-sponsored content on its news feeds, to enhance its advertisement revenues. In this way, Facebook will be able to capture advertising revenues directly from the users' home-screen.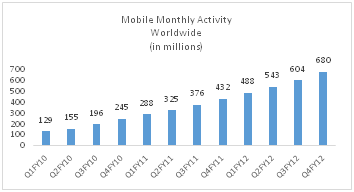 In addition, Facebook will also be able to snatch market share from Google's Android whereas most of the Android users will shift to Facebook "Home". This will attract mobile advertising revenue towards Facebook. This move will also make shareholders happy as more revenues will be generated by the company through smart mobiles.
Conclusion
The Facebook Home is being introduced in the market at the right time, as more and more people are shifting to smartphones and accessing social media platform through their mobiles. So the opportunity to generate advertising revenue from mobiles has increased. This new platform will help Facebook to avail itself of this opportunity. My whole analysis leads to only one solution and that is to buy this stock.
Disclosure: I have no positions in any stocks mentioned, and no plans to initiate any positions within the next 72 hours. I wrote this article myself, and it expresses my own opinions. I am not receiving compensation for it (other than from Seeking Alpha). I have no business relationship with any company whose stock is mentioned in this article.