The S&P 500 has rallied 12% YTD reaching all-time high levels. Further, airline-related stocks have outperformed the market. For example, the iShares Dow Jones Transportation Average ETF (NYSEARCA:IYT) has rallied 16% YTD, even though the sector had a recent pullback due to concerns about avian flu in China. As a result, the price-per-share of Delta Air Lines (NYSE:DAL) declined by 5.38%, United Continental Holdings (NYSE:UAL) declined by 1.8%, and Southwest Airlines declined by 2.0% in April, Figure 1. However, this pullback may provide an opportunity to gain exposure to carrier stocks.
Moreover, I have described how regional airlines such as Alaska Airlines (NYSE:ALK) and Copa Airlines (COPA) have outperformed major airlines such as Delta Air Lines and United Continental Holdings . The articles can be found here and here. Today, I would like to describe key facts about Spirit Airlines (NASDAQ:SAVE), a company that has received little attention, and why the company may provide a better capital growth to its shareholders compared to Delta Air Lines.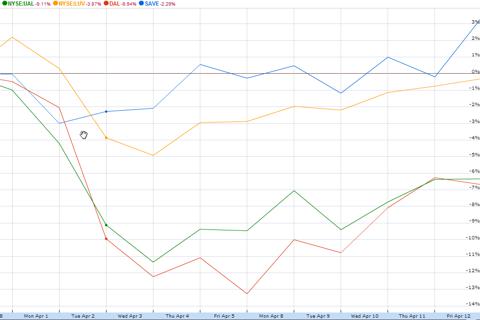 Figure 1. Monthly performance of Delta Air Lines (red), United Continental Holdings (green), Southwest Airlines (yellow), Spirit Airlines (blue).
Spirit Airlines, a $1.91 billion market value capitalization carrier, operates more than 200 daily flights to over 50 destinations in the U.S., Latin America and the Caribbean. The company is operating with a profit margin of 8.23%, and its balance sheet carries no debt. The stock is trading with a P/E of 17.60, and a forward P/E of 10.79. What's more is that its price-to-earnings-to-growth ratio is 0.79. Due to solid fundamentals, the stock has rallied 48%. However, recent press releases suggest the rally may not be over.
The company has reported an interesting March monthly traffic report showing outstanding performance. Its March revenue passenger mile (NYSE:RPM) increased 19.1% from $829.7 million in 2012 to $988.1 million in 2013. To put this in perspective, Delta Air Lines reported an insignificant increase of 0.1% from $16.45 billion to $16.47 for the same period. On a year-to-date basis, Spirit Airlines has increased its RPM by 21.3% from 2012 to 2013, while Delta experienced a decrease of 0.6%.
Further, Spirit Airlines has reported an increase in available seat miles (NYSEMKT:ASM) of 16.5% for the month of March from $965.7 million in 2012 to $1.1 billion in 2013. In addition, its year-to-date ASM increased 20.8%. In contrast, Delta Air Lines reported a decline in the period of March of 0.6% from $19.5 billion in 2012 to $19.4 billion in 2013.
Lastly, Spirit Airlines reported an increase of 2.0% in its March load factor from 85.9% in 2011 to 87.9% in 2012. Its YTD load factor has increased 0.3%. On the other hand, Delta Air Lines observed a 0.6% increase in its March load factor, and a YTD load factor increase of 1.5%.
In addition, the company announced the hosting of open houses in Las Vegas with the purpose of hiring new flight attendants. This gesture should provide investors with confidence that the company foresees growth in the interim.
Conclusion
Spirit Airlines has been solid this year. The stock may be considered cheap to the traditional value-oriented investor. Due to a solid business model, the company reported outstanding March traffic numbers. The company increased its revenue passenger mile by 19% in March on a year-over-year basis, and it has increased its RPM on a year-to-date basis by 21.3%.
The small company has outperformed major airlines such as Delta Air Lines, and its solid performance augurs further capital appreciation to its investors. In addition, Spirit Airlines is hiring new flight attendants, this motion should put investors' mind at ease since the company is confident in its expansion ability. For these reasons, the carrier should be considered for the long markets.
Disclosure: I have no positions in any stocks mentioned, and no plans to initiate any positions within the next 72 hours. I wrote this article myself, and it expresses my own opinions. I am not receiving compensation for it (other than from Seeking Alpha). I have no business relationship with any company whose stock is mentioned in this article.