I am still relatively new to stocks with about 10 months worth of portfolio management and self education through reading under my belt. As I've been absorbing the vast amount of information out there pertaining to the ambiguous art of stockpicking, I've found that there are a lot of varying and contradicting views in the realm of investment strategy. For a while I was so overloaded by all the information as I tried to replicate all the gurus at once. Finally, I decided I would come to my own conclusions based on what I'd learned and create my own strategy rather than hopelessly try to replicate those of others. The two tenets for the strategy I was creating were simplicity and accuracy. I wanted a relatively simple system that also produced good picks for the long haul.
In my quest for conciseness and accuracy I found a few criteria and processes that I think combine to make for an easy way to find whether a stock is worth buying (or selling). Analyzing Google (NASDAQ:GOOG) through these key criteria reveals that it is unattractive at current price levels and may be an ideal short candidate in anticipation of its stock price 'coming back to earth,' similar to what happened to Apple (NASDAQ:AAPL) recently.
Valuation
My valuation strategy consists of entering a company's financials into a DCF spreadsheet and tinkering around with revenue and expense estimates based on my research of a company and analyst consensus estimates until I come up with an earnings estimate for the next few fiscal years and an average annual earnings growth rate for the next 5 years. I then multiply EPS from the trailing twelve months by my growth percentage estimate by 100, in effect valuing a company the 'Peter Lynch way'- through PEG analysis. I am assuming that the company deserves a market price-to-earnings multiple equal to my 5 year growth rate.
I also like to adjust my price target for cash and investments and debt. I figure that since we adjust our paying price up or down depending on a company's balance sheet when we purchase entire companies, buying stock should be no different. When Warren Buffett teamed up with 3G Capital to buy Heinz (HNZ), everyone assumed the buyout price was about $28 billion even though Buffett and 3G are only actually paying about $23 billion. The reason everyone adjusted the price is because of Heinz's $5 billion of debt. When you purchase a company, you inherit its cash and debt and so this makes perfect sense on any scale to adjust your paying price, whether it be a huge buyout or as insignificant as a purchase of 1 share.
Doing the first step of my valuation for Google, I came up with a growth percentage of about 15%. According to Yahoo Finance, analysts seem to agree with my estimate: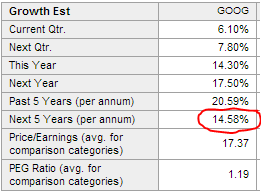 My valuation for the company is shown below: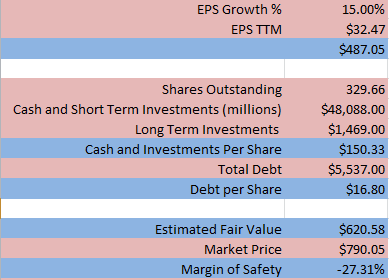 Many investors have used this same PEG method to rationalize buying Google stock. The reason for the discrepancy is that they are wrongly using next year's analyst consensus earnings estimates rather than current ttm earnings. There are a few problems with that:
They are accounting for next year's expected earnings growth twice in their valuation: in the earnings growth rate and in the actual earnings number. If I was estimating a 5 year average annual earnings growth rate beginning next year, it would be significantly lower than that of today because much of Google's earnings growth is expected to occur in the next year. You can't have the best of both worlds (today's higher growth rate and next year's higher earnings) and still be accurate
They are not discounting next year's earnings back to the present. Future cash flows must always be discounted back to the present. A dollar a year from now is worth less than a dollar today. If investors wish to do their valuation using future earnings numbers they can, so long as they discount earnings back to the present and use a lower growth percentage to account for the loss of this year's higher than average growth to the average.
So there you have it: even with favorable cash adjustments, Google is clearly overvalued.
Insider Share Dumping
Insider trading is, in my opinion, one of the truest indicators of a company's valuation and management's thoughts on stock price. No matter how much research you and I perform on a company, key company personnel will always have more information and understanding of the company and its prospects than we do. They are paid to run the company; I would hope they have the best understanding of the company or they shouldn't be running it.
Investors are blessed to have an entity called the SEC- the Securities and Exchange Commission working for us. The SEC regulates corporate reporting and insider trading. Companies are required to complete and file quarterly and annual reports with the SEC as well as filings whenever an insider buys, sells, converts, or is awarded stock. The SEC has a database that can easily be searched through by anyone by inputting a stock's ticker.
I have made it a habit to regularly check the SEC filings page for companies that interest me. Google is one of those companies. A quick look on Google's insider transactions page tells us exactly what the people at Google who matter think of the company's stock. At Google, the three people who matter are Co-founder and CEO Larry Page, Co-founder Sergey Brin, and Chairman Eric Schmidt. Coincidentally, they've all dumped a significant portion of their shares since the beginning of 2013:

And don't think that they only sold at $844 either. They all slowly sold their shares in small increments regardless of market price so as to not drive the market price down at any given time with an excess supply of sellers. Dr. Schmidt has plans to sell a lot more shares, 42% of his stake to be exact according to a Forbes article. He claims the reason to be that he wants to diversify his assets more but clearly this is profit taking.
Eric, Larry, and Sergey know way more about Google than I ever will and if they're selling shares I will too.
Stock-Based Compensation
While this isn't really a concern for short-sellers with no long-term concern for the company, what I'm about to say is a very good reason not to go long in Google.
Google, like many other tech firms (including a company that I am long in, Apple (AAPL)), makes excessive use of stock-based compensation and dilutes shareholder interests as a result. I have always hated stock-based compensation; it nearly kept me from getting into Apple even though I liked everything else about the company. I believe paying executives in new stock directly robs shareholders of a return. Take a look at how stock based compensation has negatively impacted earnings growth in the past 5 years: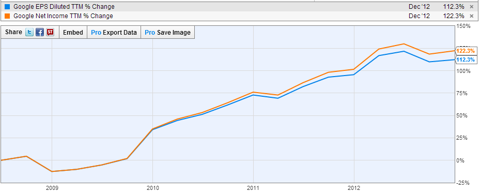 Provided by YCharts.com
One would expect net income growth to exactly match earnings growth but that hasn't been the case because of the increasing shares in the earnings calculation. Shares outstanding has increased nearly 5% in the past 5 years.

Provided by YCharts.com
If we calculate ttm earnings for Google with the number of shares outstanding from 5 years ago, earnings would be 4.41% higher.

Given the way I valued Google shares before, Google stock would also be worth 4.41% more today. Google has robbed this value from existing shareholders. 4.41% may not seem all that significant to the untrained eye but investing is a game of percentage and basis points; 4.41% is huge.
Conclusion
Not only are Google shares close to 30% overvalued but insiders are dumping shares, meaning that management doesn't like the stock at current price levels and that Google's short-term upside will be extremely limited as insider selling keeps price at current levels or lower. Excessive use of stock-based compensation is another factor weighing against a bullish case for Google as growth will continue to be robbed.
Something else I'd like to quickly mention is the tech investing environment. Technology investors typically have a shorter time horizon than investors in other sectors. Tech stocks seem extremely prone to changes in market sentiment and resulting volatility. Apple dropped nearly 40% on little more than change in market sentiment. As Apple shares plummeted, much of the institutional dollars came out of Apple and found their home in Google stock. Google became the world's new tech darling. Now it looks as though Google stock has downward momentum from its high of $844 in early March. The shares are down close to 7% since then, but my valuation and a technical comparison to AAPL reveal that there could be at least 25% more downside,and again very little upside given the insider share dumping. You'd obviously have been better shorting at $844 but I think even here at $790 shorting could be very lucrative.
Disclosure: I am long AAPL. I wrote this article myself, and it expresses my own opinions. I am not receiving compensation for it (other than from Seeking Alpha). I have no business relationship with any company whose stock is mentioned in this article.
Additional disclosure: I may initiate a short position in GOOG over the next 72 hours.