In a previous article titled "Biodiesel Economics 101: Understanding The Margins, Part 1" I covered how to calculate the top line revenue per "blended" gallon of biodiesel or renewable diesel fuel. This article will explain how to calculate the cost of goods sold (COGS). We will then put everything together and calculate an estimated gross and net margin for firms in the biofuels industry.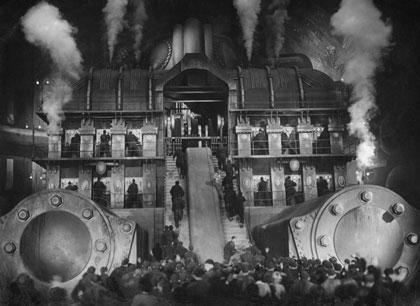 The main cost of biodiesel/renewable diesel production is the feedstock.
The main feedstocks are:
1) Soybean oil
4) Inedible Corn Oil (distillers corn oil)
Renewable Energy Group (NASDAQ:REGI) uses:
Soybean oil (crude) (based on 7.5 pounds per gallons).

Used cooking oil (based on 8.5 pounds per gallon).

Inedible corn oil (based on 8.2 pounds per gallon).

Choice white grease (based on 8.0 pounds per gallon).

Tech tallow prices (based on 7.6 pounds per gallon).
Syntroleum (NASDAQ:SYNM) uses 7.6 lbs of feedstock per gallon. During 2012 they used approximately 2/7th corn oil and 5/7th yellow grease.
During 2012, approximately 128 million pounds of yellow grease and 49 million pounds of corn oil were processed by the Dynamic Fuels plant in Geismar, Louisiana.
The quotes for feedstock linked above are for FOB origin, and do not include transportation/delivery costs. SYNM has rail and truck access, and is a single plant. I estimate SYNM's transportation costs to be $0.03/lb. I have been unable to get a good estimate for REGI, partially because they have many plants, each one with differing transportation costs. I use a $0.04/lb delivery costs for REGI because of the smaller, more rural, mostly truck access plants.
Other than feedstock and transportation, the other variable costs are hydrogen for SYNM, and Methanol for REGI. For SYNM, I use $0.11/gal for their hydrogen. That is approximately 1/3 of their reported OPEX. This is reached by taking their 9/30/12 numbers which state state that they ran at design capacity of 56%, and had an OPEX of $1.03. They have $2.5 million fixed costs per month, and can produce 6.25 million gallons per month. That leaves $0.32 in variable costs, approximately 1/3rd of which is the hydrogen. Hydrogen is tied to the price of natural gas, so it is likely to vary over time.
This graphic, created from data taken from the SYNM annual report, demonstrates the difficulty in modeling these plants. As shown, the OPEX isn't constant. SYNM has claimed that their full production OPEX should be $0.55. From the data, their is still progress to be made. The closest they have come to that value is $0.72, but they have yet to reach full production and run smoothly for an extended period of time. Continually starting up, shutting down and fixing problems can get expensive.

For REGI, I start with what they reported back in 2011, and make adjustments for current market prices and estimates I get from other sources such as a biweekly report sent out by Renewable Biosystems, LLC. Unlike SYNM that has a single plant, REGI has many plants, is continually adding to their portfolio of plants and upgrading their existing plants to mulitfeedstock plants. Modeling REGI is much more difficult than SYNM, there are simply far more moving parts. That is why I stress this exercise is to reach estimated numbers.
During 2011, feedstock expense accounted for 73% of our costs of goods sold, while methanol and chemical catalysts expense accounted for 8% and 3% of our costs of goods sold, respectively
Adjusting for current prices I use $0.21 for methanol, and add $0.07 for the Glycerin.
Put all those figures together and the calculated estimated margins are as follows: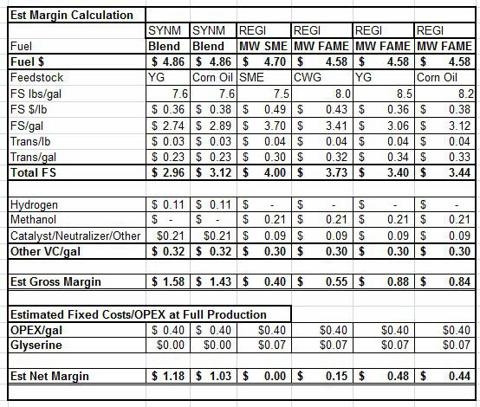 From the above data one can gather:
1) The "blended rate" SYNM gets for their "renewable diesel" is superior to SME or FAME Biodiesel. This is due to their fuel being a premium "drop-in" fuel unlike FAME or SME, getting 1.7 vs 1.5 x D4 RINs per gallon, capturing the full $1.00 tax credit for their ULSD fuel, getting 1.7x D5 RINs for their Naphtha (a gasoline blendstock) and getting a portion of a $0.50/gal tax credit for their Naphtha.
2) SYNM has a lower feedstock cost per gallon across all feedstocks used by SYNM. This is due to their process using fewer lbs of feedstock per gallon, and having a lower estimated delivery costs.
3) Variable operating costs are estimated to be slightly higher for SYNM than REGI and other biodiesel plants.
4) Estimated gross margins for SYNM are substantially higher than for biodiesel plants.
5) I use a constant $0.40 fixed OPEX for both types of plants, but biodiesel gets an estimated $0.07/gal for glycerin production that does not apply to SYNM.
6) Estimated net margins for SYNM are over $1.00/gal for both feedstocks.
7) High cost soybean oil is at or near breakeven, choice white grease, yellow grease and corn oil all have positive margins.
8) SYNM by acting as a producer and blender gets to keep more of the $1 blender's tax credit. (more below)
One additional note about the competitive advantages. Shortly after the tax credit passed I wrote an article highlighting how the $1 blender tax credit wasn't helping biodiesel as much as one would expect. It highlighted how, at the prevailing market rates, only $0.41 was being passed on to the producer, and that the blenders were keeping up to $0.59. Since then the markets have adjusted, and a very well written piece recently published on Seeking Alpha highlighted that the blender's margin was now down to between $0.50 and $0.35, meaning that $0.65 to $0.50 is now being passed on the producer. Yes the margins are great for the blender, but they are getting better for the producer, and they are still high by historic standards.
To quote an industry veteran: "at 35c/gal to 50c/gal, this is one of the best blender margin environments in a long time."
The article also mentions that RIN prices are high, and face a shortage going forward. I recently wrote an article addressing this issue, highlighting how biodiesel production was lagging the EPA quota for 2013. The reason this is important and very bullish for RINs is that soybean oil is the main feedstock used in making biodiesel. It is highly unlikely that the EPA quota can be met without significant soybean oil biodiesel or SME production. SME is showing flat to negative margins. To make SME profitable, either soybean oil has to fall in price or RIN prices have to increase. Either case would be very bullish for multi-feedstock plants like REGI and SYNM. Facts are the entire regulatory mechanism and EPA quota currently requires that the high cost feedstock, soybean oil, is made profitable. If the high cost producers can survive, the low cost producers should thrive. SYNM and REGI are low cost providers. This situation will remain until a new cheaper feedstock comes to market in ample quantities to replace soybean oil. The yellow grease, choice white grease, inedible corn oil and other waste feedstocks have inelastic and limited supplies, so I wouldn't expect an alternative to soybean oil anytime soon, especially considering the EPA quota increases over time. If anything, I would expect more soy beans to be planted to meet the EPA mandated increase in demand.
In conclusion, trying to model a biodiesel or renewable diesel plant is like trying to paint a speeding car. There are many variables, many differing input quotes, lags between inventory and final COGS, FIFO vs LIFO issues, individual cost variances between plants, deferring feedstock mixes, different delivery methods, distances and costs. No model will be perfect and give precise estimates of the margins of a firm, especially one as geographically diverse as REGI. That however should not prevent investors from trying to get at least a rough estimate of the current margins prevailing in the market. That is what this article does, it attempts to create an estimate for the margins SYNM, REGI and other firms in the biofuels industry may be facing. The estimates are most likely best used as a trend following tool, not as an exact measure of the current margins being recognized by a firm. They are guide posts, not exact measurements, and should be interpreted and used accordingly. As I am made aware of new data, or market prices change, or processes and feedstock mixes change, or new feedstocks become available, I will update the model. I hope to use the data highlighted in this report to publish a biofuels margin report on a periodic basis.
Disclaimer: This article is not an investment recommendation. Any analysis presented in this article is illustrative in nature, is based on an incomplete set of information and has limitations to its accuracy, and is not meant to be relied upon for investment decisions. Please consult a qualified investment advisor. The information upon which this material is based was obtained from sources believed to be reliable, but has not been independently verified. Therefore, the author cannot guarantee its accuracy. Any opinions or estimates constitute the author's best judgment as of the date of publication, and are subject to change without notice.
Disclosure: I am long SYNM. I wrote this article myself, and it expresses my own opinions. I am not receiving compensation for it (other than from Seeking Alpha). I have no business relationship with any company whose stock is mentioned in this article.