Silvercrest Mines (NYSEMKT:SVLC) is a precious metals miner operating the Santa Elena Mine in the Mexican state of Sonora and developing the La Joya project further to the South in the state of Durango. The year 2012 has been the first full year in production at the Santa Elena mine and Silvercrest has managed to outperform market expectations by exceeding guidances and reporting revenues of $70.5M and a net income of $30.5M. The market capitalisation is $254M and the forward P/E is listed as 7.61 on Yahoo.com. The development of the Santa Elena mine was partly financed by a streaming agreement with Sandstorm Gold (NYSEMKT:SAND).
With positive press releases from Silvercrest continuing to hit the market with impressive regularity we reached out and asked for an interview with Scott Drever which was swiftly granted. In this article we would like to publish the transcript of this interview. Our warm thanks go out to Scott Drever for allocating time to answer our questions and for providing valuable insights. We hope that the information contained in the following interview will be of value for existing and possible future investors alike.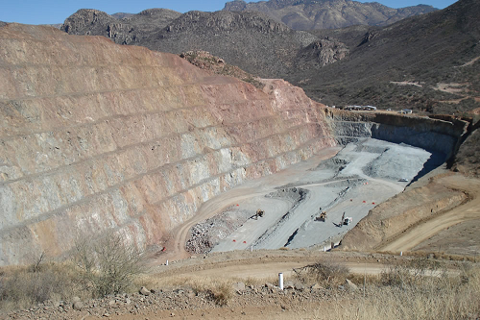 Santa Elena mine (source: company website)
Q: Let us start with a brief review of the 2012 financial results. The bottom line was impressive with net earnings of $30.5M or $0.33 per share. The profit margin of 43.22% was second to none in the silver mining domain. Will it be possible to maintain this level of profitability in 2013?
SD: Subject to metal prices remaining relatively constant we should be able to maintain the level of profitability seen in 2012. Although we expect cash costs to rise moderately we believe the costs will be offset by somewhat higher grades and reduced strip ratios as we near the bottom of the pit.
Q: The retirement of the hedge commitments was financed by portions of a bought deal which increased the number of outstanding shares. Precious metal miners have a dismal history of turning dilution into value for individual share holders. How did the retirement of your gold hedge impact on earnings in 2012 and what impact will this move have on future per-share earnings?
SD: The retirement of the hedge had little effect on our 2012 earnings as we had already delivered the required number of ounces by the time we paid out the hedge. However in 2013 we would have been obligated to deliver approximately 19,000 ounces of gold under the hedge which would be mildly dilutive to EPS in the future but our cash flow from operations should increase by about $13 million at current prices.
Q: What was the tax rate for Silvercrest in 2012 and what tax rate can be expected for 2013?
SD: For 2012 the effective tax rate was 15% but is expected to be close to 28% in 2013.
Q: Various gold mining companies have switched from reporting Cash Costs to All-in Costs. What is your view on reporting costs and would you be prepared to provide All-in costs in future reports?
SD: We have normally reported our operating cash costs as all those costs directly attributed to the operations including our Mexican G&A. We have discussed the use of All-in Cost numbers and how they might be reported. The issue will be to find some reasonable, uniform industry consensus as to what is included or excluded so that the respective corporate numbers are comparable.
Q: What are your expectations with regards to silver and gold prices for 2013 and beyond?
SD: We are not in the business of commodity price forecasting.. However, given the current international market and financial turmoil we would expect silver and gold prices to continue to rise in the long term with short term prices in the range of $25-$35 per ounce for silver and $1525 - $1750 for gold. We will be very profitable within those ranges or at numbers considerably below the bottom of the ranges.
Q: It appears that the heap leach operation at the Santa Elena mine has performed outstandingly in 2012. This operation has about 5 years of mine life left considering the published reserve statement for the open pit. Given the $3.2M budget for surface drilling at Santa Elena, do you anticipate an expansion of the open pit reserve or is all drilling aimed at defining the underground resource?
SD: We expect the open pit to bottom out by mid to late 2014 with the most of the residual tonnage (less crown pillar allowances) to be recovered from underground. The surface drilling program has been devoted to converting the known underground resource to reserves as well as expanding the underground indicated and inferred resources. The program has been extremely successful and upon the completion of the mill construction at the end of this year, we expect to reset the life of mine to approximately 8-10 years.
Q: A pre-feasibility study for the underground expansion at Santa Elena is scheduled for the very near future. Given the published drill results it seems safe to assume that underground development will go ahead. What is the present state of the Santa Elena underground expansion?
SD: The underground development is well underway with the access decline well below 1250 meters and the upper portions of the deposit accessible and ready for stope development from existing muck bays.
Q: Construction of the mill to accommodate underground ore at Santa Elena is budgeted at $53.2M and is scheduled to be completed early in 2014. How much of this budget has already been spent and how much in total will be spent in 2013?
SD: Total capital for the Expansion Plan (including mill facility, underground development and reserve definition drilling) was estimated at approximately $70 million. We spent approximately $14.0 million in 2012 (including drilling, underground development and equipment purchases and deposits). We expect to spend $64.5 million in 2013 to the time the mill is completed by the end of the year with any expenditure beyond that as sustaining capital.
Q: Sandstorm Gold has the right, but no obligation, to fund up to 20% of the underground development in exchange for another streaming arrangement. Have Sandstorm given any indication to date whether they will be exercising their right?
SD: I believe they have said publically that they intend to participate in the underground and mill facility development.
Q: Will there be a need to raise cash to complete the Santa Elena expansion?
SD: Our cash on hand and cash flow should be sufficient to complete the expansion. As a cautionary measure we are discussing with several groups putting in place a revolving line of credit or bank loan of $35-$40 million.
Q: Completion of the decline for the underground operation is budgeted with $7.8M for 2013. What additional cost do you expect in 2014 before first ore can be accessed?
SD: We will not require ore from underground until the open pit is completed later in 2014. Should the need arise we could commence development of the currently accessible upper portions of the deposit any time we deem necessary. Development work in 2014 will depend on our final stope and mine plan which will be budgeted for late in 2013.
Q: The Cruz de Mayo project does not feature in your target list for 2013. Will there be any drilling going on in 2013 on this property?
SD: We are finalizing a Pre-feasibility study at this moment. No further work beyond completion of the study is contemplated until a decision is reached to produce and transport ore to the new mill facility. This decision will be largely dependent on silver prices. It [ed. Cruz de Mayo] will play a minor role in the overall scheme of things and will be used to displace lower grade material from the depleted heaps when appropriate. Expectations of significant expansion of the current deposit are not high and current targets are of a low priority.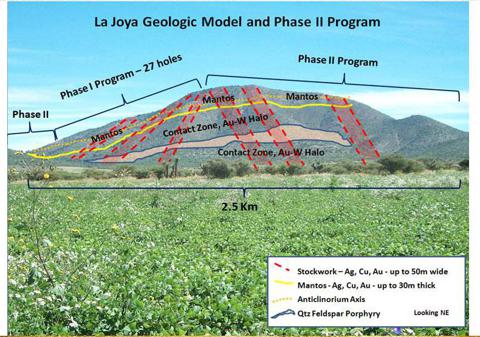 La Joya project (source: company website)
Q: The La Joya project might shape up as the next stepping stone for Silvercrest. Drilling for 2013 is budgeted with $6M. How much of this budget is allocated for infill drilling, and how much will be used to expand the resource?
SD: We have initiated a Preliminary Economic Assessment which we expect to complete in Q3 of this year. As this develops we will assess how much addition drilling will be required but expect a $3 million expenditure is more likely with perhaps $2 million as infill. This remains to be settled at a later date.
Q: The resource statement published in January was split into two zones: one with predominant precious metal content, and the Contact zone dominated by mineralisation of tungsten, molybdenum, lead and zinc. Have you got any indication with regards to the complexity of processing the ore from La Joya?
SD: Only from the preliminary metallurgical results we announced recently. A high grade, quality copper concentrate, with AG and AU reporting, with excellent recoveries can be produced. The complexity of other metals and recoveries will be the subject of further metallurgical work.
Q: The latest update mentions the presence of bismuth, arsenic and antimony in parts of the ore body. Will this complicate processing significantly and what does it mean in terms of the economics of the project?
SD: Preliminary work shows that these minerals can be suppressed below required limits with minimal effort and should not complicate the processing or impact the economics.
Q: What can be expected from the nearby targets and how much attention are you allocating to Coloradito, Santo Nino and La Esperanza in this year's drilling campaign? Is there scope for further targets on the property?
SD: Our emphasis this year will be on the PEA with lesser attention being paid to the satellite deposits. We will however drill two airborne geophysical targets (La Paloma and El Pino) on the property which have geophysical signatures similar to but larger than that of the La Joya deposit.
Q: Considering the expansion at Santa Elena and development of La Joya Silvercrest has a very clear roadmap for expansion for the next four to five years. However, looking further into the future beyond La Joya, where do you expect further growth to come from?
SD: Given the nature and size of the La Joya deposit it could provide multiple stages of growth over the next 10-20 years. Exploration at Santa Elena is far from complete where new discoveries could offer additional stages of growth. We review constantly acquisition possibilities, both corporate and project, that could add to our resource and development base and fill in any perceived gaps in our growth profile.
Q: Analysts see Silvercrest's share price at almost twice the present level. What share price do you anticipate for the end of 2013 and beyond?
SD: We currently have 8 or 9 analysts that have 12-18 month targets in the range of $3.50 -$5.00 per share. Given normal market conditions I would expect at least one of them to be correct!
Q: At what point in the future can investors expect dividend payments from Silvercrest?
SD: We are reviewing this issue to determine a point where cash flow projections can be balanced with our capital requirements. We should reach that balance at some point in 2014 where our projected cash flow could be sufficient to support a sustainable return to investors in the form of a dividend.
Disclosure: I am long SVLC. I wrote this article myself, and it expresses my own opinions. I am not receiving compensation for it (other than from Seeking Alpha). I have no business relationship with any company whose stock is mentioned in this article.