A stock that has been showing bearish signs both fundamentally and technically has been Molycorp Inc. (MCP). The market has rallied significantly in the last few months. The S&P (NYSEARCA:SPY) has risen from $1420 to a recent high of $1587, a massive rise. I expect this market to consolidate these gains over the next few moths. I was studying some stocks that has not participated in this huge rally and MCP popped up on my screen. Since January, the stock has plummeted 50%. I expect further deterioration in MCP's price and this article will try to explain my analysis.
MCP produces and sells rare earth and rare metal materials in the United States and internationally. The company's resources segment extracts rare earth minerals including rare earth concentrate. This segment products are used in oil refinery catalyst, glass polishing, automotive, water purification and energy efficiency lighting applications.
MCP's earnings
Here is where the trouble begins. Firstly, the company postponed their last earnings call from March 1st to March 14th as they said they needed more time to file their annual report. MCP also hired a new CEO who seemed very upbeat in his last earnings call. Mr. Karayannopoulos stated that the demand for rare earth metals will deteriorate in the first half of 2013 but will increase in demand later on in 2013. This brings me to the story of the prices of metals.
We have seen the demand in GOLD going lower and lower. Gold made new lows today and seems to continue lower. I always follow the trend, and what the chart tells me is that we go lower. Look how the trendline has been broken recently with volume increasing.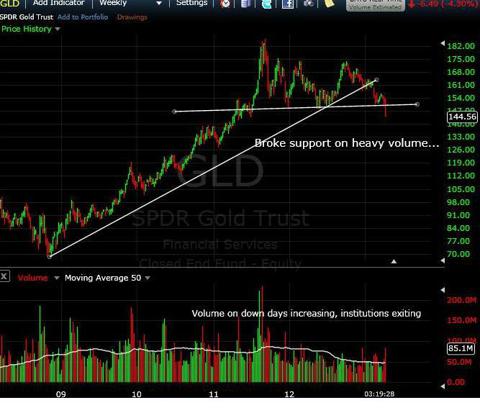 Big companies related to Gold (NYSEARCA:GLD) and Silver (NYSEARCA:SLV) continue to plummet and I expect this to continue in rare earth metal companies.
If we look at the estimates for the next few quarters, we can see that analysts continue to reduce their estimates for MCP. The company also has a massive debt of $1.23b, and only $227m in cash. I believe that they will need to do another secondary of shares soon to remain cash positive. The float is also massive, around 135m shares.
Technical analysis
I like to use P&F charting to study my analysis of trends. As one can observe, MCP is continuing to make new lows. The recent rise from $4.80 to $5.53 has helped to work on those oversold levels. I expect new lows eventually into the end of April and May.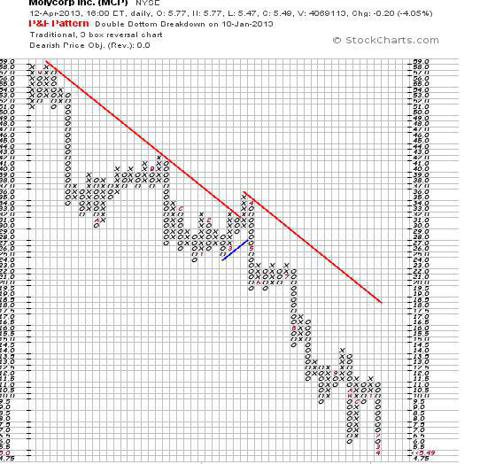 Conclusion
I continue to buy puts in MCP as I believe the trend is down. Until there is a reversal in the trend, I will keep adding to my position. I see lower prices going forward considering the fact that rare earth prices are currently below the company's cost of production. Furthermore, inventory is greater than quarterly revenue which is a big problem. Thus, due to the massive debt, huge float, and earnings estimates, I believe we will see lower prices going into the next earnings call.
Disclosure: I am short MCP. I wrote this article myself, and it expresses my own opinions. I am not receiving compensation for it (other than from Seeking Alpha). I have no business relationship with any company whose stock is mentioned in this article.