Fundamental analysis
I have been following Cal-Maine Foods (NASDAQ:CALM) for years and I have witnessed its growth moderate but steady. The company operates in a single segment, and its primary business is the production and distribution of shell eggs. It has the largest market share in the grocery segment for shell eggs and sells its production in 29 states.
Cal-Maine is also one of the largest producers of value-added specialty shell eggs in the United States. Specialty shell eggs include nutritionally enhanced, cage free and organic eggs, and represented approximately 24% of company sales.
This market is cyclical given the volatility of prices of eggs. Cal-Maine's operating results are significantly affected by wholesale shell egg market prices, which may fluctuate widely, and are outside company's control. Even small increases in production or small decreases in demand can have a large adverse effect on shell egg prices.
Prices for shell eggs fluctuate in response to seasonal factors. In fact, prices tend to increase with the start of the school year and are highest prior to holiday periods. Consequently, Cal-Maine generally experiences lower sales and net income in its first and fourth quarters ending in August and May, respectively.
For some years, there is a very significant short position whose weight is remarkable. Specifically, the company has a float of 14.5 M shares and a 7.90% short as of March 15, 2013.
Let's see now what has been the annual sales growth since 2006. At the same time, I will analyze the EPS to assess the profitability of the company over the years.
 
 
 

2006

2007

2008

2009

2010

2011

2012

 
 
 
 
 
 
 
 
 
 

Net Sales (US$ Million)

478

598

916

929

910

942

1,113

 
 
 
 
 
 
 
 
 
 

EPS diluted ($)

 

(0.04)

1.55

6.40

3.34

2.84

2.54

3.75

 
 
 
 
 
 
 
 
 
 
 
 
 
 
 
 
 
 
 
 
 
 
 

1Q12

2Q12

3Q12

4Q12

1Q13

2Q13

3Q13

 
 
 
 
 
 
 
 
 
 

Net Sales (US$ Million)

244

290

304

275

273

329

360

 
 
 
 
 
 
 
 
 
 

EPS diluted ($)

 

0.13

0.97

1.09

1.56

0.39

0.60

1.27
Looking at the table above, there are three issues that show up and deserve attention:
1. Sales growth for the whole period are modest especially since 2008.
2. Earnings per share diluted have increased 47% compared to 2012, but they are only slightly above the 2009 EPS and are just over half of the 2008 EPS.
3. Earnings per share in 2013 seems weak and may stay below 2012 values.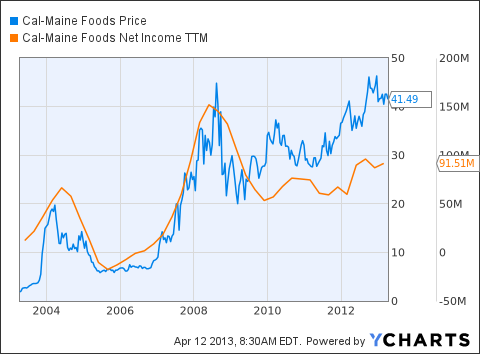 While net income has grown modestly since 2006, the share price more than doubled. This may have to do with investors' expectations, but in my opinion prices have risen too much and will likely suffer a significant correction soon. It is necessary to remember that the coming months are the worst in terms of demand and results.
In fact, seasonality is highly significant, and the company usually experiences lower sales and net income in the fourth and first fiscal quarters ending in May and August, respectively. During the past ten years, five of its first quarters have resulted in net operating losses, and during this same period two of its fourth quarters have resulted in net operating losses.
The last seven quarters included in the above table allow us to conclude that the fiscal year of 2013, which is now in its last quarter, will have a small increase in sales and an EPS probably lower than last year. Since the last quarter is usually weak, it is likely that this year has a moderate sales growth, but no growth or even a decline in earnings per share.
If the company reaches an EPS of $3.5 at the end of May, it will be acceptable to apply a PE of 10 for a valuation of $35 per share.
Technical Analysis
Shares of Cal-Maine Foods were rising since 2006, and even at full subprime crisis could register a top record of $42.45 in August 2008. Soon after they have plummeted and have made a bottom of $15.10 in March 2009. Then, they have recovered by March 2010, going through a phase with high volatility until August 2011. Subsequently, prices showed a clear upward trend and have made a new high of $47.44 in late December.
Chart courtesy of StockCharts.com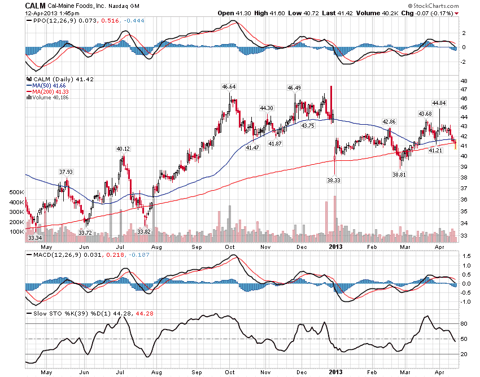 At this time, prices are very likely to fall because several technical indicators are making sell signals (in addition to the fundamental factors mentioned above). There are good support at $38 and $34. So, I think it is likely that prices will soon correct the sharp rise that had occurred in recent months. If prices break down MA200, they quickly may go to $38 and then they may even touch $34. In any case, the situation should be reassessed later.
Conclusion
Cal-Maine Foods is a well structured and well managed company. It has followed a policy of acquisitions and dominates its market segment. Sales growth have been modest, and this year the increase in earnings per share has been low. The company is entering in a very complex period of the year due to seasonality. Thus, it is likely to fall to near its fair value of $35. If investors expectations remain positive the price of its shares may not fall below the $34 level already indicated. Regardless the volatility it has been showing, the company should be followed with a long term focus.
Additional disclosure: The author of this article gives only his personal view and opinion never making any investment advice to buy or sell specific securities. The information presented is from sources believed to be reliable, but its accuracy cannot be guaranteed. Before investing in financial assets, investors should do their own research, and consult a professional investment adviser.
Disclosure: I have no positions in any stocks mentioned, and no plans to initiate any positions within the next 72 hours. I wrote this article myself, and it expresses my own opinions. I am not receiving compensation for it (other than from Seeking Alpha). I have no business relationship with any company whose stock is mentioned in this article.