Shorts, Meet Buyback
I have noticed that the short interest in shares of Nvidia (NASDAQ:NVDA) has been steadily climbing over the last several months, hitting a 52-week high in the 3/28 reporting period (data courtesy of Nasdaq.com)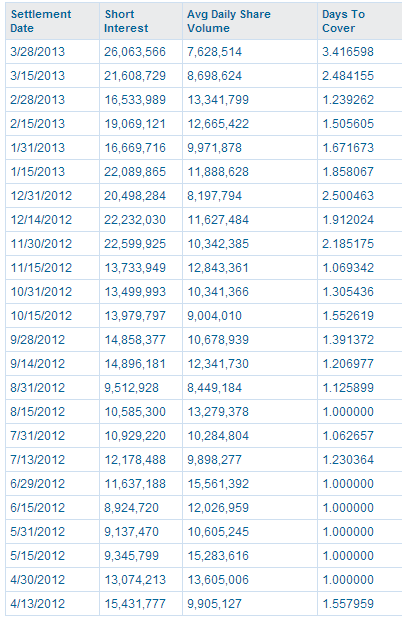 Interestingly, while the short interest is at a local maximum, it still represents a fairly small part of the float (which is ~629M shares as of writing), which means that while I do expect the company's recent announcement of a commitment to buy back $750M worth of shares during FY2014 (the current fiscal year) to drive upside amplified by short covering, it likely won't be as hot as the spectacle recently observed in shares of First Solar (NASDAQ:FSLR), which recently underwent a gigantic short squeeze (33% of its float is shorted).
So, why is a major buyback such a good thing for Nvidia shareholders?
The Stock Is Cheap
Nothing is more frustrating than when a company that you own is buying back its own shares when they're expensive. Granted, if the shares are expensive, then you need to ask yourself why you are long the stock in the first place, but generally speaking, companies tend to waste a lot of money on ill-timed buybacks. However, if a company can repurchase its shares when they are trading extremely cheaply, then this not only creates value in the form of near-term buying pressure, but it maximizes the use of shareholder cash in helping to boost EPS by reducing the float at great prices, amplifying the effects of net income growth going forward on EPS.
Nvidia is a cheap stock. With ~$6.05/share in net cash and a share price of $13.09 as of the most recent close, Nvidia is just darn cheap. Now, one could argue that while on a trailing P/E basis Nvidia is cheap, keep in mind that increased opex across the board, coupled with flat Tegra growth, means that barring an unexpected revenue infusion, EPS Y/Y for FY2013 will be down. The investments are being made in key areas to fuel potentially massive growth in 2014 (LTE, in particular), so this can be overlooked as long as investors don't see deterioration in revenues and/or gross margins. Wall Street is okay with investments that could pay off eating into the bottom line, but anything that smells of structural or secular weakness (that is, lower revenues contributing to lower EPS) is heavily frowned upon.
Luckily, Nvidia is actually growing and I expect the company to continue growing as its Tegra business remains flat Y/Y from FY2013, but its total GPU sales are likely to grow. There is also additional, but as-of-yet unquantifiable upside from Project Shield and GRID. This is the perfect time to buy back shares at a mere 4.8x EV/EBITDA.
The Buyback Is Significant
This year, Nvidia is returning 15% of its current market capitalization to shareholders in the form of dividends and buybacks. The buybacks alone should be able to be used opportunistically to both introduce some significant buying pressure as well as to boost EPS dramatically not just for this year, but for next year when revenue leverage (coupled with potential gross margin leverage) should help to drive net income back up. Further, as the share count drops dramatically, the company will be able to increase the dividend without materially increasing the payout ratio since EPS will necessarily be higher than it would be if the buybacks didn't take place.
Finally, I like how Nvidia is returning most of this capital via buybacks rather than dividends. Dividends are taxed, while Nvidia is using on-shore cash to fund said buybacks, thus avoiding negative tax effects.
All in all, I'm very happy with the buyback announcement that we got today, and I look forward to future positive developments from the company.
Disclosure: I am long NVDA. I wrote this article myself, and it expresses my own opinions. I am not receiving compensation for it (other than from Seeking Alpha). I have no business relationship with any company whose stock is mentioned in this article.