The Conference Board's Consumer Confidence Index significantly increased from 26.9 in March 2009 to 39.2 in April 2009, in large part because of more optimism for business conditions. The Index hit an all-time low in February 2009 and slightly improved in March, reports Retailer Daily.
The Consumer Confidence Index, based on the Conference Board's Consumer Confidence Survey, consists of the Present Situation Index, which increased from 21.9 in March to 23.7 in April, and the Expectations Index, which dramatically rose from 30.2 in March to 49.5 in April.
Brief highlights from each index follow.
Present Situation Index
The percentage of consumers rating current business conditions as "bad" decreased during the past month, from 51% to 45.7%. The percentage of consumers rating current business conditions as "good" increased from 6.9% to 7.6%. Fewer consumers now think jobs are hard to get, as the percentage of consumers expressing this opinion dropped from 48.8% in March to 47.9% in April. However, the percentage of consumers finding jobs "plentiful" also dropped slightly, from 4.7% to 4.5%.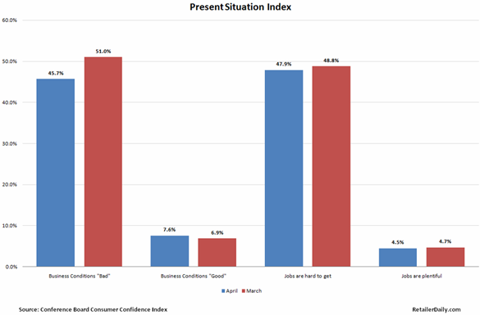 Expectations Index
Consumers' outlook for the next six months improved substantially in April. The percentage of consumers expecting business conditions to get worse in the next six months dropped from 37.8% to 25.3%, while the percentage of consumers expecting an improvement in business conditions in the next six months increased by two-thirds, from 9.6% to 15.6%.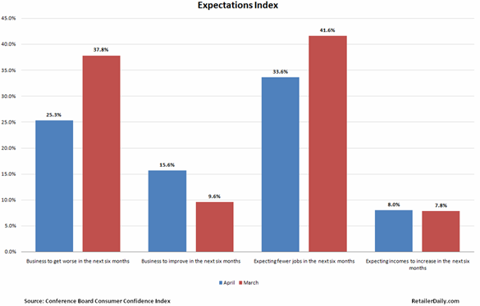 In the area of employment, 33.6% of consumers now expect fewer jobs in the next six months, compared to 41.6% in March. The percentage of consumers expecting more jobs in the next months almost doubled, growing from 7.3% to 13.9%. The percentage who expect their incomes to increase in the next six months increased slightly, from 7.8% to 8%.
Lynn Franco, director of the Conference Board Consumer Research Center, cautioned that despite improvements, the Consumer Confidence Index is still reading at low levels. "The sharp increase in the Expectations Index suggests that consumers believe the economy is nearing a bottom, however, this Index still remains well below levels associated with strong economic growth," she said.
Although overall levels of the Consumer Confidence Index are still low, retailers and other businesses can still take the significant growth in its numbers, especially in the Expectations Index, as a positive sign about the current mindset of US consumers. There have been a number of mixed positive and negative economic and consumer behavior signals so far this year:
Positive Signals
Online shopping activity is showing signs of improvement.
The US trade deficit shrank in January 2009, although declining consumer demand drove the reduction.
Personal spending of US consumers increased in February 2009.
The Restaurant Performance Index rose slightly in February 2009.
Negative Signals
The US GDP shrank 6.3% in Q408.
Total spending for the Mother's Day holiday is expected to decline.
Mexico applied retaliatory tariffs to 89 US products in March 2009.
US retail and food services sales fell in February 2009.
US unemployment hit 8.5% in March 2009.
About the survey: The Consumer Confidence Survey is based on a representative sample of 5,000 US households. The monthly survey is conducted for The Conference Board by TNS. The cutoff date for April's preliminary results was April 21.