CSX Corp (NYSE:CSX), a Class I railroad in the United States, provides rail-based transportation services, including traditional rail service and the transport of intermodal containers and trailers. As the profitability continues to improve, CSX's management has set an aggressive goal of achieving 65% of operating operation by 2015.
North America Railroad Landscape
In Western U.S., the railroads are dominated by Union Pacific (NYSE:UNP) and Burlington Northern Santa Fe, which was acquired by Berkshire Hathaway's (NYSE:BRK.A). On the East side, CSX and Norfolk Southern (NYSE:NSC) take the lead. In Canada, Canadian National (NYSE:CNI) and Canadian Pacific (NYSE:CP) are in charge.
Analysts' Calls and Estimates
On April 12, 2013, Analysts at FBR are bullish on U.S. rail stocks. CSX and Norfolk Southern were upgraded to outperform with price targets of $30 and $90, respectively.
Analyst John R. Mims, who favors U.S. Class 1 rails versus both the Canadian rails and Kansas City Southern (NYSE:KSU), said,
"Though all of the Class 1 rail stocks have had a big run in recent months, they have come in a bit ahead of earnings, yielding an attractive buying opportunity. Moreover, the backdrop in 2013 is increasingly favorable for the rails, as improving fundamentals are facing very easy YOY comps, and the stage is set for several years of robust earnings growth for the space."
Analysts currently have a mean target price of $25.91, suggesting 5.71% upside potential based on the closing price of $24.51 on April 12, 2013. Analysts, on average, are estimating an EPS of $0.40 with revenue of $2.91B for the current quarter ending in March, 2013. For 2013, analysts are projecting an EPS of $1.78 with revenue of $11.92B, which is 1.40% higher than 2012. CSX is expected to release its Q1, 2013 earnings on April 16, 2013. In the last 4 quarters, CSX had 4 positive earnings surprises.
Fundamentally, CSX's key stats will be compared to other competitors in the industry of railroads, including Norfolk Southern, Union Pacific, and Canadian National.
| | | | | | |
| --- | --- | --- | --- | --- | --- |
| | CSX | Norfolk Southern | Union Pacific | Canadian National | Industry Average |
| Market Cap | $25.02B | $24.12B | $66.30B | $41.77B | N/A |
| Revenue Growth (3 Year Average) | 9.2 | 11.5 | 14.0 | 2.1 | 1.8 |
| Operating Margin, %, ttm | 29.4% | 28.3% | 32.2% | 36.9% | 27.7% |
| ROE | 21.3 | 17.8 | 20.5 | 23.2 | 17.2 |
| Debt/Equity | 1.0 | 0.9 | 0.4 | 0.5 | 0.6 |
| P/E | 13.6 | 14.1 | 17.1 | 16.4 | 18.0 |
| 5 Year Avg. P/E | 13.2 | 14.0 | 15.1 | 14.1 | N/A |
| P/B | 2.8 | 2.4 | 3.3 | 3.7 | 3.1 |
Source: Morningstar
CSX's revenue growth is much higher than the industry average and Canadian National but slightly lower than Norfolk Southern and National Pacific. CSX also has an operating margin higher than the industry average and Norfolk Southern (on the east end). From the valuation perspective, CSX's current P/E is lower than the industry average but higher than its 5 year average P/E.
Below, CSX's operating margin and sales estimate will be compared to these 3 companies, as seen from the charts below.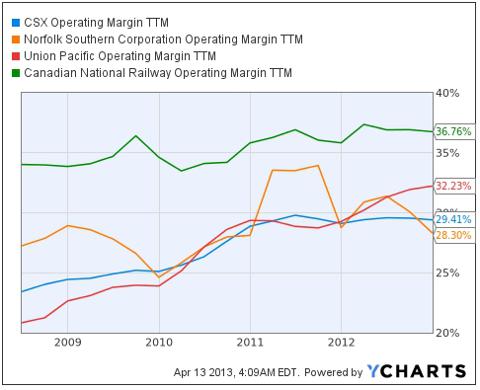 Source: YCharts.com
Comparing to NSC, CSX had a steady increase of operating margin since 2008 and reached 29.41% operating margin by the end of 2012. On the other hand, CNI's operating margin had been fluctuating between 34-36% for the same period. UNP also had an impressive operating margin improvement and reached 32.23% operating margin by the end of 2012.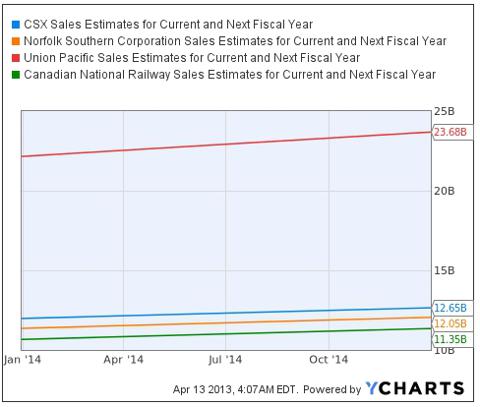 Source: YCharts.com
Sales Estimates are expected to increase for all 4 companies, whereas CSX's revenue is expected to reach $12.65B by the end of 2014.
Technically, the MACD (12, 26, 9) indicator is showing a bearish trend, but the MACD difference continues to converge. The momentum indicator, RSI (14), is picking up and showing a strong buying momentum at 63.82. CSX is currently trading above its 50-day MA of $23.20 and 200-day MA of $21.61, as seen from the chart below.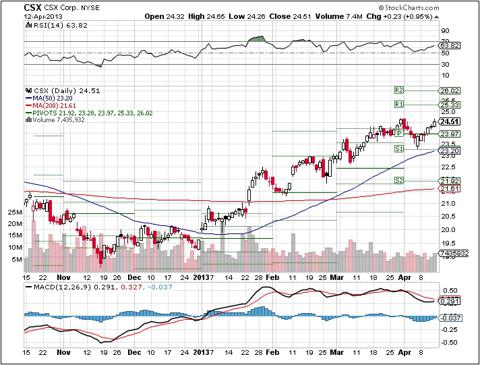 Source: StockCharts.com
Bottom Line
As CSX's bottom line operating margin continues to improve and top line sales maintains its growth, CSX looks promising for the long-term. However, investors need to be aware of the cyclical trend faced by railroad stocks and currently CSX is trading at the higher end of its P/E. With the upcoming earnings, investor should continue to monitor CSX's sales growth and margin improvement.
Note: Investors and traders are recommended to do their own due diligence and research before making any trading/investing decisions.
Disclosure: I have no positions in any stocks mentioned, but may initiate a long position in CSX over the next 72 hours. I wrote this article myself, and it expresses my own opinions. I am not receiving compensation for it (other than from Seeking Alpha). I have no business relationship with any company whose stock is mentioned in this article.