Last week, I wrote an article on companies minting debt to buy back stock. With the increase of buybacks in recent years, their usefulness has become a contested issue. Buybacks are when a company repurchases and "retires" shares of its own stock.
As I mentioned in the last article, I am generally not a fan of buybacks. Consider this: The best time for companies to buy back stock was during the multi-year lows of 2009, a time when buybacks were actually scarce. As stocks shot up and climbed from 2010 onward, however, the buybacks became more prolific. Many buybacks highlighted in my previous article were debt-induced and done while the stocks were above their "Fair Value." The conclusion was that most of them did not add value.
This article will focus on companies whose buybacks do create value for shareholders in some way. When looking at a buyback, I believe it's important to ask two questions: First, what's the benefit? And second, is it financially responsible?
Criteria
In answering the first question, it's important to look first at the stock's price versus its "Fair Value." Today, I will use FAST Graphs as a tool for measuring Fair Value. In these examples, FAST Graphs uses both the Graham Dodd Fair Value number and the PEG Ratio. The Fair Value will be represented on the charts by an orange line bounding a green area.
In answering the second question, it is important to look at how the buyback is paid for. Is it paid from Operating Cash Flow or debt? If the buyback is financed, how is that effecting the Operating Cash Flow to Debt ratio?
That established, lets take a look at the "model citizens" of corporate buybacks.
Cisco Systems (NASDAQ:CSCO)
Networking and IT provider Cisco Systems was a big share repurchaser last year. In 2012 they bought back over $4.7 billion in stock. This is over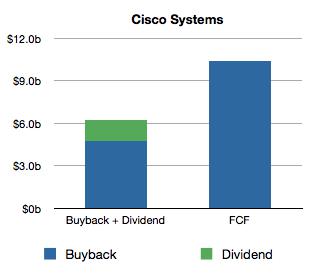 4% of the company's current market cap. Cisco is a textbook example of a corporate buyback done right. This is true for a couple of reasons: first, the stock price was below its Fair Value throughout 2012. Second is the fact that Free Cash Flow more than covers both the company's dividend and buyback.
It wasn't always like this, though. During 2010 and 2011, Cisco's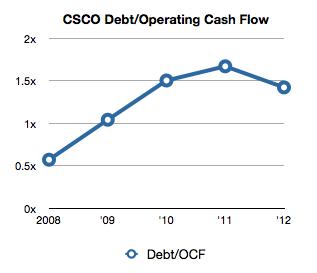 buyback program was between $7 and 8 billion, and the company's debt was increasing as a result of it. Not so today. As we can see from the chart to the right, debt to Operating Cash Flow is now under control. The company's change of direction in use of cash flow, I believe, marks a major turning point; a realization that the company had finally "matured" and that its days of rapid growth are over. This is actually a good sign for shareholders. Regarding the buyback, the company's scaled-back approach during a time when the stock was well below its Fair Value has delivered a benefit and will continue to do so.
Johnson & Johnson (NYSE:JNJ)
Diversified medical holding company Johnson & Johnson repurchased nearly $13 billion of its own stock last year, representing 5.7% of the company's current value. During 2012, J and J was one of the most prolific share repurchasers, and its program is the largest one on this list. Considering the stock's value throughout last year, I believe this huge buyback was a prudent one.
From the chart on our right we can see that this buyback and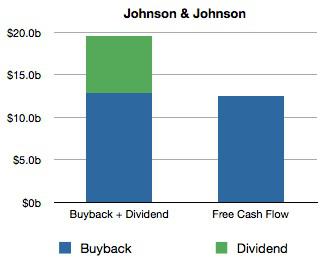 substantial dividend exceeded Free Cash Flow by a wide margin. This usually means that the company would have to finance the difference. J and J, however, actually used a chunk of its substantial cash position to buy back shares. This move was a good idea because the stock was trading below its "Fair Value" all through 2012.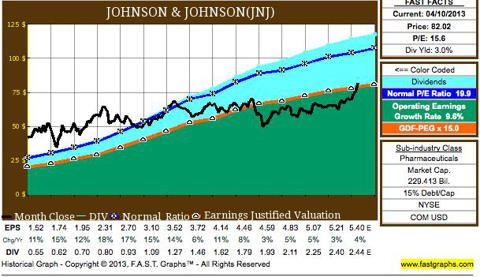 Chart by FAST Graphs
What management saw was an opportunity: their company, a well-known, multinational brand name, was selling at a price well below its intrinsic value. That situation doesn't come along every day, and it's even more rare for the said company to have tens of billions in cash when it happens. This buyback was the right allocation of cash at the right time. Take note, also, of the stock's ascent within the last few months. Some of that is attributable to the smaller share count.
3M (NYSE:MMM)
Industrial conglomerate 3M's buyback program was smaller than many others listed here. In 2012, management repurchased $2.2 billion worth of shares, approximately 2.9% of today's market cap.
Looking at 3M's Cash Flow statement, we can see that just about all of the
company's Free Cash Flow is returned to shareholders as either a dividend or a buyback. This is not a coincidence but a deliberate commitment to rewarding shareholders. Best of all, none of the cash returned to shareholders is financed. Also, the company's debt to Free Cash Flow ratio has held steady below 1.2 times since 2009. This buyback, therefore, is a financially responsible one.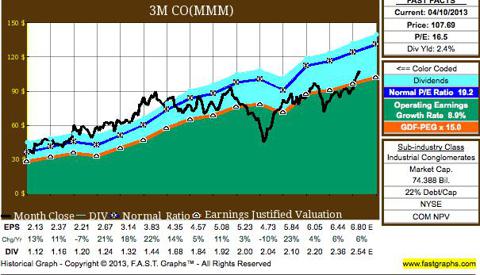 Chart by FAST Graphs
The FAST Graph above tells us the rest of what we need to know. 3M's stock was below Fair Value all throughout 2012. From a valuation standpoint, this buyback is a good one as well.
Microsoft (NASDAQ:MSFT)
Software giant Microsoft bought back $5 billion of its own shares in 2012, or about 2% of today's market cap. Like fellow tech giant Cisco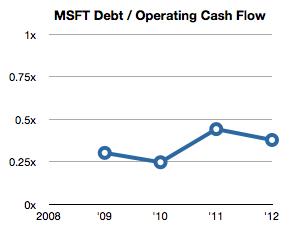 Systems, Microsoft has scaled back its share repurchases in recent years. This move was particularly dramatic, coming down to $5 billion from over $11.5 in 2011. And like its fellow tech company it was a move for the best. Because of the dramatic decrease in repurchases, Microsoft was able to reduce its debt both absolutely and in relation to its Operating Cash Flow.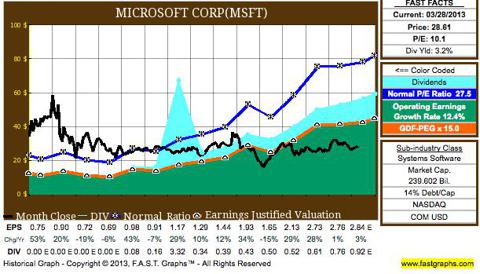 Chart by FAST Graphs
From a valuation standpoint, Microsoft stock has been sagging below its Fair Value for multiple years, and so the buyback does make sense. Whether the stock ever reaches that line in the foreseeable future is another matter. Still, we can't deny that Microsoft's buyback is both financially responsible and value-creating at 2012's prices.
AT&T (NYSE:T)
AT&T, the largest provider of telecommunication services in the United States, repurchased a whopping $12.7 billion of its own shares in 2012: a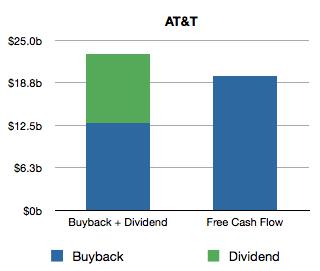 huge 6.25% of its market cap. What immediately stands out about this buyback is that some of it does need to be financed. A look at the Balance Sheet and Cash Flow statement shows that this buyback is indeed being financed by some debt. But before we deem this an irresponsible buyback, lets take a closer look. AT&T only started buying back stock in 2012 and their cash flow has been growing steadily for years.
Consider the company's Operational Cash Flow in relation to total debt.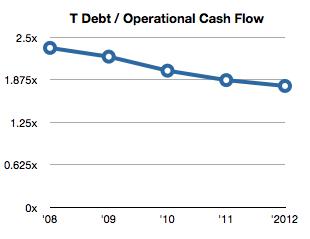 It has been growing faster than debt since at least 2008, maybe longer, driving down this important ratio. So while some of the buyback is indeed being financed, AT&T's growing income keeps balance sheet metrics in check.
The company's reason for buying back stock is different from the others listed here. Many "model citizens" have been buying back stock at a substantial discount. AT&T's stock price may have been above fair value through 2012, but here is the important takeaway: Telecoms often see Common Stock as similar to a bond obligation. This is because of their traditionally high dividends, which are often higher than the Yield to Maturity of their bonds. Management has been buying back stock to reduce their dividend obligation without actually cutting the per-share distribution.
The big European telecoms are salivating; wishing they had the cash on hand to do what AT&T has done in 2012. This buyback makes sense and the company is much stronger for it.
Wal-Mart Stores (NYSE:WMT)
Wal-Mart, the last of the "model citizens," bought back $7.6 billion of its own shares last year. This would represent 2.9% of today's market cap.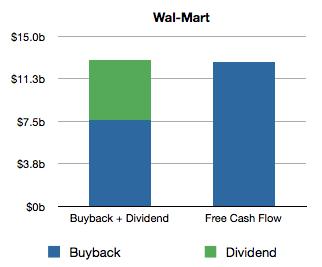 Wal-Mart's buyback is most similar to 3M's in that when combined with dividends, total cash returned to shareholders equal Free Cash Flow. Like 3M, Wal-Mart seems committed to returning Free Cash Flow to shareholders while not overextending itself financially. At the same time, the company has managed to keep its total debt to under two times Operational Cash Flow.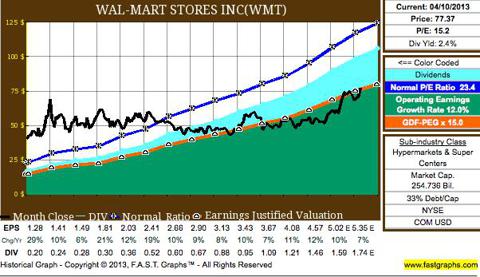 Though our FAST Graph shows us much the same data as the other "model citizens," it's important to note the value created by Wal-Mart's 2012 share repurchases, especially those done in the first parts of the year.
Conclusion
Most buybacks in the last few years haven't added much value, if any at all. But these above stocks prove that buybacks can sometimes work. It can work in the form of buying back stock at a discounted price and also to reduce dividend obligations in some instances.
But a good buyback program alone does not make a company worth buying. It is only a piece of the research. Investors must be diligent and look at the fundamental big picture before putting their money to work.
Stay Tuned
Buybacks are something I intend on writing about again in the future. In addition, I have written about and mentioned a number of the stocks listed above in past articles and will continue to do so when material and relevant.
Sources:
All charts (except FAST Graphs) by author, and respective data by Morningstar
Fair Value data (Graham number and PEG Ratios) by FAST Graphs
Disclosure: I am long JNJ, MMM. I am long CSCO for my parents' IRA which I manage. I wrote this article myself, and it expresses my own opinions. I am not receiving compensation for it (other than from Seeking Alpha). I have no business relationship with any company whose stock is mentioned in this article.