United Rentals (NYSE:URI) has been one of the beneficiaries of the construction recovery. Customers are choosing to rent over owning equipment, and that bodes well for the company. It is the largest construction-equipment rental company in the United States. Earnings are coming up next week, and might resolve the current two-month consolidation which came after prior gains.
United Rentals reported earnings above consensus estimates in 15% to 25% range in three previous quarters. Analysts expect the company to report $0.48 EPS, a 33% rise from year ago levels. Revenue is expected to reach $1.11 billion, up 69% over the same period last year.

Source for data: Yahoo Finance
United Rentals acquired RSC Holdings last year, and the acquisition enabled the company to add higher margin customers. The acquisition also enabled United Rentals to realize significant cost synergies. The total cost synergy in 2012 was $104 million. The management noted on the Q4 conference call in late January that the construction business is in a very early stage for a meaningful recovery. U.S. equipment rental industry is estimated to grow by 8% in 2013 and by 11% in 2014. Private non-residential construction, which accounts for half of United Rentals' business, is projected to grow 6% in 2013 with accelerated growth in 2014. The management also noted that the momentum will come in the later part of the year.
The company continues to expand margins. Adjusted EBITDA margin in the fourth quarter was 44.3%, a 580 basis points improvement over last year. Full year EBIDTA margin was 42.6%, a 650 basis points increase over 2011. Management expects further margin improvements this year, and the company's midpoint guidance translates into 46% margin this year.
Competition
Rental & Leasing Services industry group is among top performers this year. The group is up 23% year to date, twice the gain of S&P 500, which is up 11.4% year to date, which puts the group at the 20th place among 212 industry groups tracked by Finviz. United Rentals is up 21% this year. Top performers in the group are Hertz Global Holdings Inc. (NYSE:HTZ) and Avis Budget Group Inc. (NASDAQ:CAR). Both stocks are up 46% year to date. Both stocks trade at 10 times forward earnings, as opposed to 9 times forward earnings for United Rentals.

Source for data: Yahoo Finance
Hertz Global has grown last three quarterly earnings in 23% to 37% range. First quarter earnings are expected to rise 260%, but the comparing quarter in the previous year presents a weak comparison. Analyst consensus estimates are rising compared to 90 days ago, from $0.12 to $0.17 for the current quarter, and from $1.79 to $1.90 for the year.
Avis Budget Group reported a loss in the most recent quarter, and earnings growth in previous two quarters was 49% and 43%.
Price action
United Rentals is consolidating since mid-February, and has been getting support at the 50 day moving average line, after spending a few days below the line. Earnings report due Tuesday might resolve the consolidation.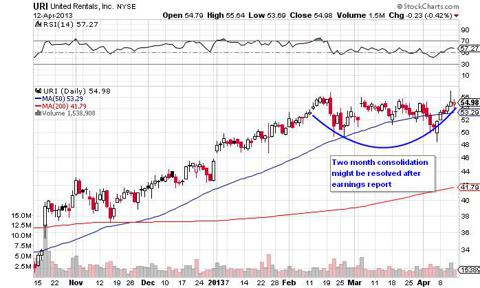 Source: Stockcharts
Conclusion
United Rentals is a strong beneficiary of the construction recovery. Strong EPS and revenue growth, expanding margins coupled with cost synergies after the acquisition of HSC Holdings last year are keeping the share price high, and the growth is expected to continue, with stronger momentum later in the year. If the company continues to deliver earnings above expectations, the recent two month consolidation might be resolved with a breakout to new 52 week highs.
Disclosure: I have no positions in any stocks mentioned, but may initiate a long position in URI over the next 72 hours. I wrote this article myself, and it expresses my own opinions. I am not receiving compensation for it (other than from Seeking Alpha). I have no business relationship with any company whose stock is mentioned in this article.