Caterpillar, Inc. (NYSE:CAT) designs and manufactures heavy machinery that are used in a wide range of industries, which includes construction, farming, mining, heavy infrastructure and others. While this company offers quality products and is a globally recognized brand, it seems that investors are overpaying for the stock, even though it is trading well below recent highs. By taking a look at the chart for Caterpillar below, it is easy to see the significant downtrend that this stock has experienced. Plus, it looks like the downtrend could continue.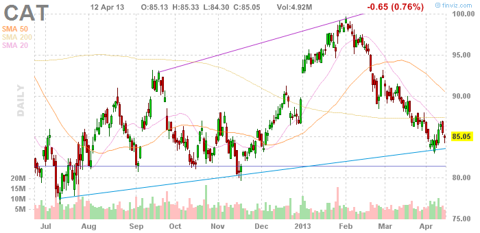 As the chart shows, this stock was trading near $100 in early 2013, but even as the market rally has taken the S&P 500 Index (NYSEARCA:SPY) to new record highs, Caterpillar shares have been heading in the opposite direction. The chart also shows that the stock has found support at around $80 per share for the past several months. That seems to be the next area of support. However, a few issues should be considered which can be used to make a strong case as to why Caterpillar shares could fall much further. For example, if this stock were to be valued at a price to earnings ratio that is similar to many other industrial and economically sensitive stocks, it is easy to make a case for Caterpillar to be valued at around $50. Let's take a closer look at some of the downside risks and the valuation of some similarly situated companies below.
A major new issue has developed for Caterpillar and that is foreign currency exchange rates. The Euro currency has been weakening further since the banking crisis in Cyprus developed, but that problem is secondary when compared to the rapid devaluation of the Japanese Yen. That currency has dropped by about 8% in just the past couple of months, and the drop is so troubling for American exporters like Caterpillar, that the Obama Administration recently told Japan that it was watching its economic policies due to concerns that they might be aimed at creating a competitive advantage.
Japan's new Prime Minister, Shinzo Abe is taking steps to reignite the Japanese economy with monetary and fiscal policies that have led to a major drop in the value of the Yen, and many analysts expect it could be poised to depreciate further. The big drop in the Yen has caused Japanese stocks to rise significantly, as this makes products cheaper on the global market. That is why Japan-based Kubota (KUB), which also makes heavy machinery, has seen its stock surge from about $55 in February, to roughly $75 recently. The concern is that it will be tough for Caterpillar to compete with Kubota on the global market when Kubota has a distinct new competitive advantage with currency rates. This sharp drop in the Japanese Yen is so recent that I do not believe it has been factored into earnings guidance for Caterpillar, and that means that recent guidance might still be too high.
Another downside risk factor, which already seems to be at least partially priced into Caterpillar shares, is the fact that some of its customers are in industries which have recently come under significant pressure and challenges. For example, the coal industry has been severely impacted by declining prices due to a supply glut and the availability of natural gas at very low prices. Many major utilities can switch from coal to natural gas and have done that in the past year. The gold mining industry is also going through challenging times right now, as the price of gold has recently plunged. This could lead to an abrupt reduction in capital expenditures from gold mining companies that need to be more cautious in mine expansion plans as gold goes lower and lower.
Now let's consider the valuation of Caterpillar and some other major industrial and economically sensitive companies. Analysts expect Caterpillar to earn over $7 per share for 2013. However, I believe those estimates are too high in the wake of the devaluation of the Japanese Yen. But, even if you accept those earnings estimates, this stock trades for about 12 times earnings. That seems very rich when you compare the PE ratio of other industrial exporters. For example, General Motors (NYSE:GM) trades for about 8 times earnings. Daimler (OTCPK:DDAIF) which is based in Germany and makes Mercedes Benz automobiles and trucks also trades for about 8 times earnings. If you want to consider a company that also makes heavy equipment like Caterpillar, just look at Joy Global, Inc. (NYSE:JOY) which trades for just about 7 times earnings estimates.
If Caterpillar experiences multiple compression in the price to earnings ratio, and if earnings or guidance is disappointing, the stock could have plenty of downside left. For example, if Caterpillar earns about $7 per share in 2013, and if it traded for a PE multiple that was similar to many industrial peers of about 7 to 8 times earnings, that would imply a stock price of about $50. I doubt the stock will go that low unless we see another global recession, however, I do believe that this stock does have significant downside risk at current levels. It's worth noting that after the financial crisis began in 2008, Caterpillar shares traded down to about $24 in early 2009. There appears to be many headwinds for this company now, and this stock could easily drop much further.
Here are some key points for CAT:
Current share price: $86.97
The 52 week range is $78.25 to $109.77
Earnings estimates for 2013: $7.91 per share
Earnings estimates for 2014: $9.25 per share
Annual dividend: $2.08 per share which yields 2.4%
Data is sourced from Yahoo Finance. No guarantees or representations are made. Hawkinvest is not a registered investment advisor and does not provide specific investment advice. The information is for informational purposes only. You should always consult a financial advisor.
Disclosure: I have no positions in any stocks mentioned, and no plans to initiate any positions within the next 72 hours. I wrote this article myself, and it expresses my own opinions. I am not receiving compensation for it (other than from Seeking Alpha). I have no business relationship with any company whose stock is mentioned in this article.