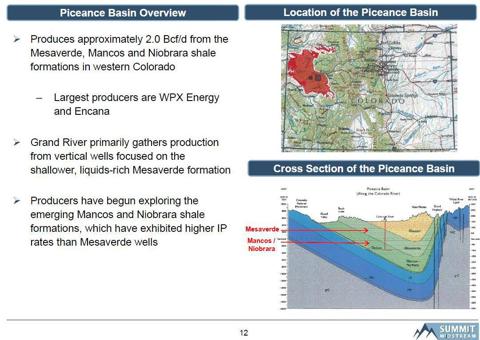 (Source: Summit Midstream Partners' March 2013 Investor Presentation)
I have covered some of the unfolding developments in the Piceance Basin Mancos-Niobrara play in my earlier two notes (Niobrara Shale: Will Major Recent Discovery Translate To A Major Source Of Gas Supply? and Niobrara Shale: WPX Energy's Discovery Well Flowing Strong - Renaissance In Piceance?). The biggest recent news that has caught investors' attention was proactive disclosure by WPX Energy (NYSE:WPX) of their highly successful Niobrara horizontal test. The well, which was completed in January, IP'ed at 16 MMcf/d and has produced over 1 Bcf after the first 100 days - an outstanding result. (WPX is an E&P spin-off from Williams Companies, with an existing strong production base in the Piceance Basin of Western Colorado which includes 180,000 acres prospective for Mancos-Niobrara.)
Last month, WPX commented that the well indicated 20-30 Tcf resource potential on its acreage in the play, a staggering amount. According to WPX, the Niobrara and Mancos tests showed "hydrocarbon saturation across tremendous thickness in a highly over-pressurized environment… The potential of this new resource is huge…"
While WPX's well has received a lot of media coverage, it is by far not the only very strong well drilled in the play to date. However, the industry's activity in the play has been essentially "stealth" and does not seem to have received much attention. Other similarly strong results are discussed further in this note. Taken together, these results add up to a very strong outlook for this emerging and increasingly promising play.
A Stealth Play
The Mancos-Niobrara is clearly gaining momentum in the Piceance but still appears very much "under the radar" (similar to where South Cana/SCOOP stood two years ago). The liquids-rich potential of the play is particularly notable. The area has extensive existing wet gas processing infrastructure and takeaway routes that should be sufficient to accommodate initial production volumes from the Mancos should drilling activity begin to ramp up in earnest.
In this note, I would like to draw readers' attention to additional data points that give reasons to believe that productive potential of this new "old" play may prove very significant. The data also shows that a vast amount of exploratory work has already been done, quietly, by the industry, and tangible early success has been already demonstrated. The stage has essentially been already set for an acceleration in activity level.
While it is clearly premature to draw conclusions regarding this new play's ultimate scale and economics, early production data and commentary from operators bring to mind a parallel with Cana Woodford or SCOOP, both highly economic and impactful plays.
Encana Has Been Quietly Drilling Away In The Mancos
Encana Corporation (NYSE:ECA) has been the most active explorer in the Piceance Mancos, having drilled by far the largest number of Mancos tests - as it appears, at least two dozen in total, and possibly more (some wells are on confidential status).
For obvious reasons, operators often keep results of their test wells unadvertised and may put their recent wells on confidential status. Collecting and interpreting production data on relevant exploration activity in an emerging play is often time and effort consuming can be a real challenge. In that regard, well data provided by Summit Midstream Partners (NYSE:SMLP), a midstream operator in the Piceance, comes very helpful. The map from a recent investor presentation by Summit (below) shows drilling results for c. twenty Encana's wells. Notable is Encana's Orchard 36-H (ON1) that IP'ed 12.7 MMcf/d and produced a very impressive 2.8 Bcf in the first 12 months (EUR potential on this well - in my rough estimate - may be in a 10-14 Bcf range). Another well, the Mamm 6-11H (J12A), IP'ed 12.0 MMcf/d. The two wells are clear standouts, alongside WPX's test. While the average IP rate for the 21 wells shown on the map is lower than for the three best wells shown, overall results are nonetheless very impressive given the very early stage of exploration in this geologically complex and very thick shale.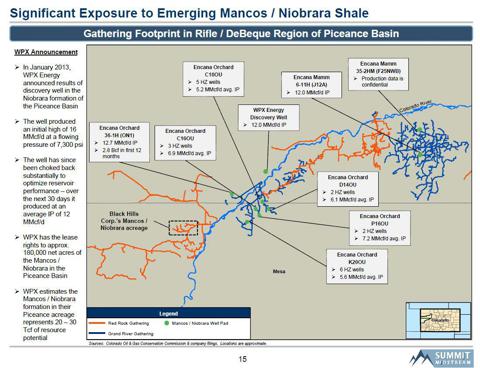 (Source: Summit Midstream Partners March 2013 Investor Presentation)
In my earlier note "Niobrara Shale: Will Major Recent Discovery Translate To A Major Source Of Gas Supply?" I have provided examples of some of Encana's wells, including information of completion design and production history. The note also provides a detailed discussion of WPX's well.
Judging by the slide that has been recently added to Encana's corporate presentation, the results of their Mancos program must have been viewed internally as a success. It looks like Encana may be looking to add to its lease position in the Mancos and secure deep rights on its existing acreage. Importantly, the slide also suggests that Encana is seeing liquids potential on its significant acreage in the play.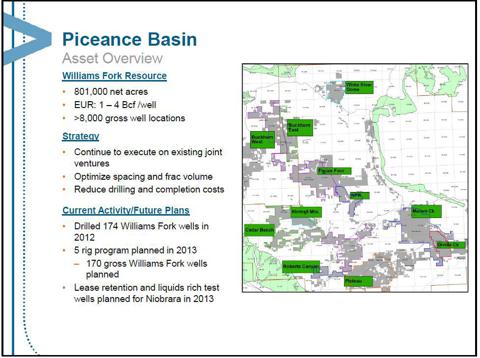 (Source: Encana Corporation's April 2013 Investor Presentation)
Black Hill Sees Strong Outlook For Mancos
Black Hill Corporation (NYSE:BKH), a diversified energy and utility company with significant lease holdings in the Piceance Mancos, has provided another set of highly encouraging data points. A slide from the company's recent presentation summarizes production history data for several horizontal Lower Mancos tests drilled in the play by them and Encana. Based on the actual production curves provided, EURs for the best producers may exceed 8 Bcf, confirming estimates from other sources.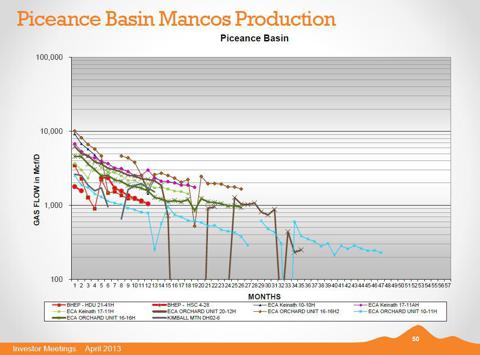 (Source: Black Hill Corporation April 2013 Investor Presentation)
The activity map provided by Black Hill highlights the fact that a broad span of acreage in Garfield and Mesa Counties has been covered by the industry's testing activity. Notable are several Encana's wells shown on the map that have been drilled but remain on confidential status.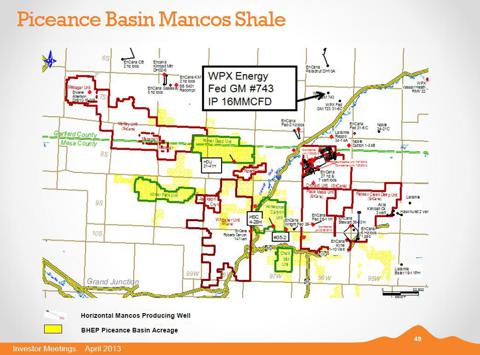 (Source: Black Hill Corporation April 2013 Investor Presentation)
Black Hills owns 54,700 net acres in the Piceance which are prospective for Mancos-Niobrara. The company has drilled two successful operated tests in the formation in 2011. According to the company, the second test well produced condensate and higher-Btu gas. Based on its two wells' performance and offset operators' well results, Black Hills estimates EURs in the play in the 6-8 Bcfe range and indicates targeted well costs in the $1.30-$1.40/Mcf net after royalties. Such cost could be highly competitive if liquids component is high enough. The company plans to drill two additional Mancos tests this year.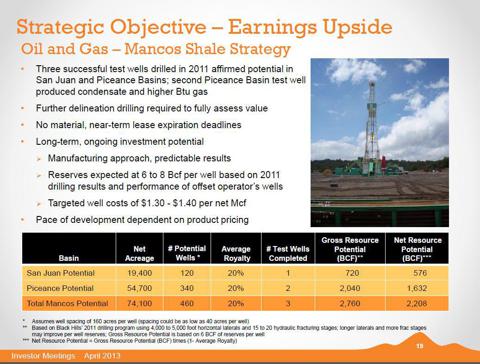 (Source: Black Hill Corporation April 2013 Investor Presentation)
During Black Hill's fourth quarter conference call, the company's CEO David Emery commented:
...Our existing oil and gas leases in the Piceance and San Juan basins have net resource potential in excess of 2.2 trillion cubic feet in natural gas. That's nearly 30 times - more than 28 times - our year end proved reserves, so huge upside opportunity there. As I mentioned earlier, we are seeing results from other operators. I think they continue to be very encouraging in addition to the results of the test wells we have drilled and the ones we plan to drill this year, a lot of exciting things happening in the Mancos play.
The company is using 160-acre spacing in its calculation of resource potential which may prove very conservative.
Other Operators
In addition to Encana, WPX, and Black Hill, other publicly traded stocks with potential exposure to the Piceance Mancos play include:
Bill Barrett (BBG)
Linn Energy (LINE)
ExxonMobil (NYSE:XOM)
Marathon Oil (NYSE:MRO)
Occidental Petroleum (NYSE:OXY)
Dejour Energy (DEJ)
What Is The Mancos Shale?
Because of its vast deposition range, which spans several states in the U.S. and extends into Canada, thickness and high organic content, the Mancos Shale is perhaps the most significant shale deposit in the Western United States. Geologically, the Mancos was formed at the bottom of the western Cretaceous Seaway, a quiet inland sea that cut across the North American continent throughout the Cretaceous era. The Mancos is considered a source rock for many of today's major oil and gas plays in the Rockies. Generally referred to as the Mancos, the shale plays within this very thick and non-homogeneous geologic formation have numerous other names for specific members: Gallup, Niobrara, Mancos B, Baxter, Hilliard, Blair, Bowdoin, etc.
The Piceance Mancos presents many technical challenges to operators. The formation is characterized by varying lithologies throughout the pay interval; complex fracture geometry; strong overpressuring and extreme temperatures; significant natural inclines; etc. The sheer thickness of the interval which ranges from 1,000 to 5,000 feet presents a challenge with determining the most productive sections of the pay zone. My earlier note "Niobrara Shale: Will Major Recent Discovery Translate To A Major Source Of Gas Supply?" provides an illustration of technical difficulties that operators may encounter when drilling in the Mancos-Niobrara and explains why progress in developing optimal extraction techniques in the play may be gradual. "Cracking the code" in the Mancos may clearly take some time but rewards may ultimately be very significant. It looks like the process is already well underway.
Disclaimer: This article is not an investment recommendation. Any analysis presented herein is illustrative in nature, limited in scope, based on an incomplete set of information, and has limitations to its accuracy. This article is not meant to be relied upon for investment decisions. Please consult a qualified investment advisor. The information upon which this material is based was obtained from sources believed to be reliable, but has not been independently verified. Therefore, the author cannot guarantee its accuracy. Any opinions or estimates constitute the author's best judgment as of the date of publication, and are subject to change without notice.
Disclosure: I have no positions in any stocks mentioned, and no plans to initiate any positions within the next 72 hours. I wrote this article myself, and it expresses my own opinions. I am not receiving compensation for it (other than from Seeking Alpha). I have no business relationship with any company whose stock is mentioned in this article.