With just over a week until earnings from Apple (NASDAQ:AAPL), we are at a crossroads between two camps. The first camp, the bull side, believes that Apple is extremely undervalued, and that a stock that was at $705 late last year should not be trading for the $430 or so it is now. This camp believes that Apple's earnings report will help the stock form a bottom, because even if the company's fiscal Q2 numbers are weak or Q3 guidance is soft, this should be priced in already. On the other hand, you have the bears. This camp believes that Apple will miss on either the revenue or earnings number for fiscal Q2, issue terrible Q3 guidance, or a combination of both. This side believes that Apple's stock has not bottomed yet, and that $400 will soon be taken out.
Today, I'm going to discuss an overall idea that I've been piecing together throughout my Apple articles over the past couple of months. This is the idea of a kitchen sink quarter, that Apple uses fiscal Q3 as a throwaway quarter. Apple would not announce a dividend increase or launch any new products. The company would simply coast through the quarter with the status quo remaining. Then, in fiscal Q4 (calendar Q3), Apple would start to launch new products, increase the dividend, and so on. This would set Apple up for a great second half of 2013, and probably would help the stock put in a bottom over the next month or two. Today, I'll analyze why I think a kitchen sink quarter is possible. The question for investors is obviously, would you be happy with this?
Breaking down the potential in Q3:
I mentioned in a past Apple article my concerns for fiscal Q3. It's not so much that I'm concerned with Apple's quarter, as I am with Apple's analysts and their projections. Right now, analysts have their average current estimate for Apple's fiscal Q3 revenues at $39.62 billion. That compares with the $35.02 billion that Apple produced in last year's period. So for Apple to hit the current average estimate, they would need to grow revenues by $4.6 billion.
So how do they get that $4.6 billion? Well to me, the math doesn't seem in their favor at this point. Let's first start with Apple's "other revenues", the ones that aren't from product sales. These include revenues from the iTunes store, App store, software sales, hardware sales, and a few other items. These sales have been growing around 25-30% year over year for a number of quarters now. Apple should get somewhere between $500 million and $1 billion more in these revenues over last year's period.
However, at the same time, Apple's iPod revenues are decreasing. Apple's iPod revenues have been declining by double digits, percentage wise, in their recent quarters. That means that some of, or even most of, Apple's revenue gains from "other items" might be offset by revenue decreases in the iPod segment.
Some possible room for growth would be in the Mac unit. Apple's Mac sales disappointed in fiscal Q1 (calendar Q4), and supply issues were partly to blame. You would expect Mac sales to improve a little bit thanks to some of those Q1 sales being pushed into Q2, but will those sales push forward to Q3? That remains to be seen. Additionally, sales of those higher priced MacBook Pro laptops with Retina display should help some in the average selling price category for portables. However, the cutting of some MacBook prices will limit those gains.
On the desktop side, selling those $599 Mac minis could hurt the average selling price there. Also, IDC is estimating that Apple's US Mac shipments fell 7.5% over last year's period in the first calendar quarter. This is not a good time for the PC industry, and Apple is partly to blame for that thanks to the huge rise in popularity for tablets.
In fiscal Q3 last year, Apple sold just over 4 million Macs for total revenues of $4.93 billion. Even if Apple releases some new items in this space during the quarter, I think you're looking at a potential revenue increase (over last year's period) of $500 million, at best. Altogether, between the Mac, iPod, and "other revenues", I think Apple might see an increase of $500 million to $1 billion for Q3 over last year's period. At the top end of that range, Apple would still need to see a revenue increase of more than $3.5 billion just to meet current analyst estimates. Where will all of that come from? Let's first look at the iPad.
In fiscal Q3 last year, Apple sold more than 17 million iPads. The iPad mini was not out yet, so those were all higher priced models. Since Apple released the 4th generation iPad and new mini in fiscal Q1, Q3 will be the third quarter of sales. Apple sold nearly 23 million iPads in fiscal Q1, so we expect that number to come down in both Q2 and Q3. Since the lower priced model mini reduces the average selling price, Apple probably would need like 18-20 million iPads in Q3 to see revenues flat year over year. I think right now most expectations are in the 14-16 million range. That means that Apple could see a total revenue decrease of perhaps a billion dollars in the iPad unit, or more.
The only way that Apple could potentially see any gains in the iPad space would be to see a new model come out during the quarter. That seems unlikely. Currently, it looks like July maybe for a new mini, and most don't expect a 5th generation iPad to be in production until July or August, with a potential October release. If Apple sees a decline of a billion or more in revenues from the iPad, that means that overall revenues, ex-iPhone, will either be flat or down, meaning all of the gains will have to come from the iPhone.
So let me tell you why I think that is unlikely. In fiscal Q3 last year, Apple sold just over 26 million iPhones. Apple is selling the iPhone 5 in more countries than it did with the 4S, but there's something else to consider here, and that was the launch dates. The iPhone 4S originally went on sale on October 14, 2011, with further launches on October 28th, November 11th and 25th, December 16th, and January 23rd, 2012. That January 23rd launch was a big one, as it continued China.
But when I discussed reasonable expectations, I mentioned that the iPhone 5 launch was pushed up in terms of the calendar. The iPhone 5 first went on sale on September 21st, 2012, with future releases on September 28th, November 2nd and 9th, and December 7th, 14th, and 21st. China was part of the December 14th launch. The important part here is that a pushed up timeline means that Apple has already sold a ton of units, meaning less sales are available for fiscal Q3.
So it might be hard for Apple to sell 26 million units in fiscal Q3 to begin with. Also, if rumors are true that Apple is selling more older iPhone units, that will impact their average selling price, as the older units don't generate as much revenue. Apple might have some higher unit sales thanks to sales of older models, but that would be offset a little by the price drop.
Even if Apple does release a new phone, it probably wouldn't be until late in the quarter, maybe the last week or two of June at best. Additionally, because of their tiered launch system, you might not see sales in countries such as China until the next quarter. Now yes, a phone launch in the quarter would certainly help sales. But to me, if it starts to appear that Apple is launching a new phone, consumers might hold back on purchases of the phone until the new one comes out. Sure, Apple could potentially sell 8-10 million new units in a week or two, but that might be partially offset by "lost sales" from those holding back new purchases. Finding $4 billion or so of revenues here could be extremely difficult.
In my opinion, the only way that Apple can hit the current revenue target is to release a new iPhone early in or during the middle of fiscal Q3. I don't think that will happen, as it appears delays are mounting. Without a launch of a new iPhone, it's hard to see how Apple can show a year over year increase of more than $4.5 billion in revenues. Additionally, if Apple launches a cheaper phone, they'll need to sell many more units of it to make up that revenue difference. Analysts are starting to agree, as the table below shows the average revenue and earnings estimate for fiscal Q3.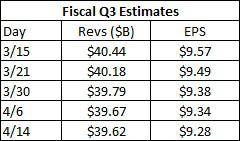 Just in the past month, the average revenue estimate has come down by about $800 million. I think we'll see more estimates come down as we approach Apple's Q2 report next week. Right now, the conservative side of me thinks Apple will issue fiscal Q3 revenue guidance in a range of $36 billion to $38 billion. With current estimates for more than $39.6 billion, that would be seen as quite a disappointment.
It seems that Apple would need to rush a new phone just to meet current analyst expectations. So why bother do that and potentially hurt quality or cause some other problem? A kitchen sink quarter seems like the best thing to do, and given where current estimates stand, I can see the possibility. This would set up the second half of the year for Apple to "rebound", and would probably put in a bottom for the stock. Here's how the second half would look.
Setting up the second half of 2013:
By having a kitchen sink quarter, Apple would be set up to launch several new products in the second half of the year, creating a buzz almost every month. Most are expecting a launch of two separate iPhones, a 5S and a lower-cost model. Which one they release when is immaterial really to my argument, because they'll both launch in the second half of the year. Perhaps one in July/August, which would especially be good in the US for the back-to-school crowd, and then one in October/November for the holiday season.
The same can be said for the iPad. Most expect a 5th generation iPad to be launched, as well as a second version of the mini. I don't think Apple would launch one of these at the same time as an iPhone, so maybe a couple weeks apart from an iPhone launch. Again, both appear to be launching in the second half of the year, which means those sales would not occur in fiscal Q3.
But there's another item investors are looking to hear about, and that is the dividend. In March 2012, Apple announced it would start paying a dividend again. The first payment was to be in the fourth fiscal quarter of that year, the third calendar quarter of 2012. The $2.65 dividend has been paid three times, with the latest payment in February. The next payment would be in May. Many, like myself, were wondering if Apple would raise the dividend on or near the anniversary of their dividend announcement from 2012. We are almost a month after the anniversary now, so that did not happen obviously.
That leaves three possible dates for a dividend announcement in my opinion. The first choice would be next week's earnings report. If Apple is going to issue lower than expected guidance, Apple could use a dividend raise announcement to "soften the blow" that the stock could see on low guidance. This is a possibility, but it wouldn't fit into my kitchen sink approach. Even if Apple does announce a raise here, it is unlikely that the raise would be for the May payment, it would most likely be for the July one.
The second possibility is a surprise announcement during the quarter. Apple surprised us in March 2012 with the announcement, so why not surprise the market again? Especially if Apple issues low guidance and the stock falls, this scenario could be a way to find a bottom in the stock. This is a little more likely, and would be more in line with the kitchen sink approach, because all of the "bad news" would have been priced in to the stock by then.
The third scenario would be to completely use the kitchen sink theme, and not raise the dividend until their earnings report in July. This would completely let the first half of 2013 pass. If we don't get an announcement on the dividend by the middle of June, I would expect to see it happen during the earnings report.
Let's assume for now that Apple does option three, raising the dividend at the July earnings report. This could set up the second half of 2013 as follows:
July - 3rd quarter earnings report with dividend raise.
July/August/September - iPhone and iPad releases.
September/October/November - other iPhone and iPad releases.
Now that sounds like a good second half of the year to me, and that doesn't include anything new on the Mac side, a possible iRadio launch, a China Mobile deal, or anything else (like an iWatch or iTV).
Recap / Ways to trade:
To me, it just seems unlikely that Apple could possibly meet the current analyst average estimate for fiscal Q3 revenues. To do so, it seems that they would need to rush an iPhone, because even a 5th generation iPad or new iPad mini probably wouldn't get enough revenues in my opinion. It doesn't appear Apple is going to rush things, and I don't see a reason why they should.
To me, a kitchen sink quarter seems likely, but is that necessarily a bad thing? Apple would set itself up for multiple product launches in the second half of 2013, a dividend raise announcement, and maybe even something new. While it makes sense on paper, investors need to ask themselves if they would be happy with that? If a kitchen sink quarter to occur, it likely would put additional pressure on the stock in the short-term, especially after the earnings report. It's not out of the question to see Apple below $400 if that were to occur.
So how do you trade this? There are plenty of options, so let me discuss some of them. Let's first assume that you don't agree with me at all. You believe that Apple will issue decent guidance for fiscal Q3, which most likely means you are pricing in a product launch during the quarter. If that is the case, then you should be long Apple. Good guidance would push this stock up, and being long is the best way to trade it here. This is the highest risk/reward scenario on the long side, because being 100% long Apple opens you up to the biggest gains, or biggest losses.
Another option is to completely wait. See how the earnings report looks and how guidance is, then decide on going long. This is the opposite of the scenario above. You would miss any potential rally, but you wouldn't incur any losses if the stock drops. If you think Apple is headed higher in the long-term, you'd probably like getting Apple at $400 or $375 better than getting it at $430 or so.
The third and fourth options would be a partial position. Option three would be to buy half before earnings, wait, and get the second half after earnings. Option four would be to purchase a complete position (100%) before earnings, but to hedge it with options.
The fifth option could be the riskiest of them all. If you believe that Apple will do the kitchen sink approach and the stock will tank, then maybe you would consider shorting the stock into earnings. If the stock tanks, you make your profit and then could go long. I'm not really recommending that you do this, even if you do agree with the kitchen sink approach. But it is an option, so I must at least mention it.
In the long-term, I'm bullish on Apple, but for my personal accounts, I'm taking the wait and see approach. Just to show you how important certain buy points are, I've included the table below. The first part shows what your yield is, based on the current dividend. The person that buys at $375 (if we were to get there) would get an extra 47 basis points in dividend yield over the person that buys at $450. That might not seem like much, but when looking for yield, 2.83% is a world of difference from 2.36%.
But the more important part for long-term investors is the second half, showing what your gains/losses would be if Apple goes to the price on the left side of the chart, based on your buy price above. So if you think Apple will be at $500 a year from now, the person who buys at $400 returns 25% while the person who buys at $425 gets 17.65%. Both would be nice returns, but on a $10,000 position, the one who got in at $400 would have an extra $735 (before taxes). That's a nice chunk of change.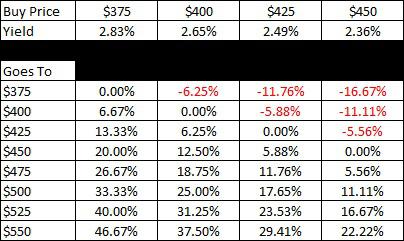 I'll be back next Monday with my official Apple earnings preview for fiscal Q2, which should be a very interesting quarter.
Disclosure: I have no positions in any stocks mentioned, and no plans to initiate any positions within the next 72 hours. I wrote this article myself, and it expresses my own opinions. I am not receiving compensation for it (other than from Seeking Alpha). I have no business relationship with any company whose stock is mentioned in this article.
Additional disclosure: Investors are always reminded that before making any investment, you should do your own proper due diligence on any name directly or indirectly mentioned in this article. Investors should also consider seeking advice from a broker or financial adviser before making any investment decisions. Any material in this article should be considered general information, and not relied on as a formal investment recommendation.