I recently ran a screen for safe stocks that yielded at least 2%. One of the interesting stocks that came up was Sturm Ruger & Company (NYSE:RGR). Ruger is a firearms manufacturer. They make rifles, pistols, and revolvers and sell them (mostly) to wholesale distributors. End customers are public and law enforcement. This is a profitable business (as we will see when we look at the financials) but is obviously subject to extra political / legal risks that most manufacturing companies are not. So, without getting diverted into the rights or wrongs of gun control, I shall first look at the political risks.
At the time this article was being written, the US Senate was discussing laws to introduce stricter gun control measures (background checks for purchases at gun shows, a ban on "assault weapons", a limit on magazine size). Actually, the Senate was going to discuss whether or not to begin a formal debate on the gun control bill - sixteen Republican senators promised to filibuster in an attempt to prevent the bill even making it to the floor. The gun lobby is a powerful force. Even if a gun control bill gets passed, most of Ruger's products are going to be unaffected by anything less than a total victory for the pro-control lobby. Ruger mostly make sporting rifles and pistols, not assault weapons, or large capacity magazines.
Firearms manufacturers are currently immune from most negligence or product liability suits thanks to the Protection of Lawful Commerce in Arms Act (2005). In the unlikely event that HR 332 (Equal Access to Justice for Victims of Gun Violence Act) succeeds, manufacturers would be at significantly increased risk of facing civil suits. However, these suits would be when the product malfunctioned (i.e. discharged accidentally and caused harm to someone). If the product functioned as intended (even if that intent was criminal), then the manufacturer is highly unlikely to be found negligent.
Another potential legal risk is HR 1369 (Firearms Risk Protection Act) would gun owners to purchase liability insurance and require customers to show proof of the insurance before being allowed to purchase a firearm. The effect of this legislation is difficult to predict I believe it would be relatively small. The simple argument is that the requirement for car insurance does not seem to have affected the demand for new cars. More complicated analysis depends on too many unknown factors to be of any real value.
So, my admittedly non-expert, view is that all of these are quite low probability risks and that the most likely consequences should these risks become facts are not particularly negative for Ruger. Their products are in the least objectionable and most popular categories of firearms.
Ruger offers appealing headline financials to an investor looking for a growing income. The yield is 3% (with a payout ratio of less than 35% since 2009). Ruger also paid a $4.50 (about 10%) special dividend in December. I always like to see special dividends as cash should not sit around and it shows management want to pay shareholders. The P/E ratio is currently 14 - well below the market average of 18 and slightly below the historical market mean of 15.5 and median of 14.5. This suggests Ruger might be a bargain despite its phenomenal growth over the last two years.
The firearms industry is very competitive (if you were inclined to mix metaphors you would probably say it is cut-throat). We can see this competitiveness in Ruger's margins. Their gross margin recently grew to 36% which is still somewhat lower than I would like. However, they are a manufacturer and wholesaler so cost of goods sold is the major contributor to their expenses. As we can see from the chart below (data from gurufocus, excel work mine) the net margin closely tracks the gross margin (SG&A expenses are the main other expense and are fairly consistently 14-16% of gross revenue).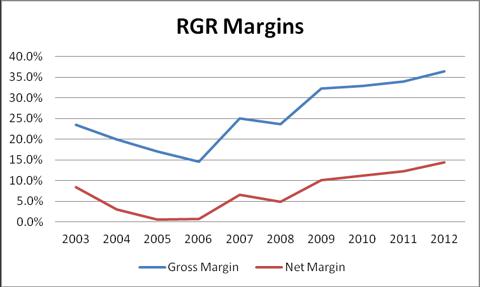 Ruger does not carry any long term debt and have $31m cash on hand. This is equal to about 45% of last year's net earnings and is at the end of a year in which they paid out $87m in special dividend and had net capex (capex minus depreciation) of $13m. They also do not have significant intangible assets ("other assets" are only about 5% of book assets). In short, RGR look to have a pretty bulletproof financial position.
One of the reasons for RGR's suddenly improved performance is manufacturing efficiencies. They produced 52% more "units" in 2012 than they did in 2011. Some of this was thanks to the capital investment already mentioned but management also singled out the implementation of lean manufacturing principles (the details of which are mostly of interest to operations management people). However, and this sort of falls in the nice-problems-to-have category, one of the challenges the company faces is actually expanding production fast enough to keep up with demand. Inventories of RGR's products declined over the year to the point where they "are significantly below the optimal level to support rapid fulfilment of retailer demand." (per their annual report)
I believe the company will be able to avoid the negative effects of this situation. Management seems to have the plans and the money to increase production and the spike in demand that was prompted by the tragic events of last year is unlikely to be repeated. I hope that is because there will not be similar tragedies but mostly I believe that gun control is already a high profile political issue so further tragedies would not increase the perceived likelihood of gun control measures being introduced so there would not be the same panic buying.
Ruger has a strong market position. They are one of the dominant players in.22 rimfire (the most common type of ammunition in the world) firearms in the US. It appears that their market share is growing too - the sell-through from distributors to retailers increased by 20% while background checks (the best available proxy for consumer demand) increased 14%. They are not dependent on any one customer - the largest distributor of the fourteen that serve the commercial market accounts for 17% of the company's sales. The top four distributors are all fairly consistent in their share of Ruger's sales and accounted for 56% of the total between them last year. Losing a major distributor would be a hiccup, but should not have serious long term effects as it appears that demand is mostly driven by the end user (through the stores to the distributors).
Management also seems to be a positive for investors. They have achieved operating efficiencies and shown a willingness to give money back to the stockholders. Management are somewhat new (a number of key figures joined in or since 2006) but they have achieved results that previous management did not.
Overall, I think it would be optimistic to expect Ruger to maintain its recent levels of growth over the next few years (although that would be very nice). However, even if they pretty much go sideways from here you are getting what looks to be a very sustainable 3% yield. There does not seem to be much risk of their performance declining significantly. Technical indicators (for what they are worth - I am not a very accomplished chartist) also suggest that at the time of writing RGR is just coming out of a period of being over-sold, so this may be a good time to get in.
Disclosure: I have no positions in any stocks mentioned, but may initiate a long position in RGR over the next 72 hours. I wrote this article myself, and it expresses my own opinions. I am not receiving compensation for it (other than from Seeking Alpha). I have no business relationship with any company whose stock is mentioned in this article.