In the battle of social media titans there is a clear quantitative winner. By all operating metrics, on a relative basis Facebook (NASDAQ:FB) is cheaper than LinkedIn (NYSE:LNKD). All data shown here is publically available and verifiable (from the Facebook 10K, released Feb 1, 2013 and from the LinkedIn 10K, released Feb 19, 2013 unless noted). These charts recommend a long short strategy, buying Facebook, and selling LinkedIn.
The fundamental question is how much more valuable on a relative basis is Facebook over LinkedIn. Currently the market is valuing Facebook as 3.2x more valuable than LinkedIn on an enterprise value basis (Market Cap less Net Cash). Note Facebook has $9.6B in cash vs. LinkedIn's $.7B.
images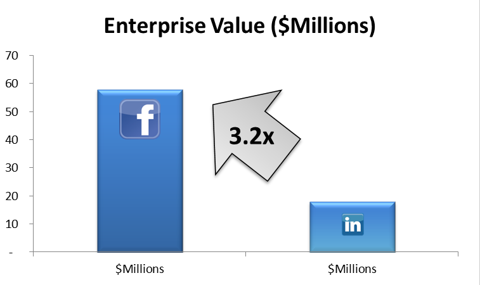 However, by most metrics other than current market valuation, Facebook is 4-6x times more valuable than Linkedin. First consider active users, the main driver of value for a social network. Facebook has 1.1 billion active monthly users. While LinkedIn boasts 200 million members, only 126 million members actually visit the site in a given month (by the company's own calculations). In an effort to increase engagement, LinkedIn purchased Slideshare and Pulse to keep users coming back to its website more regularly. However, LinkedIn still has a large member population that only check in periodically, use it as a stagnant public resume, or only turn to it for job searches. Compare this to Facebook's 618 million daily users who spend hours addicted to the website or glued to the site's mobile app. In 2012, LinkedIn claimed 38 billion annual page views. Although Facebook does not release page views, DoubleClick estimates Facebook receives over 1 trillion views-- a month. Facebook's natural user engagement has been sustained over a long period of time because it appeals to basic human social curiosity and needs.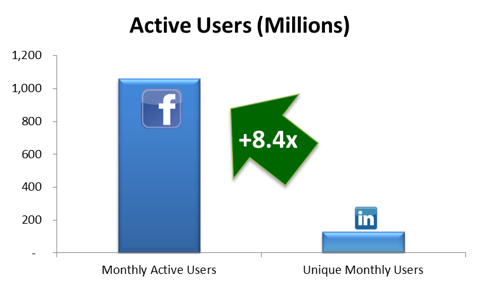 Over the last year, LinkedIn has had higher organic user growth on a percentage basis at 30% (excludes 17 million users acquired through Slideshare acquisition) vs. Facebook's 25% growth (assumes Instagram did not add significant additional users). But this is really just a case of the law-of-large-numbers: on a pure numbers basis Facebook added 8.6x the number of users that LinkedIn did. Facebook is also seeing better international growth and less direct competition (Google+ hardly counts) than LinkedIn, which faces strong competition from the likes of Monster.com, Career Builder, and Craigslist for job search functions.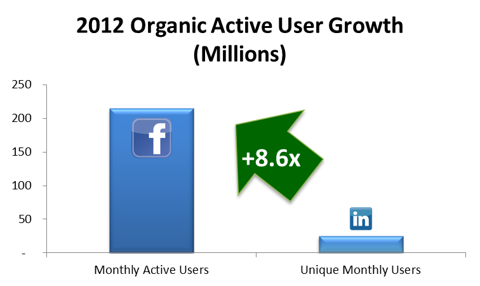 Turning to financial metrics, here too Facebook is considerably more valuable, with 5.2x LinkedIn's revenue.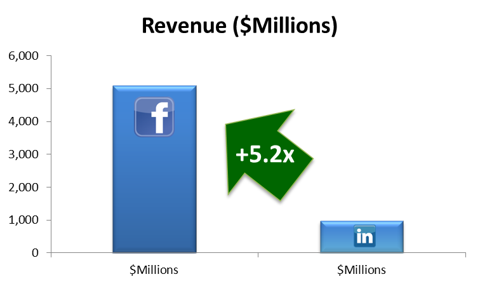 The one advantage of LinkedIn is that most of the interaction is over personal computers, not mobile devices, so the average advertising rates are currently higher. LinkedIn has also done a better job monetizing the platform through premium subscriptions. Until recently, Facebook CEO Mark Zuckerberg's reluctance to clutter the platform with ads caused Facebook to fall behind on monetization. Facebook is, however, quickly catching up with integrating paid advertising into its normal site functions. This has won back even hesitant advertisers like General Motors (NYSE:GM). As the company figures out mobile monetization, revenues will rise even higher. Finally, there is the huge data opportunity. Facebook holds the keys to a marketer's dream: demographic, mobile location, and preference information for a substantial portion of the world's consumers. LinkedIn's data is also valuable, but limited to job history and recruiting-related information. LinkedIn has executed better over the last year at growing revenue, but Facebook still has a much larger revenue base and more long-term runway.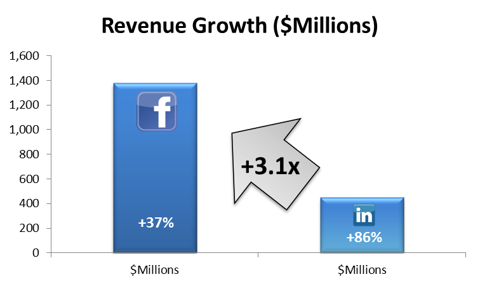 The scale and low cost structure of Facebook's model will result in sustained operating income outperformance over the long-term. As it currently stands, Facebook has 9.5x the operating income of LinkedIn.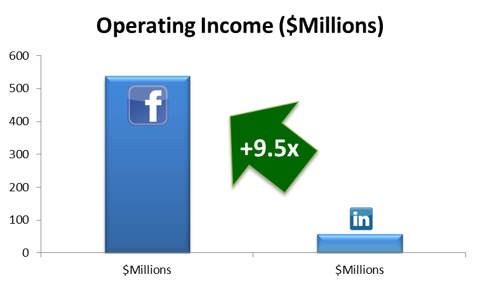 In addition, Facebook has a very lean operating profile with 4,619 employees vs. LinkedIn's 3,458. Facebook's model allows for lower sales and marketing staff and its near monopolistic market position allow it to spend relatively low amounts on research and development.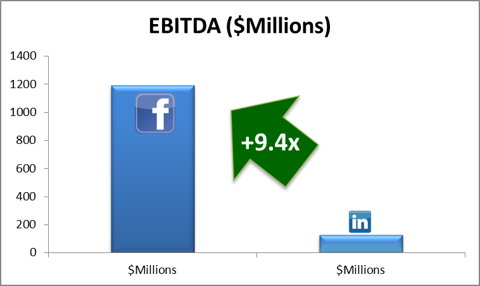 By virtually all operational and financial metrics (including forward figures for 2014) Facebook should be trading at 4-6x times the value of LinkedIn. Possible catalysts for these valuations to return to equilibrium:
An acceleration of Facebook's mobile and online monetization, resulting in an increase in the Facebook stock price from its current levels (forward P/E ratio of 36).
A pull back in LinkedIn from its current frothy, post-IPO valuation (forward P/E ratio of 87).
Disclosure: I am short LNKD. I wrote this article myself, and it expresses my own opinions. I am not receiving compensation for it (other than from Seeking Alpha). I have no business relationship with any company whose stock is mentioned in this article.