We've got more than 150 different kinds of crude oil, differentiated mainly to gravity (API gravity) and sulfur. The so-called Light crude has gravity higher than 38 degrees, while the Heavy crude has gravity lower than 22 degrees.
BRENT
Of all these oil types, two are the most important. First, the American West Texas Intermediate [WTI], which is known as the American measure for the oil price. WTI is being traded at the stock exchange in New York. WTI is being transported with pipelines from American oil fields to the central processing site at Cushing, Oklahoma. WTI crude oil is of very high quality and is used for refining a larger portion of gasoline. Its API gravity is 39.6 degrees, which makes it a "light" crude oil, and it contains only about 0.24 percent of sulfur (making a "sweet" crude oil).
WTI
The other important oil type is the Brent North Sea oil (Brent), which is comprised from oil from 15 different oil fields in the North Sea. Brent is being traded at the London Stock Exchange and can easily be transported with huge oil tankers all over the world. It is still a "light" crude oil, but not quite as "light" as WTI, and it contains about 0.37 percent of sulfur (making it a "sweet" crude oil, but again slightly less "sweet" than WTI). Brent blend is good for making gasoline and middle distillates.
WTI higher quality
The fact that WTI is of a higher quality, measured in sweetness as well as gravity, makes it a more expensive oil. Until 2011, the price of a barrel of WTI oil used to be a few percents higher than Brent oil. But then, the price of Brent kept outperforming WTI. At first, a little bit, with oil traders selling the, as they called it, 'anomaly'. But later, when they realized that the old price difference did not come back, Brent kept on rising. At its highest level, somewhere in 2012, the price difference was around 25%. At this very moment, the spread is slowly but surely coming back to 'normal' levels. Today Brent prices are 12 % higher than WTI.
What caused this spike of Brent prices towards WTI?
The first explanation is actually the flood of oil coming from Canada and other American oil fields to Cushing, Oklahoma. Because of the relative high oil prices of the last few years, oil companies have been investing quite heavily in exploration of oil from tar sands (Canada) and shale oil (US). Because of the fact that there is no sufficient infrastructure yet in the US to export all this extra oil, it naturally brings prices down in Cushing.
The second reason is the unrest in the Middle-East region. The Saudisand Iraqis have ditched WTI as a benchmark and traded it for a different kind (Argus Sour Crude Index, ASCI) which is quite similar to the Brent oil. Therefore, every hiccup in violence in the Middle East is being reflected in Brent oil more than in WTI.
Third, the production of oil from the North Sea is declining which also gives an upwards bias to the Brent price.
Sell the spread
Right now, the spread is getting back to normal. Americans are investing in a new oil pipeline from Cushing to the West Coast, which makes it easier to export the WTI oil. On the other hand, the long recession in Europe causes less demand for oil in the old continent. The Americas, however, are already growing again what also fuels demand for oil.
In my opinion, it is only a matter of time before the odds are even again for these two kinds of oil. The United States wants to become a net exporter of oil and is spending a lot of money on infrastructure. The fact that WTI is the 'better' oil will eventually make sure that the price of Brent compared to the WTI will decrease. For investors who want to benefit from this scenario, it is still not too late to set up a spread.
Sell the Brent and buy the WTI. Time is your friend.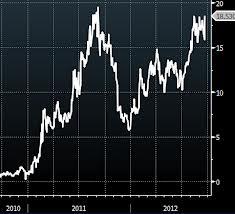 Source: soberlook.com
Disclosure: I have no positions in any stocks mentioned, and no plans to initiate any positions within the next 72 hours. I wrote this article myself, and it expresses my own opinions. I am not receiving compensation for it (other than from Seeking Alpha). I have no business relationship with any company whose stock is mentioned in this article.