Recently, an article appeared on this site advocating the sale of deep in the money puts as an attractive means of purchasing the S&P 500 (NYSEARCA:SPY) at a price below where the index is trading. While this strategy may appear desirable at first glance, it is prudent to point out a potential drawback of this trading strategy.
Markets have risen a good deal over the past several years and given this fact, some investors may find themselves wishing to enter the market today, while limiting the price that they must pay in order to do so. The referenced article gives a nice synopsis of reasons that one might be critical of the current rally in stocks, which include:
Earnings growth over the past year has been limited1
Analyst's earnings expectations may be inflated in order to make stocks appear cheaper than they are based on forward earnings2
Macroeconomic data still appear anemic and robust revenue and earnings growth still seem unlikely
The Federal Reserve may be influencing the market making it more expensive than it should be. Removal of monetary stimulus could put downward pressure on stocks at some point in the future.
The strategy advocated in the referenced article is to lower one's entry price through selling a deep in the money put. An SPY $180 Jan-2015 put was recommended and the expected return of this strategy compared to the closing price of SPY in January 2015 is charted below. As for the sale of any put contract, the party writing the option retains all of the downside with limited upside. In this case, selling the mentioned put for $29.37 affords a breakeven price of $150.63 and a maximum profit equal to the value of the option.
Figure 1: Profit or Loss from Selling an SPY $180 Jan-2015 Put
At first glace this appears to be a "can't lose" strategy, you get a lower entry price and a maximum 9.3% annualized return over the next 21 months. Unfortunately, because there is no free lunch in the market you are taking what can be referred to as positive tail risk. Everyone reading this article is likely familiar with tail risk as the downside risk that can occur during a bear market. However, if you consider the return of the stock market as a bell curve, the strategy above will miss returns that come in excess of an average market return.
Below is a graph of the price of the S&P 500 index or its equivalent from 1871 until the present day. Over that time there are 142 years at which a rolling two-year period could begin. These rolling two-year periods were analyzed for the number of instances that the price appreciation came within different ranges. For the strategy above, a return of greater than 19.4% (9.1% compounded by two years) would lead to upside tail risk and not realizing the full appreciation that is warranted by the risk undertaken in the strategy.
Figure 2: The S&P 500 or Equivalent Since 1872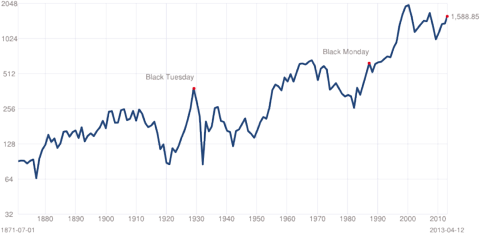 For this 142-year period a total of 27.4% of the time a rolling two-year period netted a return in excess of the amount in question. During this 27.4% of the time the average two-year return was 39.1% meaning that on average for all two-year periods, this strategy would lag the market significantly. For example, if 27.4% of the time you miss an average upside of 19.1% you have on average lagged by 5.2%, this is approximately equal to the lower entry price of the put selling strategy before the effect of dividends is considered. While it may feel safe to lag the market only 27.4% of the time the fact remains that you have taken all of the downside risk that would be encountered by buying SPY today. Since this amount is approximately equal to the dividends you would have received, you are really just receiving dividends through an alternate mechanism and forfeiting the upside if stocks rise considerably.
Table 1: Range of Rolling 2-Year Returns for the S&P 500
| | | | |
| --- | --- | --- | --- |
| Return Low Limit of Range | Return Upper Limit of Range | Number of Instances | Percentage of Total Instances |
| -50 | -20 | 19 | 13.4 |
| -20 | -10 | 16 | 11.3 |
| -10 | 0 | 20 | 14.1 |
| 0 | 10 | 23 | 16.2 |
| 10 | 20 | 25 | 17.6 |
| 20 | 50 | 33 | 23.2 |
| 50 | 90 | 6 | 4.2 |
A further risk of this strategy is early execution of the SPY put contract. The likelihood of an options contract being executed increases markedly the lower the time value of the option. In other words, selling a $180 SPY put for $30 only nets $9 of time value or 30% of the value of the option. As time goes by, depending where the S&P 500 trades the time value could become low enough that early execution would occur. Early execution will become far more likely if the index declines significantly.
While selling deep in the money puts can appear attractive, it is still important to consider the potential downside of the strategy. You are given a lower entry price and in exchange you sacrifice return if the market rises further than you may have envisioned. This article does not imply that the market will rise that much, instead it simply notes that two years is a long period of time and historically the odds are a good deal higher than many appreciate at first glance. Unfortunately in the market there is no free lunch and the strategy advocated above while limiting price may cost you by sacrificing return. In this case, the lowered cost basis is only slightly greater than the dividend you would receive from holding SPY. Over the past 7 quarters SPY paid out $5.19 in dividends relative to the $8.15 reduction in price from selling the put in question. In reality the seller of such an option has simply lowered his or her price by $2.96 and probably even less since dividends over the next 7 quarters will most likely be higher than in the preceding 7 quarters. Thus, return may be sacrificed should a strong bull run continue. The question is whether a potential lower return is worth an entry price that may only have been reduced by $2.50/share. This judgment of what is the best course of action remains within the discretion of the individual investor. However, it is important to analyze the risk and reward of this strategy carefully before pursuing it.
As a result, the question of whether to buy stocks at current prices is not circumvented by a strategy that sacrifices return in order to lower cost-basis. If you want to own the SPY for the price where it is currently trading it may be more desirable to simply purchase it directly or to wait for a suitable pullback.
1,2Footnote: A while ago I penned articles about both the issue of lowered earnings and rosy analyst estimates. If you wish to read further these articles can be found here and here.
Disclosure: I have no positions in any stocks mentioned, and no plans to initiate any positions within the next 72 hours. I wrote this article myself, and it expresses my own opinions. I am not receiving compensation for it (other than from Seeking Alpha). I have no business relationship with any company whose stock is mentioned in this article.