Where were you in 2008? It was a pretty scary time to be an investor. Personally, I was new to the whole thing and had much of my money parked in emerging markets investments, thinking to take advantage of their unstoppable growth. After losing my shirt, I learned the lesson that chasing growth at any price might not be the best idea. That was how I got into "Value" and dividend growth investing.
So, between 2008 and 2009 I set out to rebuild my portfolio around brand-name multinational companies with a long history of dividend increases. I figured that after a few years those dividend hikes would give me a high yield compared to what I had originally spent. Though it wouldn't be as exciting, this did seem the best way to compound wealth.
And since most everything then was at multi-year lows, I found it easy to pick up my target stocks at a good price. The new "core" of my portfolio would be a host of well-known brand names:
These five being the core of my portfolio, I wasn't going to get too concerned about day-to-day price changes. These were my genuine long-term investments. The goal was to maximise the dividend yield in relation to the initial cost.
Five Years Later
This last weekend, I turned back to evaluate my companies' progress. The index chart to the right illustrates the dividend at the time I acquired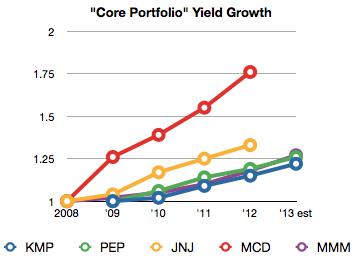 stock as "1." All points above 1 are in relationship to that original dividend amount. So, if a company raises its dividend by 10% in year one, it would be sitting at 1.1. If it was raised another 7% in year two, the number would not be 1.07 but 1.177 (1.1*1.07).
Besides one very clear winner, McDonald's, this chart is a little disappointing. I was hoping by now that the dividends would be at least 50% higher than they were five years ago. Most of these companies ended up being slow-growers.
Yet, considering the financial calamities, deep recession, and anemic recovery with a Flash Crash in between, I'm happy with the slow but steady progress that my core portfolio has made. And I'm willing to hold on indefinitely to watch my Yield On Cost climb.
Survival Bias
These five were not my only dividend growth picks back then. In fact, I also chose Procter & Gamble (NYSE:PG) and Intel (NASDAQ:INTC) but sold both as I thought Procter's growth unlikely to rebound and Intel's economic moat deteriorating fast. Neither one was giving the steady, sustainable growth I was expecting. I chalk these two up as failures, although I could have been more patient with Procter. I also trimmed my Johnson & Johnson position when its price was very low. That was a dumb idea, too.
Learning From Mistakes
But so far, I'm really pleased with the companies I chose as alternatives to Intel and Procter: Colgate (NYSE:CL), Qualcomm (NASDAQ:QCOM) and apartment REIT Home Properties (NYSE:HME). This year they raised their dividends by 9.6%, 40% and 6% respectively. Since these were acquired in 2011, they haven't had much time to raise my Yield On Cost, but I believe all three will do very well. In coming years I will include a chart for them, too.
These three choices represent how I have learned from my previous mistakes. While I used to look at history and past performance as my guide in picking stocks, I've since learned an important lesson: "It's not where the puck has been, it's where the puck is going."
In recent years I have since looked for companies with lower dividend payout ratios and better prospects for long-term growth. The conclusion I've reached is that the biggest gains will come from finding the next dividend achievers rather than the ones whom have been raising dividends for decades already. And so, these are my dividend growth picks from the last two years:
Core Laboratories (NYSE:CLB)
Occidental Petroleum (NYSE:OXY)
Rayonier (NYSE:RYN)
Colgate-Palmolive
Linn Energy (LINE)
IBM (NYSE:IBM)
Qualcomm
Home Properties
I expect solid dividend growth from each of these, and continued double-digit growth from four in particular: Qualcomm, IBM, Core Labs and Occidental. All of these companies have some long-term growth catalyst, many of them secular in nature. And they all have a commitment to raising dividends. In choosing these companies I have tried to be more forward-looking, seeking companies with great prospects for future dividend hikes has been more a focus than those with long historical "streaks." As these companies raise dividends in the coming years, I'll include them in similar charts, too.
Going Forward
The fundamental case for all these stocks, the original 5 and the 8 which were added later, are still strong. Therefore, I will continue adding to any of them if their valuations become attractive enough.
At the present time, however, most of these names have run up significantly and are expensive relative to their historical valuations. Of those listed, the two energy companies Linn and Occidental are the closest to reasonable. I would be most likely to add to them on a meaningful pullback.
Conclusion
Although many well-known dividend growth companies may have slowed for a variety of economic reasons, the thesis is still intact. My 2008 strategy is progressing slower than expected, but it's still working. I also believe that my recent picks will raise dividends even faster and therefore generate a higher Yield On Cost in the long run.
Stay Tuned
Many of the companies listed here I have written articles on and follow regularly. My main investing strategy is Dividend Growth and I often write with this as a focus.
Sources: "'Core Portfolio' Yield Growth" chart by author.
Disclosure: I am long CL, CLB, MCD, KMP, PEP, JNJ, MMM, RYN, OXY, LINE, IBM, QCOM, HME. I wrote this article myself, and it expresses my own opinions. I am not receiving compensation for it (other than from Seeking Alpha). I have no business relationship with any company whose stock is mentioned in this article.