ZAGG (NASDAQ:ZAGG) is a young company with a breakthrough product called the invisibleSHIELD. The invisibleSHIELD is a patented protective‐film covering designed for Apple's (NASDAQ:AAPL) iPod product line, RIMM's (RIMM) Blackberry, laptops, hundreds of other cell phones, digital cameras, and gaming devices. What makes ZAGG's product so unique, as well as the market leader, is the technology behind the film. The technology was originally developed by the U.S. military to protect the outer edges of helicopter blades from high‐speed damage.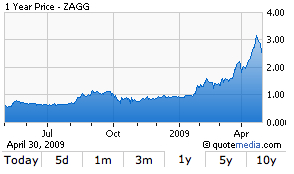 ZAGG has a 10 year licensing agreement with the company that acquired the rights to this technology from the U.S. military. In a mere three years, ZAGG has become the dominant force in the screen protector sub-sector. While competitors offer multiple screen protectors at lower price points, ZAGG provides a lifetime guarantee for their product. ZAGG's invisibleSHIELD is the most durable, scratch-resistant product on the market. In a strength test on YouTube (NASDAQ:GOOG), a sheet of the invisibleSHIELD was able to successfully hold 1,000 lbs. of weight. Check out the YouTube clips of the strength and scratch tests.
Four years ago, ZAGG did not exist. In late March, ZAGG reported $19.79 million in revenues and earnings of 11 cents a share for 2008. This is up from 2007 revenues of just under $5.14 million. More importantly, this growth is set to continue in 2009 and 2010. The one analyst following ZAGG, Marcus Robbins, has ZAGG's revenues doubling this year to $40 million and then ramping to $71 million in 2010. Earnings are expected to double to $.21 cents a share in 2009 and then go up 85% in 2010 to $.38 cents a share. ZAGG seems very cheap based on 2010 numbers.
After years of selling the invisibleSHIELD via their website, franchised mall carts, and a number of worldwide distributors, ZAGG scored a coup when two of world's biggest electronics distributors began stocking invisibleSHIELD in the middle of last year. I am talking about Best Buy (NYSE:BBY) and The Carphone Warehouse (CPW), a European Best Buy‐equivalent with 2,700 stores. The relationship with Best Buy has been a huge success for ZAGG and has been a big driver for its growth.
Wholesale Distributors now make up almost 50% of ZAGG's revenue, up from 13% in Q2 of last year. Recently, ZAGG announced two additional big-box retailers that will begin stocking the invisibleSHIELD in Q2 of this year, opening the door for additional sales as new consumers learn about this innovative product.
Currently, the leading competitors to the invisibleSHIELD are the original hard cases that jump‐started the cottage industry of protective coverings for electronic devices. While they still enjoy some popularity, when you consider that aesthetics are indeed a driving force behind the purchase of many devices – think iPhone – then you can quickly see how a see‐through, form‐fitting invisibleSHIELD would be a more attractive alternative to clunky hard case. Thus, I think ZAGG will continue to make inroads in forging a new subsector of the protective case market.
Digital Lifestyle Outfitters (DLO) is a company that sells the second best screen protector product. However, the shields come 5 to‐a‐pack and you are obliged to replace them every 3‐4 months, after they peel off or scratch excessively. Additionally, DLO products do not include a life‐time guarantee.

The only disadvantage I can observe thus far with the invisibleSHIELD is that the application does require some patience and can be tricky to fit on the device properly the first time. However, I personally own one and I have experienced no problems for the past few months, even after submitting it to a rigorous scratch test.
While the stock is extended in the short term, I expect further upside. Of note, management owns almost 40% of the stock and has yet to sell a single share, even as the stock has broken out to all-time highs. Management plans to list the stock on the Nasdaq as soon as the stock gets to $4 later this year. This will be a very significant catalyst for the shares as institutional money that has heretofore been restricted from buying into ZAGG because of its Bulletin Board listing will now finally be able to enter the name.
For those with patience and some tolerance for risk, ZAGG seems to offer considerable upside from these levels. Q1 earnings will be released in mid-May.
Disclosure: I own ZAGG for my accounts and the accounts I oversee.