From the handful of energy upstream master limited partnerships, QR Energy LP (NYSE:QRE) stands out primarily due to its near 11% distribution yield. The yield puts QR Energy next to the top of the pack for the E&P MLP stocks and still provides potential for an increasing distribution.
Note: MLP companies such as QR Energy LP have units and pay distributions. The words stock, shares and dividends may be used here with the understanding that the rules of MLP units apply including the tax consequences of investing in MLP units.
Upstream MLP Business Model
Currently there are 11 upstream energy focused MLP companies, of the four I have so far taken a closer look at, they all use the same basic business model. QR Energy CEO Alan Smith nicely summed it up during the company's 4th quarter earnings conference call:
"Our strategy continues to be to acquire an own assets that are low decline, require moderate maintenance capital and provide low risk development opportunities that enable us to increase production and recovery factors. Our strategy of executing on our existing assets while adding accretive acquisition growth by design allows us to deliver steady cash flows and consistent growing quarterly distributions."
These income focused E&P companies grow by acquiring producing oil and gas assets, spend the minimum capital necessary to maintain or increase the production from the purchased assets. Since the production assets purchased by the upstream MLP's are fairly mature, production will eventually decline. Distribution growth is produced by a nearly continuous acquisition of assets, funded by debt and the issuance of more limited partner units.
The MLP exploration and production companies also hedge their expected oil and gas production levels out to several years in the future, giving stability and predictability to cash flow from which to pay dividends. However, all of these companies would see substantial benefits from higher natural gas prices.
This MLP business method is fairly new, with Linn Energy (LINE) acting as both the old man and poster child of the group. Linn Energy went public in January of 2006 and 4 of the 11 upstream have gone public since the end of 2010.
QR Energy Background
QR Energy LP was launched by private equity firm Quantum Resources Fund with a December 2010 IPO. Through the end of 2012, the company had received $724 million of drop-down assets from QRF and had acquired another $440 million of assets from third party sellers. $584 million of the assets were picked up in 2012.
QR Energy's oil and gas production assets are located in the Permian Basin of West Texas, the Mid-Continent region of Oklahoma, the location named Ark-La-Tex production area, the Gulf Coast of Mississippi and Alabama, and in Michigan.
The initial quarterly distribution of 41.25 cents was paid in May 2011 and maintained for three quarters. The payout increased to 47.5 cents for the next two quarters, and the current 48.75 cents has been paid for the last three quarters. At $18 per share, the current distribution rate puts the QRE yield at 10.8%.
Investment Potential
To date, QR Energy has produced its cash flow primarily from the sponsor drop down assets. Growth in the future will be more dependent on the company's ability to buy assets that are accretive to distributable cash flow. That said, the production forecasts for 2013 on the current assets plus the price hedges in place should produce at least 1.2 times distributable cash flow coverage at the current distribution rate. During the year-end conference call, management discussed their desire to continue to increase the dividend rate without actually predicting that the distribution will increase. It appears that distribution growth will depend on the success of the 2013acquisition program.
I think that the 10.8% yield is a fair return for an investor who wants to take a shot on whether QR Energy can be a star in the MLP upstream space and grow itself and the distribution. For comparison, Linn Energy currently yields 7.5%. Be aware that Linn is 8 times the size of QRE and has a proven record on its side.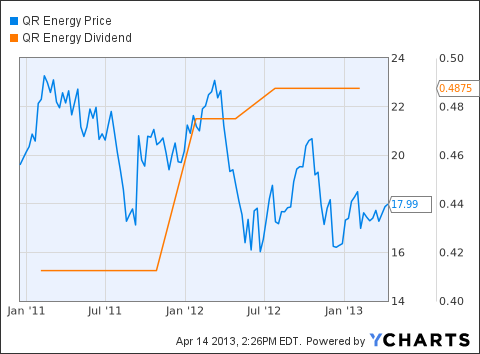 p>
Disclosure: I have no positions in any stocks mentioned, and no plans to initiate any positions within the next 72 hours. I wrote this article myself, and it expresses my own opinions. I am not receiving compensation for it (other than from Seeking Alpha). I have no business relationship with any company whose stock is mentioned in this article.