Stocks have climbed into uncharted territory with the Dow Jones Industrial Average (NYSEARCA:DIA) and S&P 500 (NYSEARCA:SPY) taking out new highs. Indeed, stocks have risen so fast that many have eclipsed analyst price targets.
Of the 30 Dow Jones Industrials, 15 have either surpassed analyst target prices or are within 3% of doing so. AT&T (NYSE:T), Hewlett-Packard (NYSE:HPQ), Home Depot (NYSE:HD), Johnson & Johnson (NYSE:JNJ), Pfizer (NYSE:PFE), and Verizon (NYSE:VZ) have already passed their price targets.
Only 3 members of the Dow - Caterpillar (NYSE:CAT), Alcoa (NYSE:AA), and J.P. Morgan (NYSE:JPM) - are more than 10% under their target price. Caterpillar - 22% below forecast - is the cheapest Dow stock on price target valuation.
The average Dow Jones Industrial is only 3% below the target price.
If you believe the analysts - who make their living following individual companies - the DJIA isn't cheap. It's hard to get excited about buying a stock with a potential two to three per cent gain.
The stock market climb hasn't deterred most analysts. By and large, they have maintained their buy recommendations. Sometimes their bullish outlook seems incongruous to the price target. For instance, Pfizer has climbed above its price. Yet, the analysts still maintain a bullish 2.0 buy rating.
Regardless: Someone's wrong. Either the market is at the top, or the analysts better raise their price forecasts. If the Dow keeps going higher, almost every price target will get run over.
Here are the percentage these DJIA stocks were under or above mean analyst price targets at the close of trading April 12: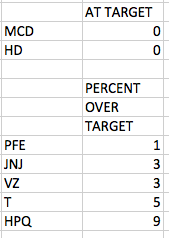 (sourced from Yahoo.com)
Disclosure: I have no positions in any stocks mentioned, and no plans to initiate any positions within the next 72 hours. I wrote this article myself, and it expresses my own opinions. I am not receiving compensation for it (other than from Seeking Alpha). I have no business relationship with any company whose stock is mentioned in this article.