There is a prevailing theory among Apple (NASDAQ:AAPL) investors that Wall Street has got it wrong: Apple is simply the world's best company and it is being priced at a PE of 9.5 instead of the S&P average of 15 because Wall Street does not understand the company. If you state that Apple is correctly valued and may even go lower, be prepared to be ruthlessly flamed in any forum where Apple is discussed. The Motley Fool, Forbes, and even Goldman Sachs (NYSE:GS) have echoed that sentiment. There is no shortage of articles from Seeking Alpha and the on-line financial press that nearly every day make the case for Apple being a good buy at current levels. Bulls ignore the competition from Samsung (OTC:SSNLF) and other factors that explain the declining stock price. But keep in mind that this has been going on since last fall, and so far, the stock is down 265+ points from its peak at 705. That is more than 40 percent. In November and December of 2012 when the stock was over 500 the same bullish arguments were made.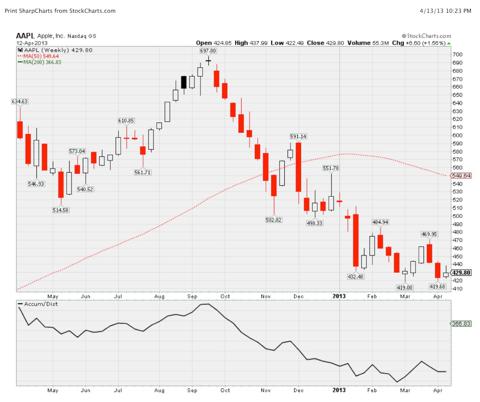 Apple's weekly chart does show a possible bottom may be forming. Apple is approaching lows set in March while the Accumulation/Distribution indicator is slightly higher. This divergence is considered positive by chart watchers and tea leave readers. Nonetheless all the long-term trend following charts show Apple is still on a sell signal and is heading down. Look at the following Point and Figure, Renko, Three Line Break and Kagi charts: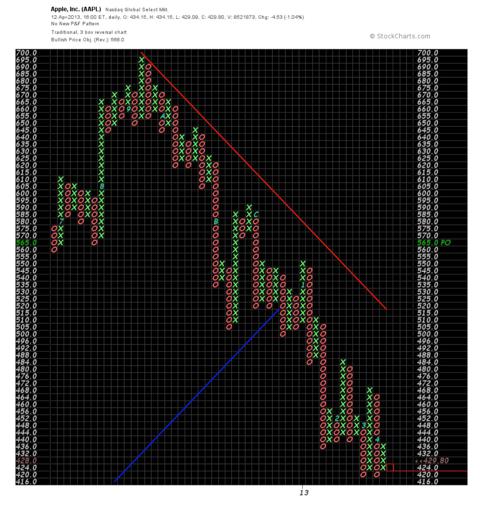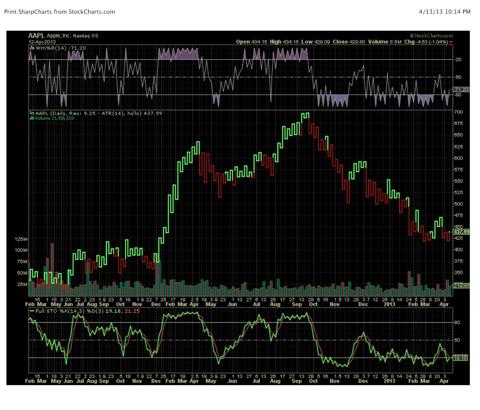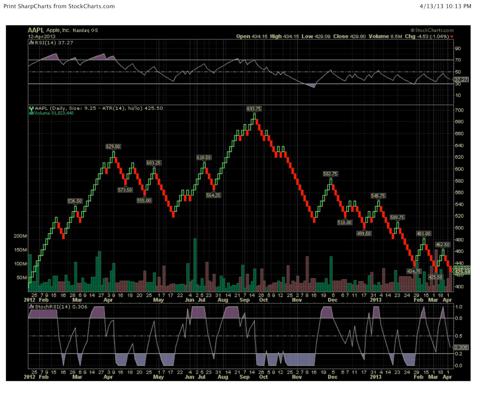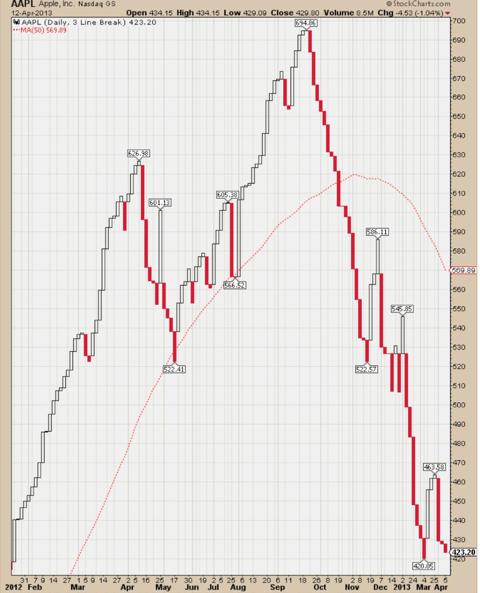 One can't argue for a bottom or a buy signal on any of these long-term trend charts. Various indicators below the charts show possible divergences. These are considered to be trend-changing signs. Of course most trends eventually change. But since last fall every divergent indicator has been wrong.
Looking at the Kagi chart, for example, it is easy to see every bullish reversal has been overwhelmed by more selling. There is a hint of a buy signal because of the 10-point pop last week but without confirmation it is just another head fake. So what is happening? Is there some grand conspiracy against the numerous Apple bulls or is Apple, the company, in as much trouble as AAPL the stock?
The general consensus is that year-over-year growth has stopped or stalled. That is a very bad sign in and of itself. Bulls wait anxiously for an iWatch, iTV, Phablet or most importantly for an up-to-date iPhone. This is a big change from the meteoric growth of the Steve Jobs years. New products seemed to flow at the right time without pause or pressure. Has growth stalled or stopped or reversed along with the product drought? Has Apple entered a long steady post-Steve Jobs decline? Is the company the next Research in Motion?
In previous articles I have suggested that Samsung has in fact taken the lead in the smartphone and Phablet markets. Apple on the other hand has dug in its heels and maintains that consumers need only a small phone and that there is no hybrid or Phablet market. Apple maintains the pen or stylus-based Wacom (OTC:WACMF) tablet will never translate to the iPad. The market for the stylus-based Wacom tablets is nearly $700 million per year. These are tablets that interact with Photoshop (NASDAQ:ADBE), Studio Artist, Painter and a few other graphic design or art programs. They are not devices to be used independently. Apple could easily integrate Wacom type technology in some of its iPads and gobble up the 700+ million dollars worth of sales. This would also enable users to be creative with technology, give game developers another tool and pen and ink users a way to draw and write. This would be a way for people to tap talents that are dormant or unknown. That would change their lives for the better. And that was the original purpose for Apple. This seems to be lost on current management.
Apple is willing to forego the sales of 25 million units a year of Galaxy Notes to prove its point. Even though Apple according to Steve Jobs has the best handwrinting recognition technology in the business and therefore could easily add a stylus to the interface, Apple won't. Integrating Apple's handwriting and stylus technology into some if not all iPads (with a phone) would enable Apple to compete for nearly 30 million units of mobile sales. That would be the Wacom tablet and the Phablet markets, which currently have products that work for those users.
The S class Samsung smartphones are too large in Apple's opinion to be of use to consumers. 100 million customers can be wrong according to Apple. This strange sort of mind freeze is why Apple the company may be in more trouble than Apple the stock. The smartphone market is ultra competitive. To yield 125 million unit sales per year to your biggest competitor without even trying to fight for them is shocking.
That is a big reason why I think Apple the company may be reflecting the troubles AAPL the stock is exhibiting. In other words maybe investors have it right. Apple management has it wrong.
Apple's other products including the MAC OS X, FileMaker Pro, the iPad, iTunes, and iCloud, (the free but frustrating son of Mobile Me) are all getting their fair share of criticism. In fact the praise that was heaped on Apple after Steve Job's death has morphed into a demon the seems to find fault with everything Apple.
Where there is smoke...most of the complaints against Apple have some validity. It is no longer the privacy-advocating consumer friendly company, instead it is on the wrong side of privacy law suits. This marks a departure from the Jobs led company. He was a fierce advocate of consumer privacy and forbid any of the apps that tracked and sold data on iPhone users to be sold period. Mining data and selling it is basically all that many companies like Google (NASDAQ:GOOG) and Facebook (NASDAQ:FB) do. Why Apple has gone from protecting its customers to joining with the data vultures is unknown.
Kids are willing give all their (used to be private) information to Facebook and Google. This makes targeted advertising a life-long study. "Minority Report" fans no where that is going. No matter how despicable individuals find this practice, they are unwilling to speak with their pocket books and time. Microsoft strangely has become the voice of sanity in this debate by promising searches that are not monitored, stored, shifted, sifted and sold. Suddenly Apple has sided with the advertising industry that sees opportunity in the heretofore private choices of individuals.
The small phone obsession, refusal to compete in major mobile market spaces, shocking turn around on privacy issues, useless updates to the Mac OS, late to the party Mini iPad, no larger iPads, abandonment of the 30-inch Matte Cinema Display Monitor (loved by photographers and artists), which still sells on eBay for $900, dismissal of the stylus based art community, even problems with FileMaker Pro (updates that removed features from the program?), unnecessary stopping of support for PPC-era programs via the elimination of Rosetta are all serious issues that indicate Apple management has lost its way. Even the handling of Mapplegate was a very bad sign. Instead of just saying that: "Google has refused to update its Map program for the iOS so we have no choice but to create our own." Apple pretended that its program was something it wanted to do and that it was a finished product when it was not. All it had to say was: "Our customers deserve the best map program. Because Google won't upgrade its map program we have been forced to cobble together three programs in a short period of time. This is not a finished program by any means. With your help and feed back together we can make the new Apple Maps program the best out there. So be patient and expect mistakes, please provide us with feedback and a year from now we will be able to say that Apple with the help of our customers has created the finest map program for mobile devices. And it will continue to evolve as time goes on. Thank you for your understanding and patience." That would have turned the map fiasco into a huge positive public relations move. And kept Apple's best programmer, Scott Forstall, on the job.
In my view Apple the company is floundering and the stock may be near the bottom but further downside can be expected if the dividend is not increased. Apple's shocking refusal to make large phones when research shows the smartphone market growth may have hit a wall, and growth can only come from gaining and keeping market share. A well run company does not ignore 125 million prospective customers. The refusal to incorporate hand writing technology and the use of a stylus, pen, pencil and or any one of many tablet-ready brushes is puzzling as well. Calligraphy classes seem like a natural use for the iPad (if it could be used with a pen) and ironically it is a calligraphy class that Steve Jobs credited for his love of fonts and aesthetic taste in general. Realistically Apple should pay a divided in excess of 3-4 percent. When the dividend is increased or the stock falls to that level Apple would be good long-term hold. In the event of a change in management Apple could by a screaming buy with a huge upside as once again the talents are marshaled and fresh new products flow like water in a mountain stream.
Disclosure: I am long AAPL. I wrote this article myself, and it expresses my own opinions. I am not receiving compensation for it (other than from Seeking Alpha). I have no business relationship with any company whose stock is mentioned in this article.