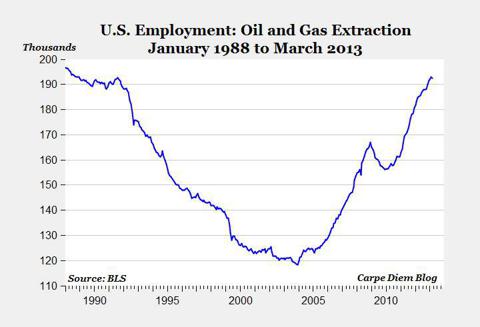 From Conn Carroll in today's Washington Examiner:
There has been a transformation of American energy production under Obama, but it has happened despite his policies, not because of them.

No union/environmentalist central planner set out to create hundreds of thousands of new jobs by perfecting new methods of extracting shale oil and gas from rocks thousands of feet beneath the surface. But that is exactly what the private sector has done. A recent IHS Global Insight report found the fracking industry supported 1.7 million jobs in 2012 alone.

Liberals often make light of conservative claims that the free market is perfectly capable of solving problems and creating wealth without government planning. But that is exactly what fracking has done for the U.S. economy.
The chart above shows how the fracking revolution has completely reversed a multi-decade decline in oil and gas extraction jobs, with a 61% increase in oil and gas drilling employment since 2005. There are more Americans working for oil and gas companies in extraction activities today than at any time since the fall of 1988, almost 25 years ago. And that's just counting the jobs directly involved with drilling for oil and gas – there are thousands of other indirect jobs that have been created and are being supported throughout the long supply chain for the oil and gas industry that includes jobs related to drilling equipment and supplies, mining and processing fracking sand, specialty steel products like tubes and pipes used for fracking, trucking and rail transportation to bring supplies to the oil fields and transport crude oil to refineries, housing and construction for the increasing number of oil field workers, etc.
For one example how shale oil supports indirect jobs, here's a story about a photographer from Fargo whose business is booming because of North Dakota's oil boom – she's found a niche in "oil field photography." Here's another report about how North Dakota, "one of the coldest, flattest, least populated states in the country has become an economic hot spot," because of shale oil.
Finally, as Joel Kurtzman pointed out in the WSJ last May, "Those who doubt that market forces still have the power to transform the world aren't paying attention to America's revitalized energy sector." The energy revolution in the U.S. has been one of the brightest spots in the economic recovery for several years now, and is one of the strongest reasons to be optimistic about America's economic future.