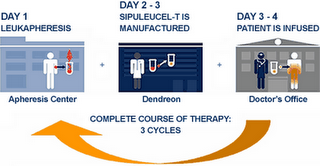 I know that Dendreon's (NASDAQ:DNDN) groupies are an enthusiastic bunch. Now Wall Street has joined the party, at least until they get the fees from Dendreon's inevitable secondary stock offering needed to fund Provenge's launch. Dendreon doesn't plan on filing for FDA marketing approval until sometime in Q4, and then the FDA could take up to an additional 6 months to contemplate the amazing data. The company refused to be any more specific as to when in Q4 or why the delay in filing.
Opportunism is the hallmark of the company's CEO, so between now and year-end the FDA cannot say that the supplemental NDA filing is insufficient. That's right; this is an add-on to the prior rejected NDA. Dendreon cannot chance the FDA rejecting its paperwork early. This provides the company with a risk free window to raise cash. They plan to commercialize Provenge in the U.S. themselves.
Adam Feuerstein in TheStreet.com's "Dendreon's Provenge: A Behind-the-Scenes Look" and Catherine Arnst in BusinessWeek's "Dendreon's Prostate Vaccine Validated with Drama" give us some background into the medical and economic benefits of Provenge.
Provenge was tested against placebo, not the standard of treatment Taxotere. Provenge's survival benefit over placebo was about a median 4 months (25.8 vs. 21.7), but it had only about a median 1 month survival benefit over Taxotere. The company's management tried to convince analysts that while Provenge was not measured against Taxotere, patients would find Provenge less invasive to administer. But they also told us that both have side effects over placebo.
Three urologists interviewed by Feurstein doubted "Provenge's survival benefit in relation to the drug's high price." Dendreon refused to comment on price, except to say that it should be judged equivalent to other advanced cancer treatments. The urologists further stated that Provenge showed no measurable positive effect on time to progression.
Feurstein said Dendreon bears had to cover their shorts and some have turned around and gone long. Analysts are predicting certain FDA approval and a $1B to $2B annual sales base on $60K to $80K for a course of treatment. Feurstein says that a $30K price is ridiculous compared to Avastin and Erbitux.
While Wall Street is preparing for the road show, their logic is simply nonsensical. First, Provenge won't be launched for at least another 18 months, if at all. The manufacturing and processing operation for this patient customized medicine will face intense FDA scrutiny. More importantly, all of these sales estimates are based on the American drug marketing and reimbursement model remaining static. With the current momentum in President Obama's healthcare reform, that's like sticking your head in the sand.
The U.K. has restricted Avastin (Roche - OTCQX:RHHBY) based on limited benefit for the cost and required that the government be rebated for patients not benefiting from Velcade (Takeda). The National Institute for Clinical Excellence (NICE) advises the NHS on the cost-benefit of drugs. Despite the industry's disbelief that the cost-benefit of pharmaceuticals will come to America, it is a key plank in the President's healthcare platform.
It is unlikely that a 1 month survival benefit with no additional quality of life benefit will ever be worth $60K under American healthcare reform. Beyond that is the ethical issues related to the distribution of care. If you go with the premise that most of Provenge's target audience will be government subsidized through Medicare, how can you justify taxing a working person struggling to pay a $100 doctor bill to give a senior 1 month of life?
Some try to argue that healthcare reform will bring rationing of care for the first time to America. Anyone with high deductible insurance plans knows it already exists. The reality is that America actively rations care in favor of those with high priced insurance and seniors. Provenge expects to take advantage of the current system of rationing.
The swine flu scare is teaching America that it is only as healthy as its entire people. The healthcare have-nots can easily infect the healthcare haves. Potential epidemics from SARS to bird flu are happening as often as financial black swans. Likewise the once in one hundred year storms seem to appear every few years.
Dendreon CEO Mitch Gold wants his stock to steady long enough for major mutual funds to take interest. But he is selling the same fantasy that healthcare reform will not affect business as usual as Merck (NYSE:MRK), Pfizer (NYSE:PFE), Humana (NYSE:HUM) and UnitedHealth Group (NYSE:UNH) tried to do on their Q1 conference calls.
What the healthcare industry needs to learn from the banks is that companies that depend on the government can get TARPed and feathered. Humana depends on Medicare Advantage for 40% of its members. Just like the defense industry, government is their biggest customer. And Obama has not been afraid to shakeup the defense contractors.
The clear lesson to Dendreon bulls is to model Provenge under the stress of full blown healthcare reform based on the U.K. cost benefit model. If Provenge cannot pass the Federal Reserve's bank stress test, sell Dendreon now before the hype subsides.
In my previous Dendreon article, "Dendreon's Troubles Beyond Provenge's Potential FDA Approval", I was concerned with whether their form of customized medicine was commercially viable. With the data release on April 28, my new concern is drug price realization. Clearly the expectations are overblown.
If Gold gets his wish and the stock steadies, puts might get cheap enough to bet on the downside. I think we may have to wait a few months. Hang on tight for a wild ride.
Disclosure: Author is long PFE.