The Mississippian Lime "Extension" area seems to be losing support of an important potential sponsor: Encana Corporation (NYSE:ECA). In its latest corporate presentation, a new slide summarizing the company's results to date and near-term strategy in the Miss Lime delivers the final verdict:
Kansas activity did not meet expectations.
The slide also shows Encana's "new area of interest" which is substantially narrowed down to include the Oklahoma portion of the play and the immediately adjacent area to the north on the Kansas side. For the moment, it appears that Encana has terminated its exploration activity on the 310,000 net acres it has under lease in the play's northern extension and will focus its assessment effort on the remaining 82,000 acres in Osage County of Oklahoma and the surrounding area.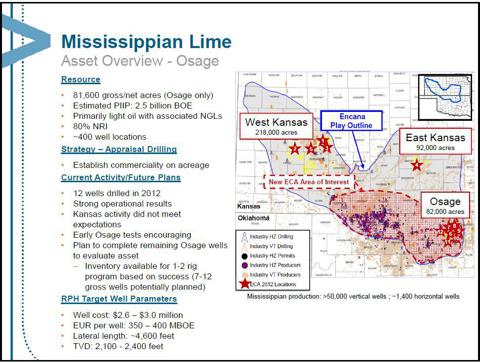 (Source: Encana Corporation's April 2013 Investor Presentation)
For Miss Lime watchers the news should not come as a big surprise. On its fourth quarter conference call, Encana hinted that the four tests in West Kansas gave negative results, replicating the outcomes of the six wells drilled by SandRidge (NYSE:SD) in Hodgeman and Ness Counties. Essentially, fracture stimulations resulted in the wells "watering out" (producing water and no oil). It looks like a test in East Kansas was also disappointing.
In the Osage area, where several of the seven wells drilled to date have tested as producers with encouraging results, Encana is not rushing to declare its acreage commercial until some production data has been accumulated. In the event of proven success, Encana may drill another 7-12 wells by the end of this year, a very modest number (and associated capex) for a company of Encana's size.
Encana's slide indicates that the company now sees ~400 potential drilling locations on its Osage acreage, suggesting 200-acre well density (three wells per section). Assuming $3 million cost per well, total drilling capex over years would be ~$1.2 billion. While the Mississippian Lime still has potential to become a core operating area for Encana, the narrowed down footprint - assuming no additional leasing - seems insufficient to justify a sizeable joint venture (Encana has been in the market pursuing a JV strategy for its Miss Lime acreage). Besides, with all the controversy and negative publicity related to EUR estimates in the play, the probability of finding a financial sponsor on attractive terms is probably not very high at this time. The shockingly low price that Chesapeake Energy (NYSE:CHK) received in its Oklahoma Miss Lime transaction with Sinopec (NYSE:SHI) seems to be vivid proof.
So what happened in West Kansas? The explanation can be found on the slide below from SandRidge's presentation. Green dots on the play's map indicate legacy producing vertical wells. Intuitively, areas with higher densities of green dots should correlate with greater hydrocarbon charge in the Mississippian Lime formation. It is no surprise that several operators, including SandRidge and Encana, leased significant acreage positions - typically at low cost - in areas that were seen as potentially prolific based on historical well results.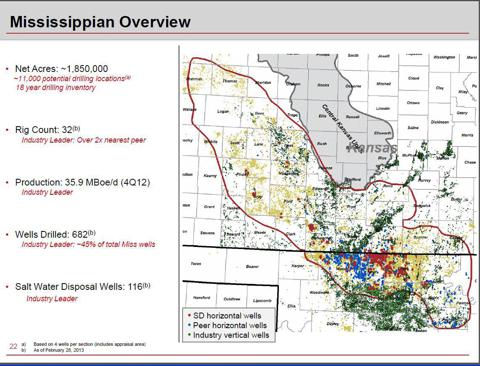 (Source: SandRidge Energy March 5, 2013 Analyst Day Presentation)
Hodgeman and Ness Counties in West Kansas are among the most productive areas in terms of cumulative volumes produced. The two Counties have produced to date a total of 133 million barrels of oil from many hundreds of vertical wells. Two thirds of total production has been from the Miss Lime formation. As it appears, the reason why the Hodgeman and Ness have been so productive is that the reservoir in this area is not nearly as "tight" as in some other locations. Ironically, the higher quality of the reservoir has made it less suitable for development using the fracking technique, as fracked wells so far have watered out.

(Source: SandRidge Energy March 5, 2013 Analyst Day Presentation)
While the initial thesis was correct - a significant oil resource is clearly in place - a technical approach to how to extract it is yet to be found. For the moment, Encana seems to be abandoning the effort. SandRidge may not be in a position to spend much capital or effort on advancing the play in this area either, given the ongoing strategic review at the company and potential drastic capex reductions that may follow. Even before the agreement with TPG-Axxon was announced, it seemed that SandRidge might be shifting focus to the more proven southern part of the play as a result of the disappointing tests in the Extension area.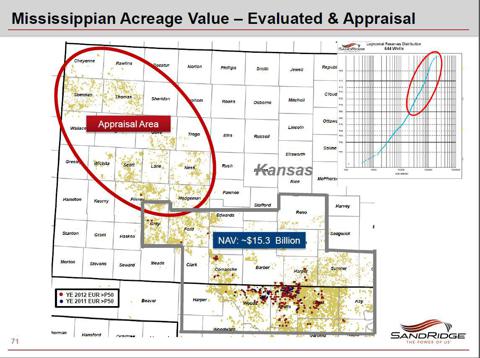 (Source: SandRidge Energy March 5, 2013 Analyst Day Presentation)
With the retrenchment by Encana and, very likely, SandRidge in the Mississippian Lime, the outlook for increased capital spending in the Extension part of the play is getting very bleak. SandRidge alone was planning - just six months ago - to run up to 45 rigs in the play by the end of 2013. These plans have already been cut back substantially and may be reduced much further in the near future. A joint venture by Encana, if it happened, could have also potentially generated a multi-rig program fueled by drilling carries. A one-to-two rigs program is currently planned for 2013 instead, in Oklahoma. Apache (NYSE:APA), who has leased a massive position in the Extension area, has kept its profile in the play low. In addition, one would expect that negative test results in Kansas have without a doubt been a discouragement to other operators.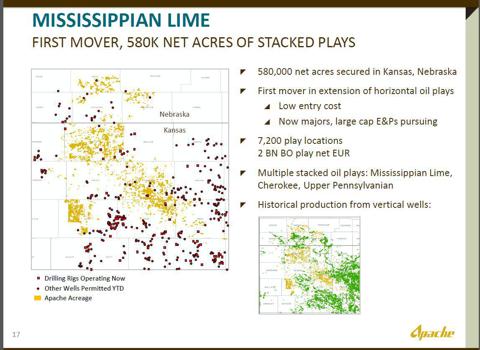 (Source: Apache Corporation June 2012 Investor Presentation)
The picture is drastically different in the southern part of the play. Devon Energy (NYSE:DVN) has been rapidly ramping up its drilling program and now targets a total of 15 rigs in the play (including both the JV and non-JV acreage).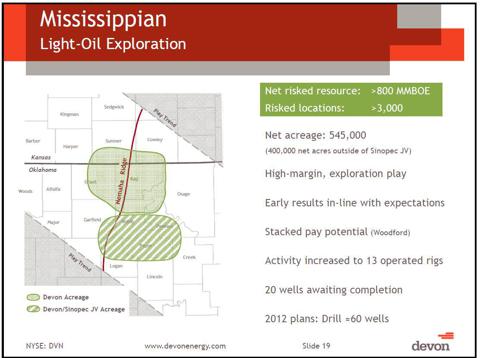 (Source: Devon Energy December 2012 Investor Presentation)
Chesapeake should keep its drilling program in Oklahoma active as it now has Sinopec as a joint venture partner. While the deal did not involve drilling carries, it would be logical to expect that an agreement or an understanding with regard to the minimum drilling activity pace is in place.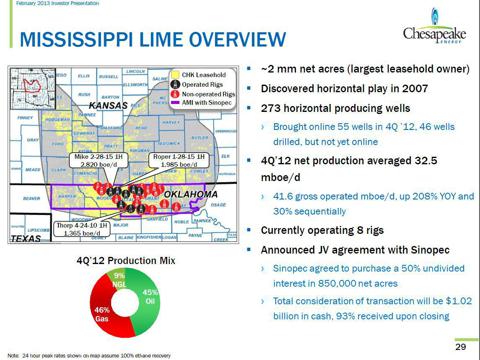 (Source: Chesapeake Energy February 2013 Investor Presentation)
Smaller operators are also pushing ahead with their programs and leasing activity is quite active.
While the Miss Lime play may end up redefined, at least for the time being, with a much tighter contour, its size still remains enormous. The ongoing highgrading of drilling inventory around the most productive sweet spots is a natural and necessary process. The good news, the play may start to deliver much stronger operating reports from select areas and may surprise to the upside with a regained momentum.
Disclaimer: This article is not an investment recommendation. Any analysis presented herein is illustrative in nature, limited in scope, based on an incomplete set of information, and has limitations to its accuracy. This article is not meant to be relied upon for investment decisions. Please consult a qualified investment advisor. The information upon which this material is based was obtained from sources believed to be reliable, but has not been independently verified. Therefore, the author cannot guarantee its accuracy. Any opinions or estimates constitute the author's best judgment as of the date of publication, and are subject to change without notice.
Disclosure: I have no positions in any stocks mentioned, and no plans to initiate any positions within the next 72 hours. I wrote this article myself, and it expresses my own opinions. I am not receiving compensation for it (other than from Seeking Alpha). I have no business relationship with any company whose stock is mentioned in this article.