In advance of the presentation that SM Energy (NYSE:SM) is scheduled to make at an industry conference in New York tomorrow, the company issued a press release announcing a successful Eaglebine exploratory test well in San Jacinto County, Texas. The Horizon Properties 2H (SM owns 100% working interest in the well), a horizontal completion in the Woodbine interval, produced approximately 740 Boe/d in a 24-hour test, flowing at 1,520 psig casing pressure on a 27/64" choke, while cleaning up after fracture stimulation. Production consisted of 305 Bbl/d of 42 degree API gravity oil and 2.6 MMcf/d of 1,250-Btu gas. The well will be shut-in to await construction of a gathering system. Taking into consideration that only 2,500 feet of the wellbore were effectively stimulated, the initial flow rate should be viewed as strong (operators often complete wells in this play with 5,000-8,000 foot laterals).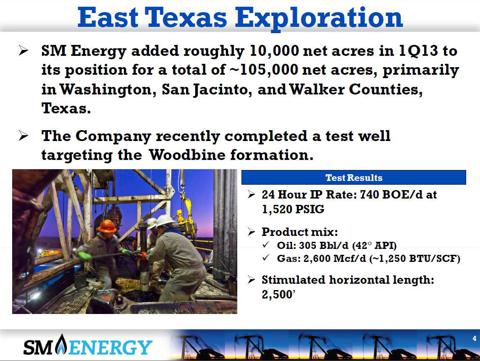 (Source: SM Energy April 16, 2013 Investor Presentation)
The Horizon Properties 2H well is the first Woodbine test SM Energy drilled in East Texas. The company commented that they expect to be able to improve results on subsequent wells in the Eaglebine play.
SM Energy has also announced that it increased its acreage position in East Texas to approximately 105,000 net acres and is still actively leasing "in this exciting play." SM Energy expects to drill additional test wells targeting the Woodbine as well as other intervals beginning in the third quarter of 2013. The company did not provide a map of its acreage position (which is not unexpected given the ongoing leasing effort). However, it appears that a significant portion of the acreage is located at the far eastern flank of the currently active play as shown on the chart below.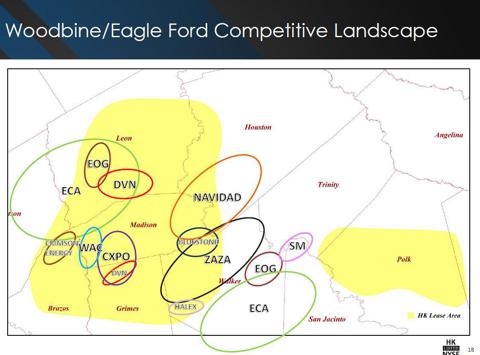 (Source: HK Resources, February 2013 Investor Presentation)
The announcement is significant as the exploration well represents a long step out from what has been the most active part of the play around Madison and Leon Counties, where over a hundred horizontals have been brought to production to date.
SM Energy expects to construct the necessary gathering system once several of these wells have been drilled. Capital for the 2013 delineation program will be funded largely from the Company's existing New Venture budget.
EOG Resources / ZaZa Energy Joint Venture
SM Energy's announcement comes just several weeks after EOG Resources (NYSE:EOG) agreed to form a joint venture with ZaZa Energy (NASDAQ:ZAZA) for the development of ZaZa's Eaglebine acreage. SM Energy's position is located immediately to the east from EOG and ZaZa's lease holdings in the play.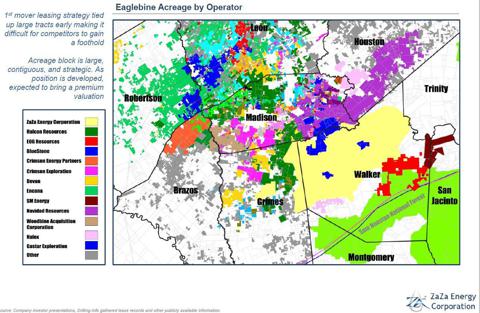 (Source: ZaZa Energy Investor Presentation)
ZaZa Energy holds a significant 100,000-acre (73,000-acre net) lease position on the eastern side of the Eaglebine play. The acreage is largely contiguous with high working interest but has been largely untested (ZaZa's acreage is shown in yellow color code on the picture below; EOG's acreage shown in red).
Under the terms of the Joint Venture agreement with EOG, if all the three phases of the farm in get executed, EOG will become the operator of properties, will carry ZaZa on first nine wells and make cash payment to ZaZa of $50 million to earn 75% interest in 55,000 net acres.
ZaZa's Eaglebine trend properties subject to the JV agreement with EOG are primarily located in Walker, Grimes, Madison, Trinity, and Montgomery Counties. ZaZa owns a 100% working interest in the majority of the acreage, with a smaller part of the acreage currently owned 75% by ZaZa and 25% by Range Resources (NYSE:RRC). Under the JV agreement with EOG, in those parts of the acreage where ZaZa has 100% working interest, ZaZa will retain a 25% working interest while EOG will earn a 75% working interest. In those parts of the acreage where ZaZa holds 75% working interest, ZaZa will retain a 25% working interest, EOG will earn a 50% working interest, and Range will retain a 25% working interest. ZaZa will retain 100% interest in the 19,000 net acres in the middle of the block adjacent to recent producing wells.
Implications For Other Operators
SM Energy's announcement also has a positive read-through to Encana (NYSE:ECA), Halcon Resources (NYSE:HK), and Devon Energy (NYSE:DVN) who have acreage positions on the eastern side of the play.
Disclaimer: This article is not an investment recommendation. Any analysis presented herein is illustrative in nature, limited in scope, based on an incomplete set of information, and has limitations to its accuracy. This article is not meant to be relied upon for investment decisions. Please consult a qualified investment advisor. The information upon which this material is based was obtained from sources believed to be reliable, but has not been independently verified. Therefore, the author cannot guarantee its accuracy. Any opinions or estimates constitute the author's best judgment as of the date of publication, and are subject to change without notice.
Disclosure: I have no positions in any stocks mentioned, and no plans to initiate any positions within the next 72 hours. I wrote this article myself, and it expresses my own opinions. I am not receiving compensation for it (other than from Seeking Alpha). I have no business relationship with any company whose stock is mentioned in this article.