From Wednesday night (see below for update): I am saying "wow" a lot of late - Sequenom (SQNM) is out with something after hours I've never seen in all the years I've been doing stocks: a delay in their Down Syndrome test due to employee mishandling of data. The stock is down 50% after hours. Worse - this was our only long position I actually have a hedge against, but I covered it into the weakness early this week (and patted myself on the back after it bounced from below $14). Basically we have 50 shares short as a holding position. On the long side we only have a 1.4% stake since the stock chart has been awful but looks like that will be 0.7% by tomorrow. Not good - it's one thing to be hit by an earnings situation but this is out of left field. Here I thought this was my personal Dendreon (NASDAQ:DNDN) - something I'd stick with in the long run, waiting for the magical day to arrive when it goes up 200% in a session. So much for practicing patience...

Well, we will see what happens tomorrow after management talks with analysts and some clarification - we had a similar drop once in Thoratec (NASDAQ:THOR) after hours on a product recall but by the next morning it was down 10% instead of 50%. Since the whole concept of Sequenom is based on the veracity of the test results, this throws a lot of issues on the table. Sequenom reported earnings as well tonight but it's a non issue for this type of company.

Here is the news and YET again, "the stock" (via chart) seems to know before the rest of us... I wonder how that always seems to be the case (rhetorical comment). I think other than Morgan Stanley (NYSE:MS) this was the only other long position we held with such a bad condition... I was thinking we finally formed a nice double bottom with early April lows - thankfully I did not pile in. Still going to sting - market gods not kind of late.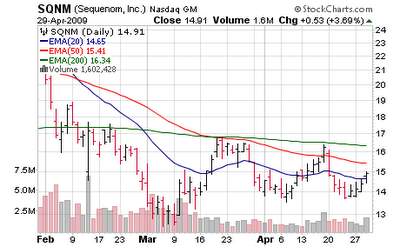 Per Sequenom (emphasis mine):
....the expected launch of its SEQureDx™ Down syndrome test is delayed, due to the discovery by company officials of employee mishandling of R&D test data and results. Accordingly the company is no longer relying on the previously announced R&D test data and results.
SEQUENOM has not changed its plans to develop in parallel its RNA- and DNA-based methods for the Down syndrome test and will endeavor to have a validated test in the fourth quarter of 2009.
Under the circumstances, and as supported by key clinical opinion leaders, the company now intends to launch the Down syndrome test upon publication in a peer-reviewed journal of the results from the on-going large, independent clinical studies, which are designed to be practice-changing for Down syndrome testing.
The company's board of directors has formed a special committee of independent directors to oversee an independent investigation of the employees' activity related to the test data and results. The committee has engaged independent counsel to assist the committee in the conduct of the investigation.
Although the company is not aware of any potentially inappropriate activity related to the reported results of its other tests under development, the company is currently reviewing the data for all tests. As a result of this ongoing review the Rhesus D, Cystic Fibrosis and Fetalxy tests are now anticipated to begin launching in the third quarter of this year.
The company believes that its Down syndrome program has suffered a temporary setback but that the SEQureDx technology is scientifically and technically sound. The company intends to take every possible action to make up lost ground.
Today's announcement regarding the company's SEQureDx Down syndrome R&D test data and results supersedes all previous announcements about such data and test, including its press releases dated June 4, 2008, September 23, 2008, December 1, 2008, January 28, 2009 and February 3, 2009.
Should be a whopper of a conference call...EDIT 5:05 PM : Down 60% after hours.

EDIT 5:10 PM: There appears to be an analyst who initiated the stock with a buy this morning. Ouch.
Thursday morning update:
Uhhh... obviously in the $3s I think most of the downside is in, unless it goes to zero. Unfortunately as I stated last night I covered most of my short early this week, so these are the last 50 shares. Having a hedge at this point is useless.

I am not a speculator of the highest order, but of course if you have spare money to toss around you can buy on the long side. Per James Altucher Ridgeback Capital (a hedge fund) had 92% of their portfolio in Sequenom so you can say goodbye to that fund. And RA Capital (another fund) has 50% of their portfolio in the stock.

One interesting play is as these funds liquidate their other positions will (could) fall under pressure - for example RA Capital's other top positions include Pharmasset (VRUS), Ardea Biosciences (NASDAQ:RDEA), AMAG Pharma (NASDAQ:AMAG) and Vertex Pharma (NASDAQ:VRTX).

I won't average down because it's not my thing to speculate on casino chips, but selling the 1000 shares I have is useless here; the stock is basically like a call option - it's worth less than $4000; if there is any truth to the story, then by late in the year or early next the stock should recover. However, this management is toast in my opinion, and the avalanche of lawsuits will overwhelm. I might change my mind and just dump it in the coming weeks, but the fact that multiple employees and not just one was involved makes the picture darker.

The irony here is I avoid small and mid cap biotechs for these adverse reactions. The idea here was this was not a drug company, where the FDA could snap its back in a moment. This was a test instead... but the same neck snapping happened. Yes, indeed ironic.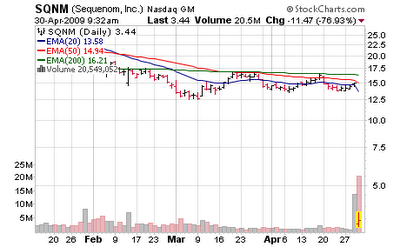 Long/Short Sequenom in fund - long Thoratec in fund; no personal position