The industrial stocks have been beaten down year-to-date, but the tide may be ready to turn. China released positive economic data last week, which helped curb the uncertainty in the market, but it has not had the positive impact that investors expected. Alcoa also gave us its projected growth by sector and it depicts a growing Chinese economy. It is time to take a look at the companies that are set to benefit the most, but first, let's go through the data.
China's trade deficit
China reported a trade deficit for the month of March, surprising economic analysts. Imports grew 14% year-over-year as exports rose 10%. The import number blew past expectations, which were only calling for an increase of 5%. The rise was caused by increased demand for commodities, mainly copper and oil. Copper and oil are crucial for the construction, power generation, and the machinery manufacturing industries to name a few. It looks like China is getting ready to make some moves.
Alcoa talks China
On April 8, Alcoa (NYSE:AA) reported its quarterly earnings and CEO Klaus Kleinfeld spoke of the growth in China. He said that sales were increasing from the high demand of vehicles along with the increased use of aluminum cans. Ford (NYSE:F) had said the same about vehicle sales, because trucks are the hot items in China. Since China was a large focus, management gave projections for the year.
Chinese aluminum usage for 2013 vs. 2012:
Automotive: 7%-10% growth
Heavy truck and trailer: 12%-16% growth
Beverage cans: 8%-12% growth
Commercial building and construction: 8%-10% growth
What it all means
For China's consumption of aluminum, copper, oil, and other commodities to increase across the board in 2013, the demand for mining and construction equipment will increase as well. China will not be looking to import all of their needs and will want to mine as much as possible. Therefore, we want to focus on the companies with a large presence in the homeland. Companies in the United States will try to get as much of the export action as possible, but I want to focus on companies within China's borders.
The industry giant
It has been an ugly year for Caterpillar (NYSE:CAT) and it began when the global economic outlook was in question. We watched its stock fall over 15% from $99 on February 1 to $84 on April 3. The positive outlook in China had caused it to rebound above $86, but it has since fallen back below $83.
China accounted for 27.3% of Caterpillar's fourth-quarter revenues. It also contains over 30% of its global dealers. This presence was seen as an immense strength for Caterpillar when the economic data was released, but it has not appeared that way in the stock's performance.
Caterpillar had a record year in 2012, so a recovery in China and continued strength in the United States could propel earnings much higher. Take a look at last year's numbers compared to 2011.
2012 financials vs. 2011:
Net sales increased 10% to a record $65.9 billion
Profit per share increased 15% to a record $8.84
19th consecutive year of dividend increases
Caterpillar has incredible upside potential and it also offers a solid 2.53% dividend. The 19th consecutive dividend raise should continue in 2013, as management has been clear in its dedication to increasing shareholder value. The stock has fallen 14% in the last three months and 5% in the last three trading days alone. I began a position in Caterpillar two weeks ago at $86 and will be adding to it if it falls below $82.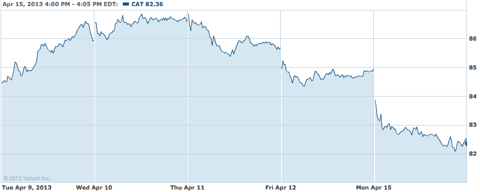 Jump for Joy
The expected increase in mining would be extremely beneficial to Joy Global (NYSE:JOY). It is a worldwide provider of mining equipment and mining services, and China is one of its largest markets. The top three commodities mined by Joy's equipment are coal, iron ore, and copper; all of which are expected to be in high demand in China.
Joy Global experienced moderate growth in North and South America in 2012, while China and Europe lagged behind. It should continue its growth throughout 2013 with China now on the rise.
2012 compared to 2011:
Net sales increased 28.5% to $5.66 billion
Operating income increased 27.4% to $1.2 billion
Underground mining equipment sales increased 20.6%
Surface mining equipment increased 39.7%
After the Chinese economic report, miners were expected to soar. However, Joy has continued to lag the overall market. Over the last three months, the stock is down 23% including 7.4% in the last five days. I do not think the market is reacting to the news correctly and this is an opportunity to buy Joy on weakness.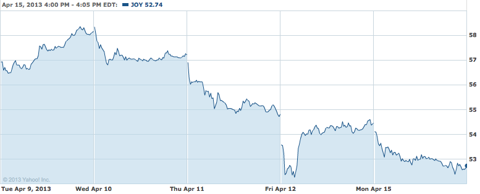 Bottom line
There has never been a better opportunity to buy the industrials on weakness than right now. Caterpillar and Joy Global have been annihilated over the last several weeks on the questionable global economy, but China and Alcoa have shown us the potential in these stocks. I have started a position in Caterpillar and will be adding to it if the weakness continues. Take a look to see if your portfolio could use an industrial, and if it does, consider Caterpillar or Joy Global.
Disclosure: I am long CAT. I wrote this article myself, and it expresses my own opinions. I am not receiving compensation for it (other than from Seeking Alpha). I have no business relationship with any company whose stock is mentioned in this article.