That's a headline that should get your attention if you invest in commodities (or if you work at a publicly traded company that has any exposure to the commodity markets). With increasing evidence of a slowing global economy and increased selling of gold by central banks, commodities are vulnerable. While evidence suggests that the ENTIRE commodity market is experiencing unusual price deterioration right now, I want to focus on a distinct commodity segment: Commodities from Hell.
Get it? Commodities from Hell, ones that can generally be found underground such as gold (NYSEARCA:GLD), silver (NYSEARCA:SLV), coal (NYSEARCA:KOL), copper (NYSEARCA:JJC), steel (NYSEARCA:SLX), oil (NYSEARCA:OIL) and natural gas (NYSEARCA:UNG). This group of commodities - which can be purchased either individually or as a basket (NYSEARCA:XLB) - are the lifeblood of a growing economy whose prices are strongly tied to the presence of economic expansion. No growth or even slowing growth (take the summer of 2008, for example) can wreak havoc on commodity prices.
When markets turn, investors have two simple choices: 1) continue to hold the position (and risk significant losses), or 2) reduce/eliminate the exposure and preserve principal. Once used primarily as a diversifier, most commodities actually demonstrate strong correlation to stocks and even stronger correlation to emerging markets.
Our trend analysis research (launch the calculator here) indicates that almost every individual commodity listed above has breached its primary support, and a downward trend now exists. Trend analysis prescribes portfolio adjustments as primary trends take hold (either upward or downward), the effects of which are tracked in the following chart examples (BLUE are cumulative outcomes using optimized trend analysis, RED are cumulative outcomes for buy & hold):
The iPath Goldman Sachs Crude Return Index , which suggests a 90% likelihood that current downward trend will continue: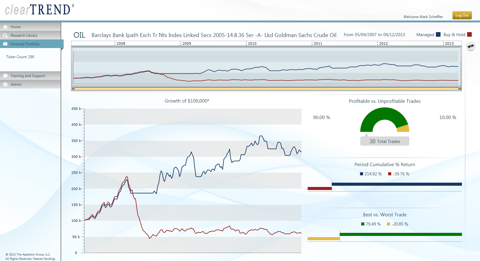 iPath UBS Copper Subindex, a 75% likelihood that current downward trend will continue: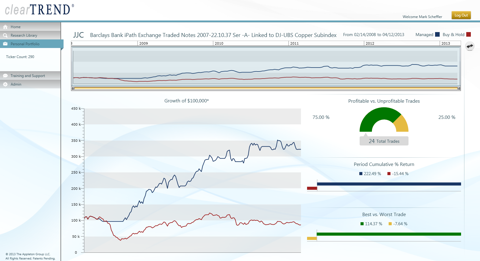 MarketVector Coal ETF, a 67% likelihood that current downward trend will continue: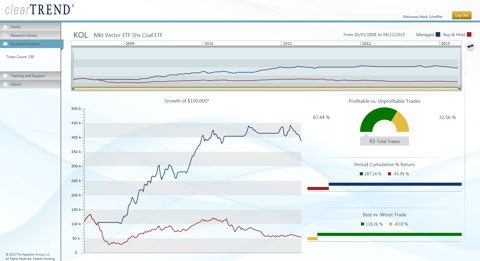 MarketVector Steel ETF, a 70% likelihood that current downward trend will continue: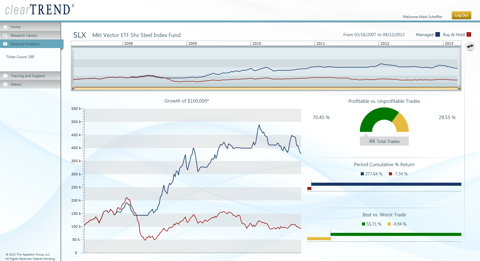 And the bigger precious metals are deteriorating but haven't yet breached their primary support:
SPDR Gold Trust: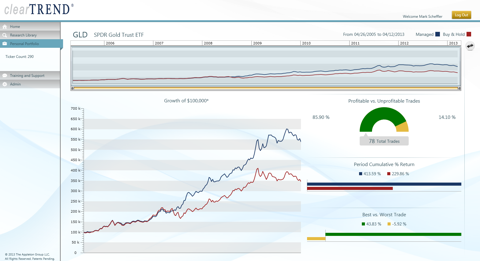 and iShares Silver Trust: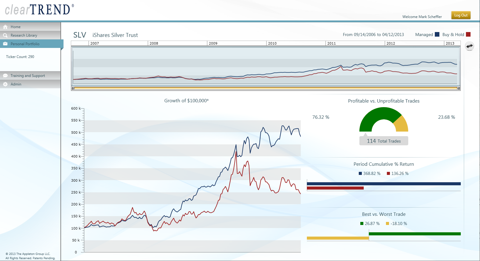 For all of these names, fundamentals are deteriorating which in turn is prompting strong selling pressure by investors. Being aware of the most likely direction from here using trend analysis suggests that now is not the best time to be buyers.
Disclosure: I am long GLD, SLV, UNG. I wrote this article myself, and it expresses my own opinions. I am not receiving compensation for it (other than from Seeking Alpha). I have no business relationship with any company whose stock is mentioned in this article.
Additional disclosure: I wish I didn't own GLD or SLV today.