As a silver investor, I do the happy dance when one of my favorite miners announces a big jump in proven reserves due to an official geological resource evaluation. A positive NI 43-101 report, as it is known in the industry, consistently provides an impetus for appreciation of the stock as more ounces are "discovered" in the mine area.
This is especially true in the case of exploratory companies that do not produce silver, but expect to lure a buyout with the promise of rich resources that others can extract. However, investors would scatter like rats from a sinking ship if the proven reserves of an exploratory silver miner actually dropped, even though not a single ounce was produced. This is the situation that could develop industry-wide after an expected flood of reserve revaluations this year. This article will explain why the math is about to turn negative, possibly tolling the death knell for some junior explorers.
To understand why we are expecting a flood of resource re-evaluations this year, and why that may create false optimism in the stock prices, we must look at the factors that go into mine reserve analysis.
Factor: Physical Mine Characteristics
Based on the criteria of the U.S. Bureau of Mines and the U.S. Geological Survey "known resources should be classified from two standpoints: (1) purely geologic or physical/chemical characteristics- such as grade, quality, tonnage, thickness, and depth- of the material in place: and (2) profitability analyses based on costs of extracting and marketing the material in a given economy at a given time."
The geological characteristics of a mine are determined by extensive drilling of test probes and other methods. Before a resource can be called a "reserve" it has to be of a high enough metal content and reasonably available for extraction to be mined at a profit. Miners spend enormous amounts of capital on exploration. Some of this is for "measure twice, dig once" planning, but in the case of exploratory-only miners, it is simply to improve the official inventory of silver in the ground, which makes the company more valuable to investors.
It should be noted that the USGS only allows classification of in-situ metal as "reserves" after it is clearly demonstrated that those ounces can be mined at a profit. Otherwise, "measured and indicated" resources are those that have been determined to exist, but may or may not be able to be profitably turned into processed silver ounces. "Inferred" resources have not been actually measured, but probably exist. Many miners tout measured and indicated resources, but all those ounces have dubious value if they cannot be upgraded to "reserve" status. While there is some subjective evaluation in this process, the physical characteristics of tons factored into reserve calculations are fairly straight forward and free of manipulation.
Factor: Production Cost
The cost of production, either historical or theoretical, must be applied to each area in order to determine the profitability of the resource. This is an area of some controversy, as miner press releases and presentations like to advertise a single-digit cost per ounce, or even a negative cost after factoring in by-product sales. A more inclusive calculation is one developed by Hebba Investments in a SA article on the "True Cost to Mine Silver - Complete 2012 Figures". Without going into detail about this methodology, the calculation basis is to deduct net earnings from revenue to obtain costs, and then to divide by ounces produced by each company. Some adjustments are included, but the inclusion of depreciation, depletion, taxes, exploration costs, etc. yield an average cost per ounce of $25.74 for the silver industry in Q4 of 2012. Readers are encouraged to review the article to fully understand this analysis, which is greatly simplified here.
Here are the 2012 costs per ounce of some leading miners included in the industry number, according to this method:
Hecla Mining (NYSE:HL) - $24.62 per ounce
Pan Amercan Silver (NASDAQ:PAAS) - $20.81
Coeur d'Alene Mines (NYSE:CDE) - $ 27.72
Endeavor Silver (NYSE:EXK) - $24.91
Silver Standard Resources (SSRI) - $ 24.72
First Majestic (NYSE:AG) - $ 18.44
After the huge drop in spot silver during the past few days, the current selling price of $22.74 is $3 below the average production cost per Hebba Investments. It is no secret that the cost of silver production is on the rise, and that factor will negatively affect the reserve calculations, as fewer of the ounces in the ground will be able to meet the break-even cutoff to achieve "reserve" status. Rising production costs are one reason that we expect a flurry of NI 43-101 reports in 2013. The cost factor can be manipulated to some degree, but the professionals providing the NI 43-101 reports are expected to use realistic numbers.
Factor: Market Price of Silver
The final factor in the reserve calculation is the one that gives us both reason to anticipate a rush to complete reserve assessments in the next 12 months, as well as concern about the likelihood of a trap door opening beneath those reserve forecasts.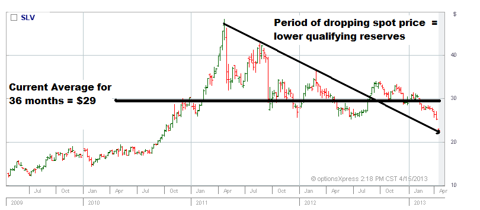 The NI 43-101 uses the 36-month average spot price as the cutoff for calculating if reserves can produce a profit after production costs. This is non-negotiable, and the trend has been positive for years. Even today, with silver at a two year low, the average for the month of March 2013 of $28.80 will replace the March 2010 average of $17.10, adding about $.33 to the 36 month average.
From the chart we can see that the average will likely trend upward until April of next year. After that, the chart foretells a deep slide in the average price factored into the reserve calculations. This creates an urgency to have a company's resources evaluated within the next 12 month period, in order to increase reserves on paper, even if not a single new ounce was actually discovered since the company's last NI 43-101.
Likewise, if a company requires a re-evaluation, perhaps for a loan or merger situation or for company policy, the reserves could suffer a reduction after April of 2014, due to the elimination of the spike, such as the replacement of the April 2011 average of $42 per ounce with one possibly $19 cheaper, per today's price. Of course, if silver prices rebound, this effect would be mitigated, but not many analysts expect $42 silver in the near future. The companies that are rushing to present large reserve increases, aided by the tailwinds of past price spikes, will have to report less optimistic, or even negative changes to reserves later in 2014 and beyond. This will open the trap door under their stock price, because, for the exploratory companies, the reserves are about their only investment-worthy asset.
Conclusion
The silver market is in disarray today. In our recent article on Sandstorm Gold (SAND), we indicated that the precious metal market had recently penetrated the long-term trend line and the near-term support might be a 40% retracement to 1420 for gold. The gold spot price may be oversold at its current 1353, but margin calls amplify the need to sell both metals. Even the late afternoon news of the Boston Marathon explosion, normally the type of event to cause precious metals to rally, was barely a speed bump on the slide downward. However, the panic selling and margin selling may be indicating a bottom.
I personally am a silver bug, and I have permanent spots in my portfolio for some silver producers, even though they have nearly broken my heart the past year. I think in the long-term these are the survivors, and those with low debt, good cash flow and already proven reserves are the best bets, in our opinion. We hold Hecla, Aurcana (OTCPK:AUNFF) and Revett Minerals (RVM), in the large, small and medium categories. Each of these have had specific, negative one-time issues that they are putting behind them, so the future looks further to the upside than down from here.
The Hebba calculation of costs for silver production may be valid, indicating that the average cost to produce is currently substantially higher than the spot price; however, we are more inclined to substitute cash flow for net earnings in the calculation. If a company like Hecla has no debt, sells below book value, has good cash flow, even with the giant Lucky Friday out of commission for a year for remediation, the only relevance of the depletion expense on the paid-for properties is the tax benefit.
Followers know that we do not get excited over exploration-only miners, as they have no production or positive cash flow. It is unfortunate that many silver investors like these companies because they distrust "paper money" investments. The point of this article is that the reported reserves of these companies are not immune to manipulation, and are based on over-optimistic past history that can distort the current picture. To some degree the "hard reserves" are greatly dependent on paper calculations.
The fact is that lower spot prices will put a damper on merger activity, and there are too many junior miners hanging their hat on an acquisition before they go bankrupt. You can bet that potential buyers also are aware of the dynamic of potentially overstated reserves implied by recent NI 43-101 reports. There is little financing available for juniors to develop the reserves on their own. If your junior explorer reports increased reserves on its next NI 43-101, which is almost a sure thing considering the math presented here, it may pop. For us, that it the time to sell, because it only looks bleaker for those companies as we move further away from the summer spike of 2011.
Disclosure: I am long SAND, HL, OTCPK:AUNFF, RVM. I wrote this article myself, and it expresses my own opinions. I am not receiving compensation for it (other than from Seeking Alpha). I have no business relationship with any company whose stock is mentioned in this article.
Additional disclosure: We do not know the circumstances, risk tolerance or investment objectives of our readers. There is no guarantee that any investment mentioned in this article will be profitable or appropriate for readers.