Introduction:
Johnson and Johnson (NYSE:JNJ) is set to release earnings Tuesday, and there are many indications that the report will be strong. JNJ's pharmaceutical segment is expanding, (in addition to many others) and JNJ is increasing its amount of drug patents. The excitement of earnings week can often result in amateur investors reacting impulsively, so it would be prudent to wait until the earnings have been released before making a final investment decision on the company. Below are the main drivers I see fueling Tuesday's earnings report, with the addition of my long term concerns for JNJ as well.
Breakdown of JNJ's Earnings: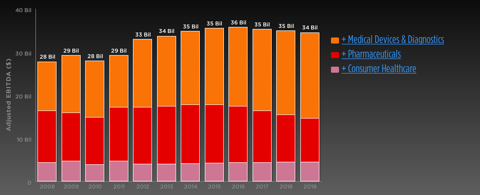 Source: Trefis
Continued Growth In Pharmaceutical Sales:
Analysts expect JNJ's pharmaceutical business to keep benefitting from oncology drugs Zytiga and Velcade that were approved for additional indications. Velcade's sales racked in $1.5 billion in 2012, and it is expected for the figure to continue to grow until 2014, when the drug loses its patent. Furthermore, JNJ's immunology drugs have recently experienced some growth due to the growing addressable market. Oncology and immunology are key growth areas for the company (and for the pharmaceutical industry as well). Primary care areas such as cardiovascular and allergy are already packed with tons of different products, so an increased focus on oncology and immunology could help the company command a better pricing. J&J's mental disorder drug, Invega, lost its patent in mid-2012. However, the drug's sales kept growing in the fourth quarter of 2012, and although the lack of generics may have lent to that support, that may not be the case this quarter. JNJ's drug Concerta, which lost its patent in 2011, could continue to offset some of the growth however, but that does not seem like a long term worry, with constant innovation at JNJ.
Medical Devices & Diagnostics Getting Strengthened With Synthes:
The medical devices & diagnostics division of JNJ will surely show the impact of JNJ's acquisition of Synthes last year, through revenue growth. Synthes is the world's largest maker of implants to cure bone fractures as well as a large producer of surgical power tools and biomaterials. JNJ paid a hefty $20 billion in order to acquire the orthopedic behemoth, and believes that the merger of the two companies would increase the growth rate of J&J's revenues and operating profits. The global trauma fixation devices market is expected to reach $6.7 billion by 2017, growing at a compounded annual growth rate of 6%. This growth will be driven by the aging population of baby boomers in countries such as the U.S., Europe, Japan and China. The merged segments between JNJ and Synthes contains the broadest orthopedic portfolio globally, and therefore, the company can leverage the growth in the market better than its competitors.
The Market Opportunity Of Canaglifozin:
With obesity being on a rapid incline over recent years, JNJ has a major opportunity to capture the diabetic market with a new drug. In the U.S. alone, around 26 million people suffer from the condition. In response to these factors, the global diabetes drug market has seen rapid growth in the last couple of years. The type 2 diabetes drug market, which comprises a noteworthy portion of the total diabetes drug market, is expected to double from $26 billion in 2011 to $50 billion in 2021, in developed markets including the U.S., Japan and Europe. While the market is certainly crowded with several major drugs available for the condition, the fact that the disease is often associated with several other disorders such as cardiovascular events, kidney impairment etc., it limits its target patient population. This presents an intriguing opportunity for new drug compositions like Canagliflozin. Canagliflozin is a member of a new class of diabetes drugs known as sodium-glucose co-transporter-2 (SGLT2) inhibitors that lower blood sugar by blocking the re-absorption of glucose by the kidney and increases the excretion of glucose in urine. A new drug with such potential could be a great chance for JNJ to catalyze future growth, and it seems as though it will be able to capitalize on it, boosting earnings for this quarter and upcoming quarters for years to come.
JNJ's Stock Rally: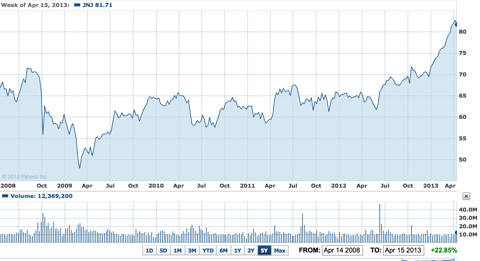 Source: Yahoo! Finance
The run at JNJ has been quite impressive, as it has demonstrated that there is a sense of growth to the company, or at least it feels that way in recent months. Even so, JNJ shareholders are typically seeking income over the long term, and there are several factors investors need to consider with JNJ's long term horizon. As with all firms, there is a certain sense of risk involved, and it seems as though the current rally for the company has created an illusion for some, as they no longer even consider the bear argument for the company. I surely am not suggesting that JNJ is a bad company, or that it will not make an excellent investment in the future. I am, however, taking the time to notice the scenarios that many have failed to realize.
The Long-Term Bear Case:
Minimal Presence of an Economic Moat:
At the end of the day, an important longer-term issue with JNJ is that it just does not have the moat that people commonly think. A moat demonstrates a level of excellence that allows for above-market growth and makes it extremely difficult to compete with the company. I just don't see a durable competitive advantage with JNJ. Stryker has a long record of orthopedic market growth under JNJ's watch, and JNJ has twice lost leadership in the stent market. In addition, small companies like Immucor (NASDAQ:BLUD) and Therasense (now part of Abbott (NYSE:ABT)) have demonstrated the ability to compete very effectively with this colossal giant. This further illustrates the minimal presence of a moat at JNJ. Take the classic example of Coca-Cola (NYSE:KO). That's a legitimate moat. Coca-Cola has built a multi-billion dollar business out of soda, that will continue to rake in cash for the next hundred years to come. That is what I personally view a moat as, and the way I believe a moat should be.
Weak Leadership:
A big problem that JNJ faces is that it is not a dynamic player in any of the markets it enters itself in. There is a relatively small amount of markets that JNJ still does very well in. Although JNJ has shown an ability to buy its way into attractive markets, it seems to lack the foresight and decisiveness to really maintain that leadership. This is a big problem for the company in the road ahead, as it is a headwind for JNJ in the foreseeable future. JNJ used to be the early leader in stents, only to lose out to better products and marketing from Boston Scientific (NYSE:BSX) and Medtronic (NYSE:MDT). Drug coated stents offered an interesting repeat, where JNJ was among the first, but it saw that lead crumble due to competition from Boston Scientific, Medtronic, and Abbott (ABT).
So too is it in many other areas where JNJ operates. Stryker (NYSE:SYK), Zimmer (ZMH) and are strong rivals in orthopedics, and Covidien (COV) has recently gained share on JNJ's Endo business with new product launches. Furthermore, JNJ has been spending steadily less in R&D, from a peak of $7.7 billion in 2007 to $6.8 billion in 2010. Its reductions in R&D have made me question its durable competitive advantage in the numerous markets that management has chosen to enter it in. Even though that amount is certainly far more than Stryker or Boston Scientific can spend, it does not seem to be paying off for the company at this time.
Poor Deals Have Diluted Capital and Diworsified JNJ:
If one were to put growth aside, JNJ's businesses have generally had a long history of producing an exemplary amount of free cash flow. Unfortunately, management has not been a great allocator of JNJ's cash hoard. Deals for companies like Conor Medsystems, Animas, and Closure don't really look like money well-spent, and even successful deals such as the acquisitions of Cordis, Centocor, DePuy, and Mentor come with a "but". That "but" is the caveat that the company often paid so much for these deals that the benefits to shareholders have not been that remarkable. I'd argue that management lacks a keen eye for acquisitions, and certainly has not been conservative with JNJ's capital. Lucky for JNJ shareholders, then, that Boston Scientific ultimately emerged victorious in the war for Guidant, as it seems quite likely that the deal would have seriously decimated shareholder value.
Where is the execution?:
JNJ strictly as a "cash cow" wouldn't be the end of the world, as investing enough into R&D and acquisitions in order to maintain some forward momentum (despite being sluggish) while generating robust cash flow for shareholders doesn't sound too bad. Unfortunately, that requires a fair bit of commitment to execution which management appears to be lacking. Manufacturing problems and recalls are not just embarrassing, but they are a worrisome sign that management has lost its touch for the finer specifications of JNJ's many businesses.
Recent allegations of kickbacks only add to those problems (assuming they're true), as a JNJ device was recently recalled. The device, called LPS Diaphyseal Sleeve, is used in reconstructive knee surgery. It was recalled because of the potential for fractures, the FDA said. The agency said it has received 10 reports of incidents so far, in which the device has malfunctioned. The affected devices were manufactured by Depuy, JNJ's orthopedic unit, from 2008 to July 20, 2012. A fracture in the sleeve at the joint of it could lead to loss of function or loss of limb, infection, compromised soft tissue or death, the FDA said. The FDA also stated that the company is not recommending revision or additional follow up in the absence of symptoms of patients with this implanted device.
This lack of execution makes JNJ appear like a complete joke among the healthcare industry. What's worse is that the board seems to be getting pretty complacent on these issues. In response to one of JNJ's worst years in recent memory, the board reacted by cutting CEO Weldon's bonus by about half, only to later gave him a 3% raise. Actions such as those are unacceptable, as management is being rewarded for essentially destroying shareholder value. I just don't see why the board is so willing to reward a CEO who has produced so little to celebrate lately.
The Bottom Line:
JNJ's yield is lingering at a juicy 3.2% and is continuing to show stable signs of growth. Indeed, its products are widely used, its financials are in solid shape, its dividend is very generous, and doesn't appear to be at risk of being reduced any time soon. I'm not suggesting that JNJ is about to collapse or even slowly fade into the background. As stated above, JNJ is a strong cash flow generator and also generates very strong returns on capital. The problem, though, is that JNJ just isn't a dynamic player anymore. If you want a company that will produce large amounts of cash, and send a moderate amount of it back to shareholders in dividends and buybacks, JNJ is an excellent choice. But if you really want to harness the growth potential of the healthcare market with a top notch operator, JNJ simply does not fit the bill.
Even so, JNJ has impressively managed to grow at high single digits over the last twenty years, and its current outlook for Tuesday appears to show a strong earnings report, but the real question that exists on the company's future is how it will hold up over the course of the next thirty years. JNJ has recently outperformed the bull market run, as it has rallied up above $80 a share. Personally, I find the valuation slightly overvalued, but I certainly can't argue with the return it has provided to shareholders.
Disclosure: I have no positions in any stocks mentioned, and no plans to initiate any positions within the next 72 hours. I wrote this article myself, and it expresses my own opinions. I am not receiving compensation for it (other than from Seeking Alpha). I have no business relationship with any company whose stock is mentioned in this article.