As with most upstream MLPs, Linn Energy (LINE) is mostly known for its income. However, the company may also be trading at a significant discount to its net asset value, or NAV. Linn Energy currently offers a $0.725 distribution per quarter. At current prices, Linn Energy yields about 7.70%.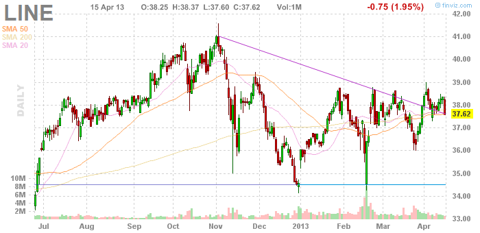 On April 1, Linn Energy released a presentation which gave more details regarding its cash flow, capital expenditures, reserve replacement, and NAV. One of the more impressive feats accomplished by Linn Energy is that since 2009, after paying its distribution and maintenance capex, it has generated about $325M in excess cash flow. Linn Energy's coverage ratio for 2013 is expected to be about 1.13X. Note, however, that this does not include the pending Berry Petroleum (BRY) acquisition by Linn Energy and LinnCo (LNCO). Also note that Linn Energy views puts as a "capital" cost and considers the premiums it pays for derivatives as part of the investment in its business. This clarification is especially important, considering the recent accounting concerns Linn Energy experienced during the quarter.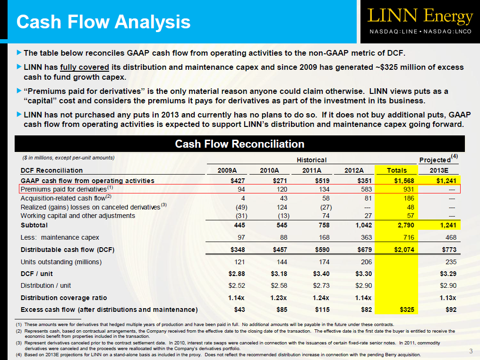 Also in the presentation was an historical overview of Linn Energy's drilling results and capital investing. It is interesting that Linn Energy has managed to achieve a reserve replacement ratio of 168% since 2009. During 2012, Linn Energy invested more than $1B in drilling capital, with about 70% of this being for growth.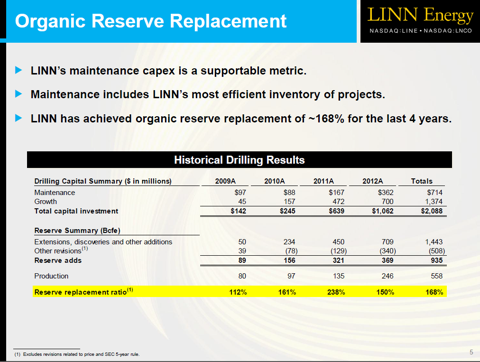 One of the more stand out revelations in the presentation was that Linn Energy may be trading at a discount to its NAV. The internal case estimates Linn Energy's NAV of between $44.74 to $64.74 per unit. The internal case value is based on natural gas prices of $4.70 per MMBTU and oil price of $90 per BBL after 2018, proved reserves discounted 7.5%, and unproved reserves discounted at 15% and 10%. The third-party calculated value for Linn Energy was between $37.34 to $48.53 per unit, which is based on forward base pricing as of February 2012. Note that at current prices, even the lowest estimate of NAV has Linn Energy trading at around NAV, while the more optimistic valuations points towards Linn Energy having a potential upside of about 70%.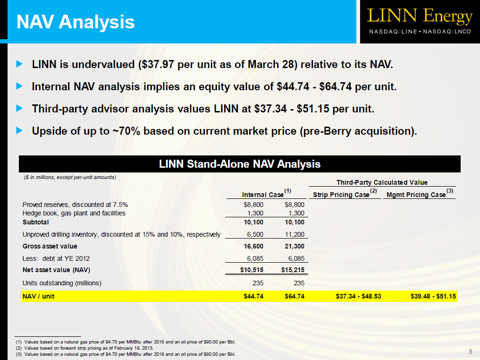 Conclusion
It is my opinion that upstream MLPs such as Linn Energy continue to be one of the more compelling choices for income in the market. I would, however, caution that Linn Energy seems to be currently range bound, with $35 being the lower limit, and $40 being the upper limit. At current prices, Linn Energy seems to be fairly valued. I would imagine that a major catalyst for Linn Energy may be the closing of the Berry transaction, as it is anticipated to be accretive towards Linn Energy's cash flow.
Disclaimer: The opinions in this article are for informational purposes only and should not be construed as a recommendation to buy or sell the stocks mentioned. Please do your own due diligence before making any investment decision.
Disclosure: I am long VNR, QRE. I wrote this article myself, and it expresses my own opinions. I am not receiving compensation for it (other than from Seeking Alpha). I have no business relationship with any company whose stock is mentioned in this article.