We did a simple screen today for dividends stocks that are simply above average on several key parameters, and only found two. We never cease to be surprised at how difficult it is to quantitatively find stocks that pass seemingly quite reasonable requirements.
The two we found, in fact may not be the best choices, but they are the only ones that met these simple criteria used after the close today (2012-04-15):
yield equal to or greater than median
5-yr dividend growth equal to or greater than median
current YOY dividend growth equal to or greater than median
S&P year ahead performance expectations above average
S&P current fair value rating above average
S&P earnings and dividend quality above average.
Thomson/Reuters StarMine year ahead rating above average.
Admittedly using S&P ratings as criteria eliminates all those stocks that S&P does not rate, and there are certainly attractive stocks in that excluded group, but we still hoped to find more than we did.
This is not to say that there are not excellent other choices, but is to show the difficulty setting up a wish list in a computer screen. A different set of screens, such as using other rating services, would generate a different list of stocks, but this is what we got with an S&P intense filter.
The two stocks are Bank of Nova Scotia (NYSE:BNS) and AFLAC (NYSE:AFL).
Screen-shot of the Filter and the Results

Our internal objective was to see the breadth (or lack of breadth) of rated, above median or above average dividend stocks. The result was sufficiently disappointing, that we wanted to share it with you. It's another example of the challenge getting all you want. You can have anything you want, but not everything you want. You have to decide which problems or deficiencies to accept in individual securities.
Since we got that far, and wanted to make that point to you, we thought it would be useful to give you more information about those two screen survivors. We are not offering a view on those stocks, but expect you would like to know more about them having read this far.
The following data is available to do-it-yourself investors at public sites.
10-Year History of Percent Dividend Change
Chart from YCharts.com.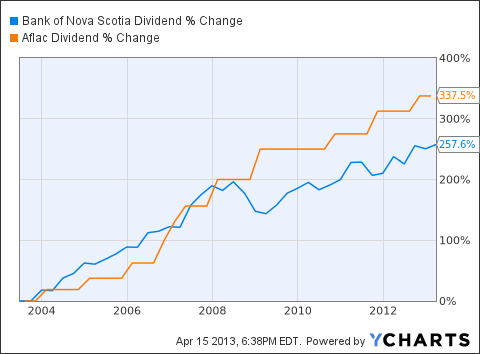 BNS Dividend data by YCharts
Price Change Comparison With S&P 500 (NYSEARCA:SPY)
Charts are from YCharts.com.
10-Years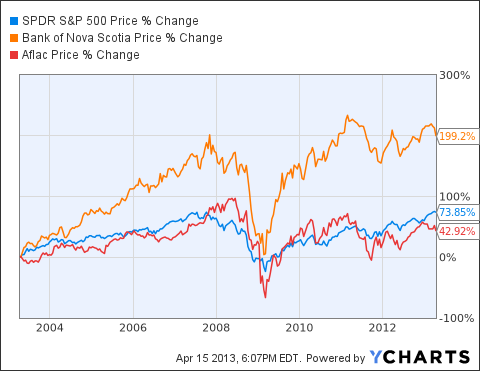 5-Years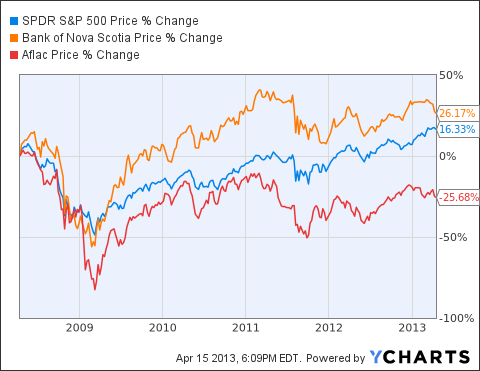 1-Year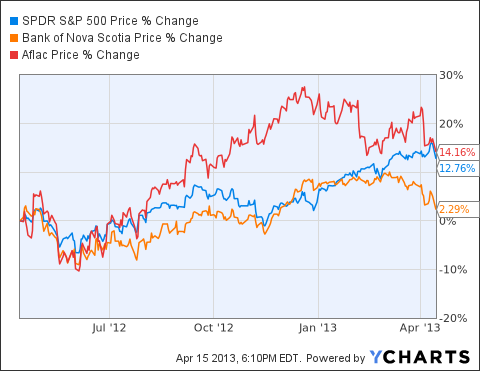 3-Months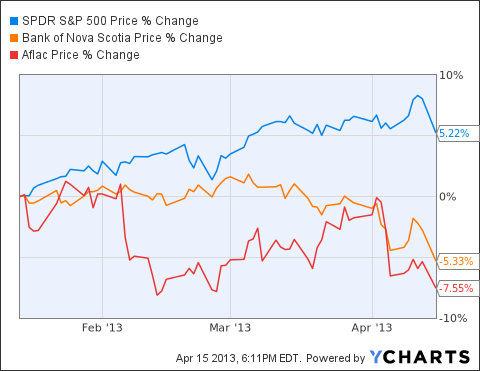 Street Consensus
From 4-Traders.com
BNS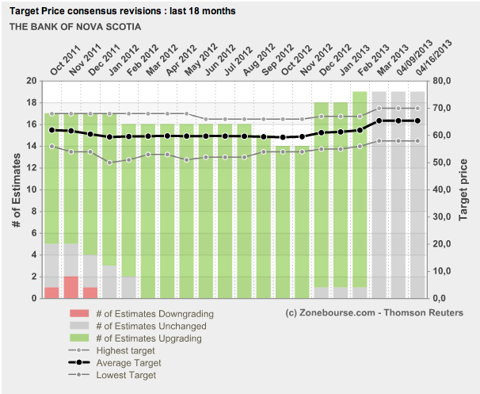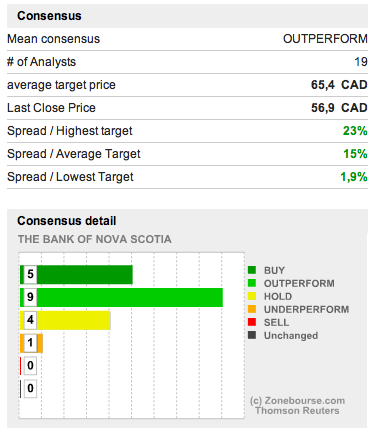 AFL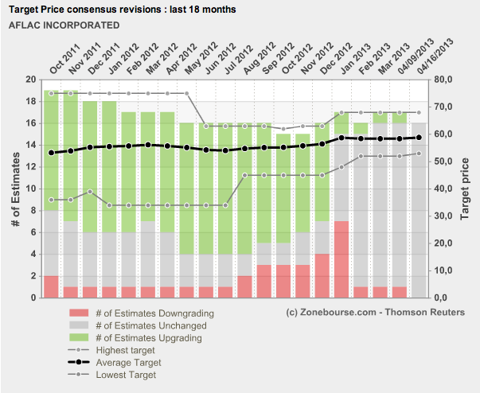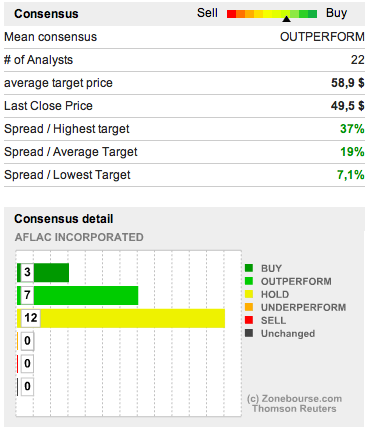 Price, Earnings and Dividends
BNS (Wright Rating ABB6)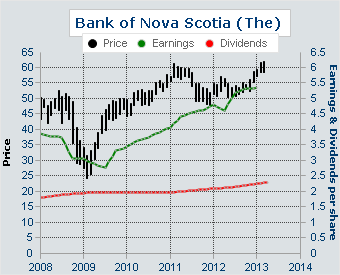 AFL (Wright Rating AAA15)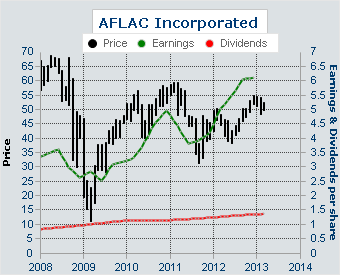 Wright Quality Ratings are based on established principles using 5-6 years of corporate record and other investment data. The ratings consist of three letters and a number. The letters indicate investment acceptance, financial strength, and profitability and stability, and represent a composite qualitative measurement of individual standards which may be summarized as follows: A = Outstanding; B = Excellent; C = Good; D = Fair; L = Limited; N = Not Rated. The Growth rating may vary from 0 (lowest) to 20 (highest), and is a composite measurement of the annual corporate growth, based on earnings and modified by growth rates of equity, dividends, and sales per common share.
Valuation Data
From Yahoo Finance
BNS

AFL

Short-Term Technical Opinion
From BarChart.com
Short-term indicators are for a 20-day range. Medium-term indicators are for a 50-day range. Long-term indicators are for a 100-day range.
BNS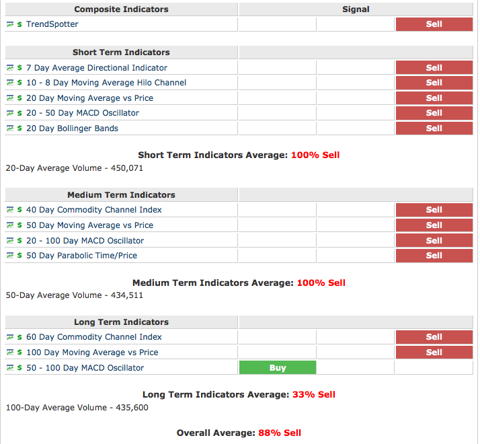 AFL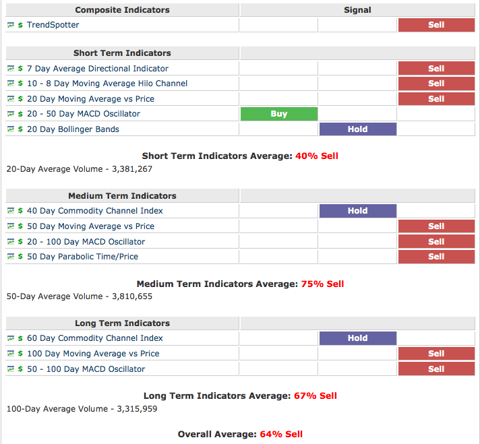 Disclosure: QVM has no positions in any mentioned security as of the creation date of this article (April 15, 2013). We certify that except as cited herein, this is our work product. We received no compensation or other inducement from any party to produce this article, but are compensated retroactively by Seeking Alpha based on readership of this specific article.
General Disclaimer: This article provides opinions and information, but does not contain recommendations or personal investment advice to any specific person for any particular purpose. Do your own research or obtain suitable personal advice. You are responsible for your own investment decisions. This article is presented subject to our full disclaimer found on the QVM site available here.