Crumbs Bake Shop (NASDAQ:CRMB) went public through a blank-check company IPO in May 2011. Since then, the company has missed targets, burned through cash, diluted shareholders through a secondary offering, and most recently, entered into a binding term sheet to sell convertible notes to Michael Serruya, the co-founder and co-owner of Yogen Früz.
Per one of Crumbs' early investor presentations, Crumbs was founded in 2003 by husband and wife Mia and Jason Bauer in New York City. As the shop became popular and the business expanded, revenue grew from $542k in 2003 to $31.1mm in 2010 before the IPO. However, problems began when a blank check company "57th Street General Acquisition Corp" began the merger process with Crumbs for an IPO of the cupcake business.
57th Street raised $50mm of capital in May 2010 by selling 5mm units representing 1 share and 1 warrant to purchase an additional share at $11.50 for $10/unit (over-allotment generated an additional $4.5mm). Prior to the merger with Crumbs, 57th Street had to tender for its shares and warrants if any of its shareholders did not approve of the pending merger. The tender offer was launched on February 2, 2011 at $9.98/share and $1 per warrant, giving initial shareholders a ~10% profit if they tendered the shares. The merger was initially set up to fail if more than $9.1mm of consideration had to be paid in the tender offer. Through a series of tender extensions and modifications to the merger agreement, the tender wasn't completed until three months later in May 2011, when $15.9mm of the original $54.5mm was returned to 57th Street shareholders. For those who thought the business was going to be successful, this had the happy outcome of reducing shares outstanding, though at the expense of liquidity for the company going forward.
Crumbs seemed to be doing very well:
I won't rehash the original investor presentation, but store-level economics seemed very attractive: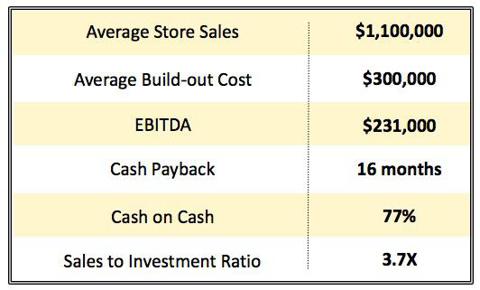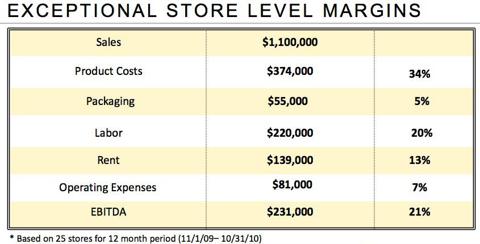 The presentation presented very reasonable comp valuations and accounted for the dilution from equity awards given to the founders as part of the merger agreement. The outlook for 2011 was $45mm-$50mm of revenue and net income of $3.1mm-$3.9mm. For 2012, revenue was expected to be $85mm-$90mm and net income of $8mm-$9mm. By 2014, there would be 200 Crumbs locations nationwide. After the transaction was completed, the stock jumped from $10 to $13. The market has seen several high-growth restaurant and quick-service stocks, and why couldn't Crumbs be one of them?
The wheels quickly fell off:
Crumbs pretty quickly started missing earnings, and 2011 results came in at $39.9mm of revenue and a $6.2mm loss: $10mm below the previously expected net income. Even adjusted EBITDA was negative, at a $587k loss. In November, Jason Bauer stepped down as President & CEO and Julian Geiger, chairman of the board of Aeropostale (NYSE:ARO), was appointed in his place. But 2012 ended up being even worse, even though the stock spiked ~50% in August due to the announcement of a relationship with Starbucks (NASDAQ:SBUX).
Sales increased less than 10%, to $43mm, and the loss from operations grew from $6.2mm in 2011 to $10.5mm in 2012. Adjusted EBITDA fell to a $3.7mm loss. Crumbs did not release a cash flow statement, and a notification of late filing for the 10-K was filed, but the company burned $3.1mm of cash from operations and spent another $2.3mm on capex through 9/30/12, leaving the company with only $150k of cash on hand at 9/30/12. Less than two weeks later in October 2012, and after having to buy shares in the 2011 tender offer for $9.98, Crumbs had to sell 4.4mm shares at $2.21 to avoid insolvency. Average shares outstanding doubled from 5.5mm in 4Q11 to 10.9mm in 4Q12. And 4Q12 sales actually started falling from 4Q11 (though this is attributed to Hurricane Sandy), while cost of sales increased, resulting in GPM compression from 56.7% to 52.8%. Staff and occupancy costs have continued to increase as well.
Per the most recent 10-Q, opening 28 new stores generated $7.8mm of revenue, but same-store sales for the existing 33 stores declined by $4.1mm. After touting impressive same-store-sales percentages in the investor presentation, Crumbs is not breaking out same-store-sales percentages in its press releases or its filings. In the 10-Q, management indicated:
The decrease in same store sales was predominantly due to negative effects of locating new stores in close proximity to existing stores, resulting in a reduction in sales in same stores previously opened, lack of sufficient new and innovative product offerings and deterioration in the quality of store level staffing and support.
These aren't hand-waving issues like weather or one-off events; these are serious issues. So how will this be fixed?
During the last six months, management has identified and instituted six key initiatives which it believes will improve the financial performance of the Company, bolster the image of the Crumbs brand, and position the Company to grow in a more predictable and profitable manner. These initiatives contemplate special attention being paid to corporate structure, supply chain management, identification of real estate opportunities relating to existing and new stores, the frequent introduction of new cupcakes, and a wide sweeping improvement in customer interaction. To maximize the benefits that management believes will result from those initiatives, the decision has been made that it is necessary and desirable to accelerate the velocity of new store openings.
The existing stores are performing poorly, and we have no cash, so let's sell equity and open a bunch of new stores! 2013 guidance was reduced from $73mm of revenue to $57mm and adjusted EBITDA of negative $3.9mm from positive $3.2mm.
One of the more troubling indicators was store operating weeks increasing 28% from 574 in 4Q11 to 735 in 4Q12. Adding back $700k of revenue from the hurricane results in $11.5mm of 4Q12 revenue, only a 4% increase. Instead of generating $1.1mm of revenue per store like in the investor presentation, Crumbs stores now appear to be generating only $813k of revenue on average in 4Q12.
The 61% store-level gross margin from the presentation has fallen to 55.7% company-wide in 2012. Labor is indicated at 20% of store revenue, but company-wide "staff expenses" were a full 36% of revenues, with an additional 3.2% of "selling expenses" and 7.7% of G&A expenses, presumably management and corporate expenses. Rent is indicated at 13% of store sales, but occupancy expenses were 23.3% of company-wide sales in 2012.
Punitive convertible debt raise:
Not only are the operating results terrible, but after looking at the term sheet for the upcoming convertible debt increase, the terms are rather punitive:
A 7% cash interest rate or 10% PIK with Crumbs shares
A conversion price of $2.50; below the $3/share CRMB traded at immediately prior to the announcement
Change of control requirements to repay 115%/110%/105% of principal during the next 1/2/3 years
A 25% prepayment penalty
$200k-$275k of fees and expenses payable at close.
If the minimum amount of $10mm of notes are sold, the conversion would take shares outstanding from 11.8mm to 15.8mm, a 34% dilution. CRMB shares fell the same 34% from $3 to $1.99 upon the announcement of the notes and the terrible 4th quarter on April 12.
What went wrong?
Based on the pricing, Crumbs has no reason not to be successful. Following a sampling of several cupcake stores in the Washington, DC area, Crumbs cupcakes appear to be the least expensive, and the shareable "signature size" cupcakes offer very good value. Reviews on Yelp seem relatively good, and the cupcakes are tasty (in my opinion, at least). Perhaps cupcakes have just been a fad and is now in secular decline? I have little hard evidence for or against this, but let's take a look at the Google search trends for Crumbs and its two most famous competitors: Sprinkles and Georgetown Cupcakes.

Sprinkles results are in yellow, Georgetown in red, and Crumbs in blue.
All results seem to have peaked in 2011 (good timing on the Crumbs IPO), but while Sprinkles and Georgetown have resumed growing, Crumbs has continued to decline. If you look at just the term "cupcakes," it has consistently risen and did not decline in 2011 like the branded terms. Perhaps the contract baking model of Crumbs is not generating good product that attracts many repeat customers. Or competition may be too intense. But the management shake-ups, consistently rising expenses, and dilution at Crumbs HQ certainly haven't helped.
Current business:
After close on April 12, CRMB had a market cap of $23.49mm. The proposed $10mm of notes will initially not change the enterprise value, but will add $700k/year in interest expense. In 2011, CRMB burned $1.7mm of cash from operations and spent $5.77mm on capex. Following the first nine months of 2012, CRMB would be on pace to burn another ~$4mm of cash for full-year 2012 and spend ~$3.2mm on capex, before the worse than expected 4Q12 results. At 12/31/12, stockholder's equity was $13.4mm, with another $5.1mm of non-controlling interest. Property and equipment is carried at $13.2mm, which would be impaired as Crumbs closes stores and would very likely have a much lower liquidation value. It seems very generous at this point for the stock to have not fallen even further.
Janney Montgomery Scott appears to be the only firm covering CRMB, and prior to the 4Q12 results, their estimates were a $.25/share loss in 2013 and a $.07/share profit in 2014, though these estimates will certainly come down.
With no end to the cash burn in sight and new senior securities ahead of the stock, if I were a CRMB shareholder, I would sell now while the stock has even some value. Shorting an illiquid micro-cap stock may be difficult and risky, but the chances of CRMB being a zero have increased substantially.
Disclosure: I have no positions in any stocks mentioned, and no plans to initiate any positions within the next 72 hours. I wrote this article myself, and it expresses my own opinions. I am not receiving compensation for it (other than from Seeking Alpha). I have no business relationship with any company whose stock is mentioned in this article.