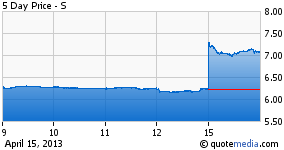 Today, Dish Network (NASDAQ:DISH) has proposed to trump Softbank's bid with a generous offer of buying Sprint (NYSE:S) for $25.5 billion in cash and stock. Sprint's stock jumped as high as 17% on this news, and this obliges me revisit Sprint one more time.
We have discussed Sprint seven times since June 2012, each time setting a higher price target for the stock, starting with the target price of $4 in that first article, to $6.50 in one of the last ones.
Now that Sprint has crossed all these milestones, it is time to evaluate whether the Sprint rally could continue further and what should be the next steps for investors.
What's In It For Dish?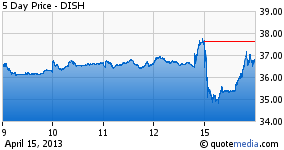 Dish Network is offering a premium per-share price of $7 for Sprint, that includes $4.76 in cash and about $2.24 in Dish stock.
With the Sprint bid, Dish most likely plans to use its extended broadband network to offer nationwide bundles of voice, video and data services, both inside and outside its customers' homes. Until now, it only possessed airwaves; this deal will give the company the required network to utilize those airwaves that the company have been acquiring since years.
In response to Dish's proposal, Sprint has stated that the board will evaluate the offer. With two bids now, chances are that Sprint will try to up-sell itself, but irrespective of what happens next, the company is in a very sweet spot. Sprint is clearly the winner here and now investors know how valuable its assets are in the industry.
Investor Concerns
Sprint's stock rallied today when most other indices were seen retreating significantly, leaving long-term investors in a dilemma whether they should register their gains. I never tell investors not to take profits, especially because at the end of the day, we are in the trade for profits. So if you are concerned about pullbacks resulting from the deal falling through or obstacles in Sprint's capital intensive Network Vision/LTE rollout project due to these deals, go ahead and take some profits.
One more concern should be the high debt that the combined Sprint-Dish company would have to bear: a massive $45 billion. This is quite a risky bet for Dish, especially because of its already high debt levels. The rating agency Moody's has already announced putting Dish on a "downgrade watch" because of this offer. Not only rating agencies , hedge funds like Paulson & Co. that have high enough stake in Sprint will be also be keeping a close watch on the offer as well. Remember, this hedge fund had shown their dislike for high debt levels in the MetroPCS-T-Mobile deal and got away with what they wanted.
The Love Triangle
Even if Dish's deal is closed, Softbank and Clearwire will still remain heavily linked with Sprint. Softbank would end up being the minority stakeholder in the combined company, and Dish would get to keep Clearwire's spectrum. Softbank clearly wanted both Sprint and Clearwire for its spectrum, so it would not be surprising if Softbank tries to thwart Dish with another and higher bid.
Conclusion
In my opinion, there is no pressing reason to sell Sprint even beyond its recent all-time highs above $7. The reasons we have discussed in the recent articles are why I have liked Sprint, and those reasons, such as increasing EBITDA, shedding off the unnecessary Nextel weight and an expanding network continue to make this an attractive investment.
This stock could go much higher from here in the long run, with or without the Dish deal. In fact, around 10,000 contracts of May $8.00 calls were traded on April 15 2013, for $0.05, indicating that the investor was predicting that Sprint would be trading beyond $8.00 by May expiration. This option activity does not predict everything (or anything, I must say), but the point is that there is still a lot more bullish sentiment remaining for this stock, analysis apart. With this new development, MetroPCS (PCS) and T-Mobile are left wondering with the quintessential question, "Who moved my cheese?"
Disclosure: I have no positions in any stocks mentioned, and no plans to initiate any positions within the next 72 hours. I wrote this article myself, and it expresses my own opinions. I am not receiving compensation for it (other than from Seeking Alpha). I have no business relationship with any company whose stock is mentioned in this article.