The curtain seems to be coming down on gold.
To date, gold has seen a 20 percent drop since the record close in September 2011, meeting the common definition of a bear market. In 2013 alone, gold has dropped a record 14 percent, after a run of twelve annual gains.
There are at least two reasons circling in the financial world with regards to the plunge in gold prices:
1) US Recovery
There are signs that the US recovery is gaining traction. The S&P 500 advanced 2.3 percent last week, the biggest gain since January, and closed at successive records of 1,587.73 and 1,593.37 on April 10 and April 11. This has prompted increased speculation that the central bank will rein in its unprecedented stimulus program, which currently stands at USD85 billion a month.
2) Cyprus Gold Reserves
A European Commission assessment of what Cyprus needs to do as part of its European Union/International Monetary Fund bailout showed it was set to sell gold reserves to raise around 400 million euros. The amount is small, but it nonetheless brings up the possibility of other heavily indebted euro zone nations such as Italy and Portugal to follow suit and put their bullion reserves to work.
On April 10, Goldman Sachs sent a note to clients saying that the turn in the gold cycle is quickening and investors should sell the metal. The company has cut its three-month target to USD1,530 from USD1,615 and lowered the 12-month forecast to USD1,390 from USD1,550.
Even gold-related companies were not spared. Newcrest Mining Ltd, Australia's biggest producer, lost 8.2 percent to AUD17.92 in Sydney, and Zijin Mining Group Co., China's biggest gold miner by market value, fell 7.6 percent to HK$2.32 in Hong Kong.
High profile billionaire hedge fund manager John Paulson has lost over USD300 million of his personal wealth and his investors lost USD62 million as gold tumbled to 2-year lows. His gold fund was down 28% by the end of March.
According to billionaire investor Geroge Soros, gold has ceased to be the haven for investors after it fell when the euro was close to collapse last year. In the fourth quarter last year, Soros cut his stake in the SPDR gold fund by 55 percent.
Amidst all the gloom and doom, at least one person remains optimistic - Swiss investor Marc Faber. "I love the fact that gold is finally breaking down because that will offer an excellent buying opportunity. The bull market in gold is not completed," he said.
Top News This Week
New Zealand: CPI q/q. Wednesday, 17th April, 6.45am.
I expect figures to come in at 0.5%, (previous figure was -0.2%).
Trade Call
Long USD/JPY 97.50
On the 4-hourly chart, USD/JPY has paused making new highs and is currently moving in a range. A strong support is seen at 96.72 and with the current easing program by the Bank of Japan, I do not expect this level to be breached.
An entry is taken when prices fall to 97.50. A stop loss of 100 pips is placed below the support of 96.72, as we do not expect prices to fall below that. We will have two targets on this trade, exiting the first position at 98.50 and the second position at 99.50.
Entry Price = 97.50
Stop Loss = 96.50
1st Profit = 98.50
2nd Profit = 99.50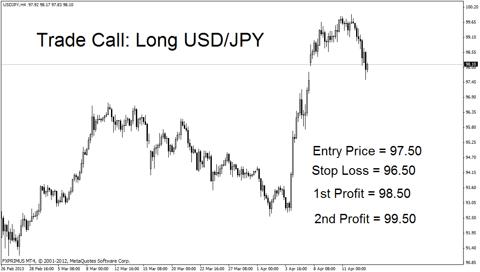 Disclosure: I have no positions in any stocks mentioned, and no plans to initiate any positions within the next 72 hours. I wrote this article myself, and it expresses my own opinions. I am not receiving compensation for it. I have no business relationship with any company whose stock is mentioned in this article.