Yum Brands Incorporated (NYSE:YUM) is the world's largest quick service restaurant [QSR] company. YUM is based on the number of system units, with over 39,000 units in more than 125 countries. YUM primarily operates through 3 concepts of KFC, Pizza Hut and Taco Bell.

The company has achieved a CAGR in sales of 4.71% in 2011 and 2012, recording a YoY growth of 11.35% and 8.63%. Yum has also achieved a steady growth in its restaurant profits, but in 2009, sales dropped by 4.37%.
YUM's management stated that sales at stores opened at least a year fell 13 percent in China in March, as its ads failed to regain customers' concern about the quality of its chicken. Pizza Hut saw a fall in sales of around 4%, while KFC sales dropped by 16% in March.
Recent Results
YUM has seen a dismal end as compared to the previous year and an even worse start to the current year. In China's division, same store sale dropped by 6% in the fourth quarter of 2012 resulting from an investigation into KFC's poultry supply and the resulting negative publicity. The events significantly impacted consumer confidence in KFC, and sales dropped sharply in the last two weeks of December 2012.
In January 2013, same stores sales also declined by a massive decrease of 20%, with KFC facing a decline of 24%, due to the continuing low consumer confidence and a negative impact resulting from the Chinese new year. February saw a slight improvement in YUM's results, as the total of the China division sales rose by 2%, with Pizza Hut experiencing a 13% growth and flat same store sales for KFC.
After the February results, it was expected that the company had weathered the storm and would experience growth in the coming months, but that may not be the case. A negative 13% growth in Chinese Sales rounded up one of the worst quarters in the company's history, with KFC experiencing a 16% drop in sales. Unfortunately, the worst is not over yet. As the Bird Flu scare builds up, consumer confidence continues to stay low; YUM might face significant losses in the coming period.
YUM in China
YUM is becoming more and more dependent on China and it is the company's fastest growing market in terms of number of stores opened, as can be seen by the table below. More than 50% of all the new units opened by YUM were in China, in each of the last 4 years. KFC is the fastest growing brand for the company.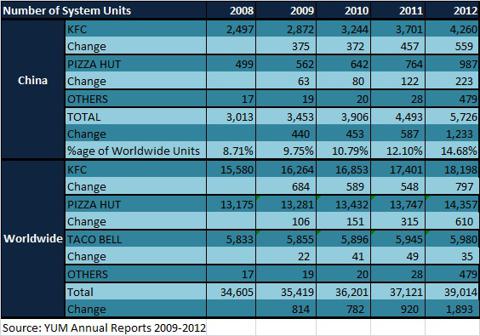 In terms of sales, China is again the fastest growing market, achieving a CAGR of around 25%. China's sales were more than 57% of the company's total sales volume for 2012. China has also been the best performing region for the company, continuously achieving superior restaurant margins than other regions.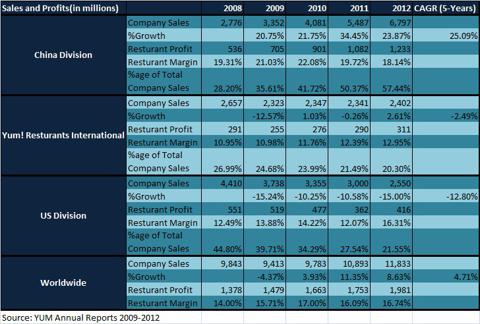 The growth in China's sales is not only fueled by increase in the scale of company's operations, but is also due to the increase in efficiency. The company has experienced high same store sales growth in the region over the past 5 years, with only a negative growth in 2009. 2011 was the best period for the company in China in terms of efficiency at achieving a same store sales growth of 19%. The table below shows the same store sales growth for all the regions over the past 5 years.

Future Outlook
In China, YUM is highly dependent on its KFC brand. KFC system units comprise of more than 74% of the company's total units in China, thus the bulk of the company's revenues and growth comes from its KFC brand.
Due to the recent events that have taken place, as explained earlier, KFC saw a huge decline in its sales. If consumer confidence stays low and if the Bird Flu problem persists in China, YUM would be unable to meet its growth target for the current year. Although I believe the company's management would be able to cope with the problem in the long run, as they have done previously, the company's short term prospects are extremely negative. Based on the negative outlook of the Chinese market and YUM's high dependence on China, I believe right now it is not the time to invest in this company. Thus I would give a sell recommendation.
Disclosure: I have no positions in any stocks mentioned, and no plans to initiate any positions within the next 72 hours. I wrote this article myself, and it expresses my own opinions. I am not receiving compensation for it (other than from Seeking Alpha). I have no business relationship with any company whose stock is mentioned in this article.