Company:
Jazz Pharmaceuticals (NASDAQ:JAZZ) is a mid-cap biopharmaceutical company that has a small portfolio of drugs used to treat a range of disorders. JAZZ markets its products worldwide, and its number one selling product is Xyrem®, by far. A list of the company's products can bee seen in the following table:
| | | | | |
| --- | --- | --- | --- | --- |
| NARCOLEPSY | ONCOLOGY | PSYCHIATRY | PAIN | OTHER |
| | | | | |
Commentary:
In a recent article, I offered a brief history on the creation of William O'Neil's CAN SLIM screening process. Following its publication, I chose to run the three variations of the screen to produce some examples to show the screens' potentials. Interestingly, one of the companies produced by a screen I created using O'Neil's original criteria was JAZZ. At first blush, JAZZ's inclusion in CAN SLIM's exclusive club is well deserved - that is, of course, until one takes a look at the company's potential risks (more on that in a moment).
Fundamentals & Risks:
Fundamentally, JAZZ appears strong. By looking at the following income statement summary for the past five fiscal years, we see that revenue grew an astounding 762% over the five year period. We also see that EPS went from a loss of $7.19 per share to a profit of $4.79 per share in the same five year period. Unfortunately, however, that is where the good news ends.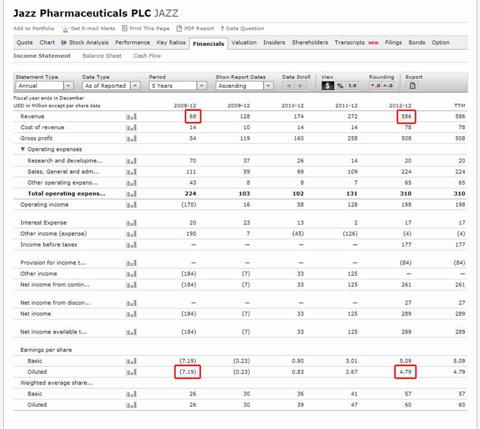 When we look at potential risks to the company's operations, we find that, where hope once sprung eternal, the future outlook for the company is doused with a healthy dose of skepticism. From management's own risk assessment, which was published in the most recent 10-K document, we learn that Xyrem, the company's largest selling product, accounted for an astonishing 65% of net product sales in 2012, and it accounted for an even more astonishing 88% of net product sales in 2011. Also noteworthy is the fact that revenue increases have been driven by periodic price increases of Xyrem.
XYREM is a prescription medicine used for the treatment of narcolepsy to reduce too much daytime sleepiness and reduce cataplexy (weak or paralyzed muscles) attacks. XYREM taken at night has been proven to help people with narcolepsy to stay awake better during the day and to have fewer cataplexy attacks.

Xyrem® is our largest selling product and our financial results are significantly influenced by sales of Xyrem, which accounted for 65% of our net product sales for the year ended December 31, 2012 and 88% of our net product sales for the year ended December 31, 2011, and our future plans assume that sales of Xyrem will increase. While Xyrem product sales grew from 2010 to 2011 and from 2011 to 2012, we cannot assure you that we can maintain sales of Xyrem at or near current levels, or that Xyrem sales will continue to grow. We have periodically increased the price of Xyrem, most recently in February 2013, and we cannot assure you that price adjustments we have taken or may take in the future have not already negatively affected, or will not in the future negatively affect, Xyrem sales volumes.

In addition to other risks described herein, our ability to maintain or increase Xyrem product sales is subject to a number of risks and uncertainties, the most important of which are discussed below, including those related to:

• the potential introduction of a generic version of Xyrem;
• changed or increased regulatory restrictions, including changes to our risk management program, and the terms of the final REMS documents, for Xyrem, or regulatory actions by the FDA as a result of, or related to the matters raised in, the warning letter we received from the FDA in October 2011 or the Form FDA 483 we received in May 2012, as discussed in more detail in the risk factors below;
• our manufacturing partners' ability to obtain sufficient quota from the DEA to satisfy our needs for Xyrem;
• any supply, manufacturing or distribution problems arising with any of our manufacturing and distribution partners, all of whom are sole source providers for us;
• the availability of reimbursement from third party payors;
• changes in healthcare laws and policy, including changes in requirements for rebates, reimbursement and coverage by federal healthcare programs;
• continued acceptance of Xyrem as safe and effective by physicians and patients, even in the face of negative publicity that surfaces from time to time; and
• changes to our label, including new safety warnings or changes to our boxed warning, that further restrict how we market and sell Xyrem.

Source: JAZZ 10-K (2012)
Conclusion:
At first glance, JAZZ appears to be an investment worthy of further consideration. Upon further review, however, an investment in the company appears more a gamble on the future of Xyrem rather than a calculated bet on the future prospects of JAZZ as a whole. Those who invest in JAZZ will, essentially, be placing all of their hopes for the company's future growth primarily on one product. Though this tactic may work with some companies (think all things iApple), it does not appear to be a viable strategy where JAZZ is concerned.
Though the company's other drug prospects may, in the future, prove beneficial to the company and to its shareholders, at this point in time, Xyrem still accounts for well over 50% of the company's total sales; and the drug's periodic price increases have accounted for the bulk of the company's revenue increases. Future prospects for increased sales of Xyrem would be much greater (sadly) if the drug were used in oncology (i.e. an area of medicine with greater need and more widespread usage), however, it is not. Thus, investing in JAZZ is a bet, primarily, on a single product rather than on the company overall. If JAZZ were to experience any problems with the sales of Xyrem (i.e. adverse patient reactions, generic alternatives etc.) then the company's future prospects may be severely compromised.
Disclosure: I have no positions in any stocks mentioned, and no plans to initiate any positions within the next 72 hours. I wrote this article myself, and it expresses my own opinions. I am not receiving compensation for it (other than from Seeking Alpha). I have no business relationship with any company whose stock is mentioned in this article.