We are buyers today. It may be foolish sounding, but our thinking is that the more foolish sounding it sounds, the better. For if this is a contrarian move then it shall work out and if simply a dip buy then just as good as every bull market climbs a wall of worry. We have two names picked out, and they are located in the article below. We have discussed them before and readers should be well aware of what they offer, thus our reluctance to dive too deep into their backgrounds this morning.
Commodity prices this morning are as follows:
Gold: $1386.50/ounce, up by $25.40/ounce
Silver: $23.53/ounce, up by $0.169/ounce
Oil: $88.24/barrel, down by $0.47/barrel
RBOB Gas: $2.7484/gallon, down by $0.0092/gallon
Natural Gas: $4.152/MMbtu, up by $0.015/MMbtu
Chart of the Day:
Gold and silver both got crushed yesterday, but silver we find interesting, especially as it has uses in industry. Gold is the precious metal and silver the industrial metal, yet both have been punished lately. Long-term investors have to be liking these prices, but so too are the bears.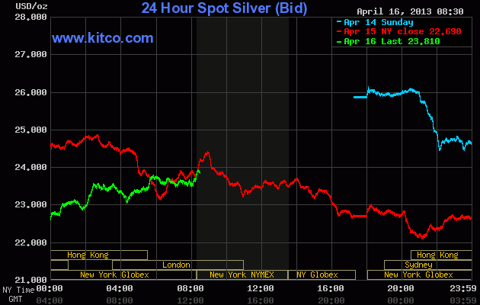 Chart courtesy of Kitco.com
Oil & Natural Gas
This morning we are looking at PDC Energy (NASDAQ:PDCE), which closed yesterday at $39.32/share after ending yesterday's session down $4.99 (11.26%) on volume of 1.1 million shares. As we have said many times, if this one were to sell-off and have a correction back down into the low $40s that we would be buyers, and the fact that we are now back in the high $30s sure looks like a gift to us. We have some retirement money, which just hit our account either last night or this morning and that shall be deployed this morning, with a healthy portion of it going towards PDC shares.
We like entering PDC once again at these levels and with the recent downturn in shares we think it might be the last time to open positions sub-$40/share.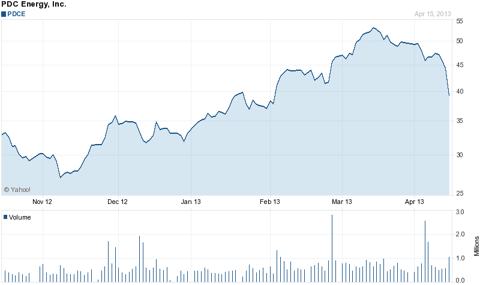 Chart courtesy of Yahoo Finance.
Second on our buy list was Halcon Resources (NYSE:HK) and should we be able to purchase an allotment of PDC shares, then our attention shall turn to Halcon, which like PDC is trading at a level well below that which we thought fair value just a few days ago. Volume on this name surged to 12.5 million shares and with the shares finishing the session down $1.21 (15.86%) to close at $6.42/share yesterday we think that it was panic selling and anyone willing to deploy some of their risk/speculative capital at these levels should do fairly well as it is an attractive entry point.
Gold
The gold names continue to get hammered, and after yesterday's move in the yellow metal it is more than understandable. Barrick Gold (NYSE:ABX) saw shares fall another $2.84 (12.56%) to finish at $19.78/share and it must be noted that the company has been able to string together a few sessions of down days in the $2 range...impressive when one considers the fact many of these names had already been beaten down to lows but quite painful for shareholders for sure. Our juniors have fared far worse, of course they are far riskier so that much is to be expected. Much of these losses and volume had to be the result of the ETFs and we will be watching our newsletters and those far more in the know to see if that is indeed the case.
Also having a rough go of it yesterday was Freeport-McMoRan (NYSE:FCX), which may have had perfect timing on their oil acquisitions. The diversification factor cannot be diminished and it may be able to minimize the potential blow to shareholders as bears are less likely to seek a fight with a diversified metals and oil play rather than seeking out pure plays. Shares were down $2.56 (8.30%) yesterday to close at $29.27/share, while also setting a new 52-week low, but the entire gold complex performed quite poorly yesterday and the metals plays were down on Chinese growth concerns...so it could have been far worse.
It has been a bumpy ride, but with the oil acquisition it seems that shareholders may be insulated from the worse of the gold correction that has taken place.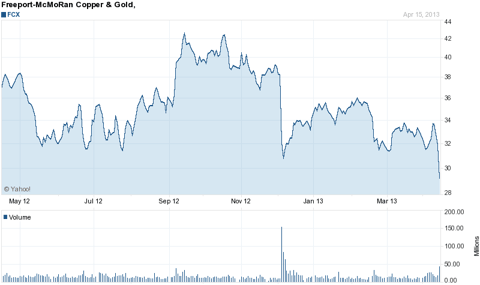 Chart courtesy of Yahoo Finance.
Coal
We have stated that we were stepping away from trading in the coal names as the price action had become unpredictable and performed in a manner, which we did not understand. When we do not understand something we step away, that is our rule and one, which we try to follow at all times. It appears to have paid off as shares across the sector have underperformed and our trading vehicles, such as Alpha Natural Resources (ANR), have failed to reach the points at which we would normally want to set up trades. These names will probably see a bounce up with the market on a rebound, but we still want readers to exercise caution, especially as the move in Alpha Natural yesterday, down $0.77 (9.73%), was nothing out of the ordinary but more ordinary than other moves taking place in yesterday's market. The volatility within this sector is pretty crazy right now and only for those with the strongest stomachs. We have the stomach, but also a desire to sleep at night (which would not be possible with our lack of feeling comfortable in being able to fully understand the situation), thus our reluctance.
We do not understand a whole lot here, but what we do understand is the formation of what appears to be a new downtrend at the tail end of this chart. Lower lows and lower highs...never a good mix, but typically a potent mix.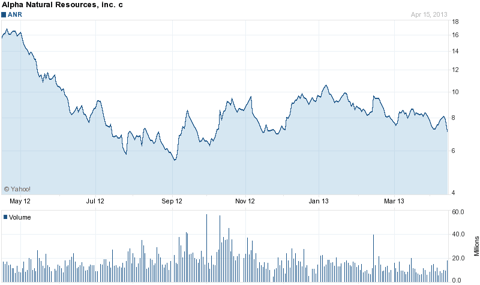 Chart courtesy of Yahoo Finance.
Disclosure: I have no positions in any stocks mentioned, but may initiate a long position in PDCE, HK over the next 72 hours. I wrote this article myself, and it expresses my own opinions. I am not receiving compensation for it (other than from Seeking Alpha). I have no business relationship with any company whose stock is mentioned in this article.