We believe that yesterday's move was nothing more than an overdone sell-off, with the possibility that a large hedge fund had to sell off assets to cover their bets or meet margin calls. Truly the market needed a shakedown and yesterday served as that with many of the riskier names being hit hard, especially those beneath the margin requirement thresholds and those very near it. It was most certainly a risk-off day, but that risk is now available at a much more attractive valuation than before and for those needing added risk, today would be the day to add some.
Chart of the Day:
The red line from yesterday says it all and it was a truly ugly day. The gold market came under pressure and with investment banks talking commodities lower we saw the entire market get hit and hit hard.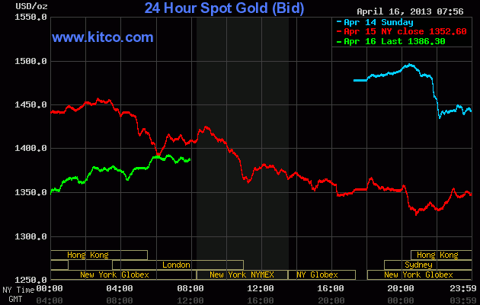 Chart courtesy of Kitco.com
We have economic news due out today, and it is as follows:
CPI (8:30 a.m. ET): -0.1%
Core CPI (8:30 a.m. ET): 0.2%
Housing Starts (8:30 a.m. ET): 930k
Building Permits (8:30 a.m. ET): 945k
Industrial Production (9:15 a.m. ET): 0.3%
Capacity Utilization (9:15 a.m. ET): 78.4%
Asian markets finished mixed today:
All Ordinaries -- down 0.46%
Shanghai Composite -- up 0.59%
Nikkei 225 -- down 0.41%
NZSE 50 -- down 0.60%
Seoul Composite -- up 0.09%
In Europe markets are lower this morning:
CAC 40 -- down 0.58%
DAX -- down 0.66%
FTSE 100 -- down 0.56%
OSE -- down 0.64%
Telecom
Before we get into our take on yesterday's market action and our thoughts on how it affects those sectors and stocks we follow we wanted to discuss the Sprint (NYSE:S) news yesterday. We wondered how long the DISH (NASDAQ:DISH) guys would sit around and let their offer for Clearwire (CLWR) stagnate and early Monday we got our answer. We find the deal to be a bit refreshing as it signals that deal making is alive and well. It has been quite some time since we saw companies making deals to venture into new sectors and that is exactly what is happening right now with deals such as this. This makes us bullish of the economy and the future as it should Sprint shareholders as well. Yes the deal with Softbank is pretty far along in the process of approval from the US government, but this offer creates value and only moves to help create further wealth for shareholders. This will be interesting to watch over the next few months, especially if DISH is able to assemble a meaningful stake in the company and/or Clearwire.
It has been a great run, and even though the DISH deal is a long shot, it created a ton of money for investors in Sprint yesterday...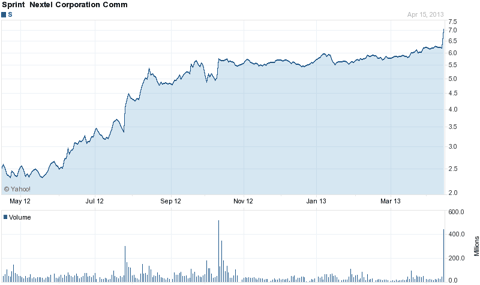 Chart courtesy of Yahoo Finance.
Retail
During yesterday's sell-off we were looking around for areas which should be selling off if investors were really worried about the economy and the economic cycle moving forward. We checked out some of our favorite names in the sector and noticed that many were doing just fine when compared to other names in the market, especially Home Depot (NYSE:HD) which finished the session at $72.23/share after falling $1.39 (1.89%) on volume of 8.4 million shares. As readers know, Home Depot is a play on retail and housing so the housing data out this morning shall be quite important in the short-term as it could go a long way in shoring up support this morning.
The Indicators
As readers know we have been watching quite a few sectors for hints as to where the market is going, and not one of them had given off any signals as to yesterday's sell-off. This has led us to believe that it was but a very large blip on the screen and something of a flash crash due to gold having broken support Friday and having all weekend for the bears to build up a negative narrative. The consumer goods names held in pretty strongly with Proctor & Gamble (NYSE:PG) only losing $0.43 (0.54%) to close at $79.65/share on the session and the other names which have helped lead us higher not finishing all that much further off.
The transports are another key sector, which readers will remember led the way higher when the market turned positive in late 2012. Since then the shares have performed quite well and have been able to continue the uptrend even with headwinds from some key segments of their business (think the coal shipping segment). With CSX (NYSE:CSX) down $1.04 (4.24%) to close at $23.47/share yesterday it does worry one, however our view is that these transportation names will be a bit more volatile due to concerns centering around China and the domestic coal industry. If China goes down, so too do the hopes for a rebound in domestic coal production which means less future coal shipments for the railroads. In short, what we saw yesterday we believe was an over reaction and nothing more.
Cliff Watching
This is a section we usually include in our commodity article, but today we thought we would include it here to give readers an idea of the punishment that the commodity names took yesterday, as well as show why the transports' move lower was not so bad in our view. We say this because Cliffs Natural Resources (NYSE:CLF), which has become something of a trading vehicle now, had just recently climbed back above the $20/share level until the last few sessions and yesterday was hit for another $1.59 (8.28%) to close at $17.61/share on volume just over 17 million shares.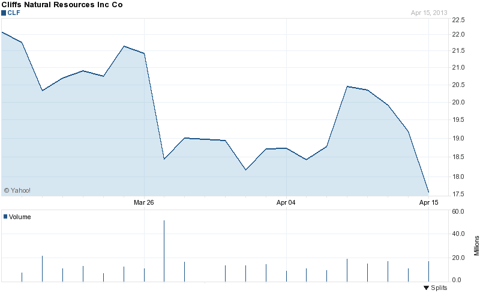 Chart courtesy of Yahoo Finance.
The shares hit a new 52-week low of $17.53/share and bounced around that level setting up a bit of support, although as we have cautioned before investors should not put much faith into these support levels being sturdy enough to hold/withstand much stress which is precisely the reason we are not buyers of this name or the others which are plagued by the same issues (bad management, poor outlook and awful sector).
Disclosure: I have no positions in any stocks mentioned, and no plans to initiate any positions within the next 72 hours. I wrote this article myself, and it expresses my own opinions. I am not receiving compensation for it (other than from Seeking Alpha). I have no business relationship with any company whose stock is mentioned in this article.