Introduction
It seems that in the accumulation phase especially, dividend growth investors have two primary options when it comes to channeling dividend payments: 1) Use the dividend to automatically purchase more shares of the stock from which it was paid, i.e. a DRIP (Dividend Reinvestment Plan) and 2) Accept the dividend payment as cash and wait until the stock's price drops to purchase more shares manually. Furthermore, if an investor is saving for retirement in a Roth IRA account, for example, additional cash contributions are likely to be coming in which also will be used to purchase shares. The investor is presented with a similar choice for channeling these contributions as he/she is with channeling dividends: 1) Invest the dividends automatically on some regular schedule (for example, at the same time as when a quarterly dividend is paid), and 2) Wait until the stock's price drops to purchase additional shares.
The back test results I present below demonstrate that for the stocks included in this analysis, collecting dividends to manually purchase shares on stock price dips compared to automatically reinvesting dividends is only marginally advantageous.
Methodology
A python script was written (similar to what I describe here) to back test two separate investments for three Dividend Champions: Colgate-Palmolive Co. (NYSE:CL), Target Corp. (NYSE:TGT), and Medtronic, Inc (NYSE:MDT). In both back test cases, $1,000.00 worth of shares are initially purchased on January 2, 2002, and $500.00 is contributed every quarter. In the dividend reinvestment case, dividends and the quarterly $500.00 contribution are invested on the ex-date (Yahoo Finance doesn't include pay-date data). In the dividend collection followed by manual reinvestment case, $500.00 is also contributed every quarter on the ex-date, but both this contribution and all dividends are held as cash until the buy criteria are met. These are the buy criteria I use for this analysis: All available cash is used to purchase shares on the first day on which the stock price moves below both the 50-day and 10-day simple moving averages (S-MA) and on which the 10-day S-MA is less than the 50-day S-MA. The following graph was generated using Yahoo Finance to help make this clearer. The 50-day and 10-day S-MAs are in red and green, respectively, with arrows indicating the purchase dates at which the buy criteria would have been met.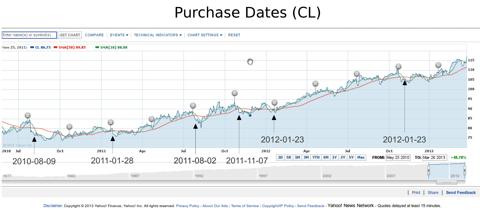 To summarize, the only difference between the two cases is in how the dividends and contributions get channeled: in the dividend reinvestment case, all dividends are reinvested along with the $500.00 quarterly contribution on the ex-date, whereas in the dividend/contribution collection case, all cash is saved until the buy criteria (what I use as a measure of a stock price drop) are met.
Results
In the following graphs, the investment value is plotted as a function of all days on which the stock market was open between January 1, 2002 and March 15, 2013. In addition, in order to visualize how much cash the dividend/contribution collection case has available at any time, available cash is plotted on the right hand y-axis.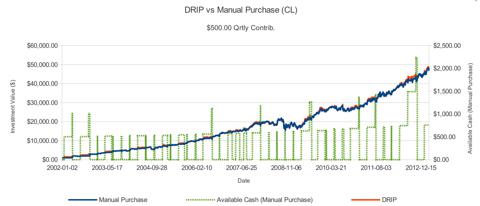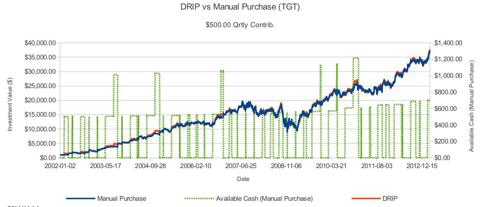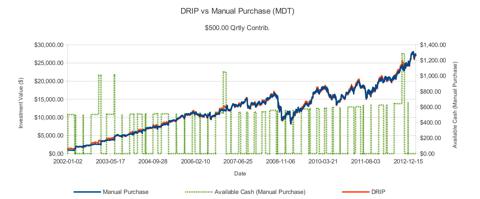 | | | |
| --- | --- | --- |
| | DRIP - Value on March 15, 2013 | Dividend Collection - Value on March 15, 2013 |
| CL | $47,311.68 | $47,412.15 |
| TGT | $37,103.33 | $37,278.81 |
| MDT | $26,835.87 | $27,036.17 |
Conclusions
The graphs and table above demonstrate that a strategy involving collecting dividends and contributions and using them to purchase shares on stock price drops yields an only marginally higher total return than an automatic DRIP coupled with quarterly share purchases at the same time that dividends are reinvested.
One important thing to consider is that my analysis only back tests a portfolio with one stock. This is important because before the buy criteria are met, the dividends and contributions earn no interest, reducing the total return, whereas a portfolio with additional stocks has the potential to have another dividend stock that meets the buy criteria when cash becomes available. I included the available cash on the graphs above (green line, right hand y-axis) to give a sense of how long the cash builds up while earning no interest; in a portfolio with more stocks, the cash would likely be invested sooner and this would increase the total return. Determining whether or not this would make a significant difference would require more back testing.
Notes
1) The program was written in python using Spyder 2.1.10
2) matplotlib.finance modules were used to fetch and parse stock price data from Yahoo Finance
3) The graphs were generated using LibreOffice
4) The CL chart was generated by Yahoo Finance
Disclosure: I have no positions in any stocks mentioned, and no plans to initiate any positions within the next 72 hours. I wrote this article myself, and it expresses my own opinions. I am not receiving compensation for it (other than from Seeking Alpha). I have no business relationship with any company whose stock is mentioned in this article.