Yesterday was the worst day for the Dow Jones Industrial Average so far this year with the bellwether index falling 265 points. We saw nearly every sector of the market get beaten down for 1% or more which left many traders screens bathed in red across the board.
Despite that thorough drubbing, many sectors have rebounded significantly today to nearly erase yesterday's losses. Specifically I have been closely monitoring the defensive equity income sectors such as Utilities Select Sector SPDR (NYSEARCA:XLU), iShares Real Estate ETF (NYSEARCA:IYR), and Consumer Staples Select Sector SPDR (NYSEARCA:XLP).
Looking at charts of all three of these sectors below we can see a very strong upward push on the High/Low/Close bars since yesterday's lows. When a stock or ETF makes a very long bar followed the next day by an immediate reversal, this pattern is known as "train tracks" in trading slang.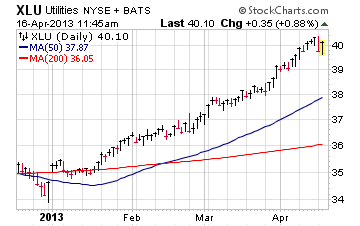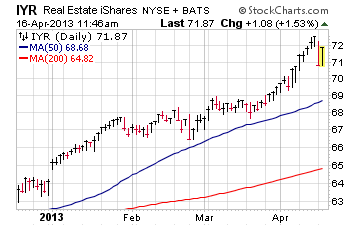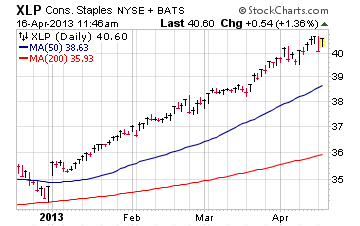 This strength suggests that there is still a healthy appetite for sector rotation out of higher volatility stocks like Energy Select Sector SPDR (NYSEARCA:XLE), Materials Select Sector SPDR (NYSEARCA:XLB), and Consumer Discretionary Select Sector SPDR (NYSEARCA:XLY). Investors appear to be losing faith in these cyclical stocks as we have seen widespread selling across the board in commodities like gold, oil, and other natural resources.
During times of volatility like this we often see a flight to quality in terms of money moving to more income oriented equity sectors that pay healthy dividends and tend to be less price sensitive. Another equity income ETF that has held up very well over the last few days is the iShares U.S. Preferred Stock ETF (NYSEARCA:PFF).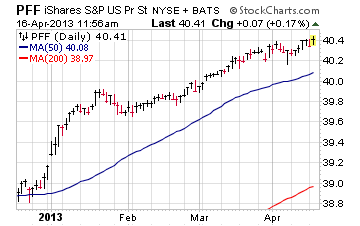 The chart above shows how PFF only pulled back slightly yesterday and has pushed to new highs today. I recently wrote an article about how preferred stock ETFs work and the benefits of adding them to an income portfolio.
The Final Word
Whether or not we are starting to see signs of a market top remain to be seen, but there is clear evidence that dividend ETFs are not going to go quietly. We are still seeing strength across the board in sectors that provide strong dividend streams and low volatility. I believe this speaks volumes about the need for real return in a world of zero interest rate policy.
Disclosure: I have no positions in any stocks mentioned, and no plans to initiate any positions within the next 72 hours. I wrote this article myself, and it expresses my own opinions. I am not receiving compensation for it. I have no business relationship with any company whose stock is mentioned in this article. David Fabian, Fabian Capital Management, and/or its clients may hold positions in the ETFs and mutual funds mentioned above. The commentary does not constitute individualized investment advice. The opinions offered herein are not personalized recommendations to buy, sell or hold securities.