Life is 10% what you experience and 90% how you respond to it. -- Dorothy M. Neddermeyer
What kind of investor are you? During yesterday's sharp sell-off did you dig out your "shopping list" and put some cash to work by buying bargains? Did you sell into the decline or were you paralyzed by the huge increase in volatility? Hopefully we had a lot of shoppers out there Monday who took advantage of the largest equity decline of the year. As my regular readers know, I have been expecting a decent decline in the market for several weeks and took advantage of the turmoil yesterday to add to positions in several cheap, large-cap stocks that I expect to trade higher over the next year.
For those without a shopping list, let me share some of my core holdings for the next pull back that make good bargains when the market inevitably panics. It really is as easy as ABC.
A Is for Apple
Apple (NASDAQ:AAPL): One of the stocks I added some news shares on yesterday was Apple. The stock is starting to established solid technical support around the $420 level (see chart below) and the stock has bounced off this support a couple of times already. Also, the shares are dirt cheap at 6x earnings, once you subtract the approximate $140 billion worth of cash and marketable securities on its books.
The company is still projected to grow revenues in the mid-double digits annually over the next two years and the stock has a minuscule five-year projected PEG (.51). Finally, it should announce at least a 50% dividend hike when it reports earnings next week. This will take the stock's yield north of 3.5% bringing in income investors.
Click to enlarge images.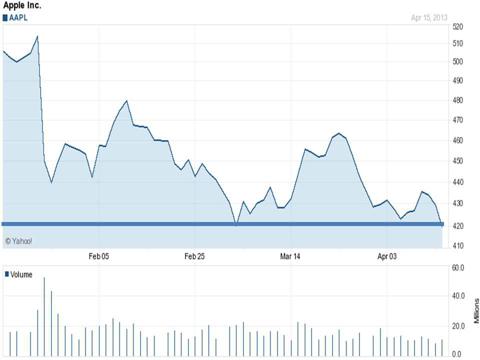 B Is for Bank of America
Bank of America (NYSE:BAC): I also added to my core position in Bank of America yesterday. It is the last of the major banks to report first-quarter results this week. I expect its first quarter to be in line with those already reported by JPMorgan (NYSE:JPM), Wells Fargo (NYSE:WFC), and Citigroup (NYSE:C). The stock is the cheapest of the four by book value (59%). Its business and credit quality should continue to improve on the back of a housing recovery that just saw a report of 1 million housing starts for the first time since the financial crisis.
The stock sells for 9x 2014's projected earnings. I also expect it will be allowed to substantially increase its dividend payout over the next two years. I have had the shares since they were priced at a little over $5 a share in late 2011. They are now at $12 and I expect them to get to $20 a share over the next two to three years, which would get the stock to its current book value.
C Is for ConocoPhillips
ConocoPhillips (NYSE:COP): Finally, I added shares to this oil and gas giant. At $57 a share, an investor is getting an almost 4.5% yield for 8.5x trailing earnings. The stock is even cheaper on an operating cash flow (OCF) basis where the shares go for around 5x OCF. The company has an A-rated balance sheet and has doubled its dividend payouts over the past seven years. Conoco should also be a more focused E&P concern now that it has spun out its refinery assets through the IPO of Phillips 66 (NYSE:PSX). Credit Suisse recently raised its price target to $70 from $65 a share on COP and believes the company could also eventually "monetize the logistics assets within the business via an MLP without sacrificing control."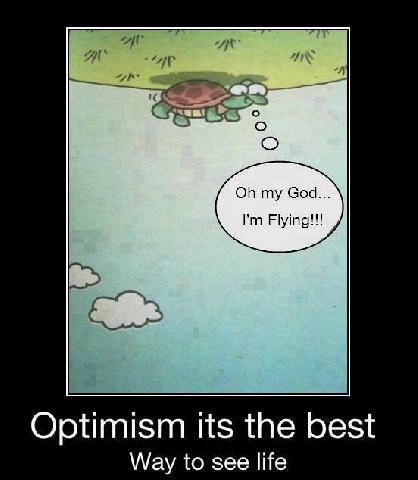 That is a quick look at some of the core names on my "shopping list" that I bring out every time the market has a major hiccup like Monday. I encourage all investors to develop their own lists to be ready for the next bout of inevitable panic in the market. Be prepared, be optimistic and prosper.
Disclosure: I am long AAPL, BAC, COP. I wrote this article myself, and it expresses my own opinions. I am not receiving compensation for it (other than from Seeking Alpha). I have no business relationship with any company whose stock is mentioned in this article.