Ahead of its 1Q09 earnings report on Monday, Discovery Communications (NASDAQ:DISCA) announced a joint venture and re-branding of its Discovery Kids Network. A 50/50 joint venture with Hasbro (NASDAQ:HAS) will lead a re-naming and re-programming of the U.S. network. Kids will continue to operate as is in international markets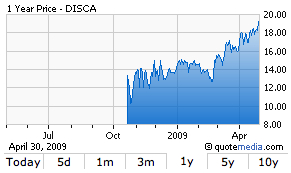 According to SNL Kagan, Kids currently reaches 63.4 subscribers and produced $83 million in revenue and $32 million in EBITDA in 2008. Advertising represents 47% of revenue. Affiliate fees run 6 cents per month but are set to bump to 7 cents in 2011. Anthony DiClemente of Barclays believes EBTIDA in 2008 was in the range of $10-20 million.
Under the terms of the deal Hasbro will contribute $300 million in cash and Hasbro.com. In addition, Hasbro is going to make a separate investment to establish a creative team. Programming will draw on current Kids content but mostly be geared to the Hasbro brand including G.I. Joe and Transformers, both of which will be in movie theaters this summer.
It is probably safe to assume virtually all of the $300 million investment is value for cable network. This implies a $600 million value. DISCA's current 100% share is worth around $350-400 million if Kagan estimates are correct, but just $96-$130 million if Barclay's cash flow forecast is accurate.
As a result, receiving $300 million in cash for 50% of the network looks like a very good deal for DISCA.
1Q09 Earnings Due Monday
I expect a strong earnings report from DISCA on Monday. The last two quarters were positive surprises and greeted warmly by investors. DISCA shares are 15% above their pre-crash levels, a truly extraordinary performance for any stock but especially one so tightly tied to advertising trends.
A key to Monday's report will be advertising trends, which will clearly decelerate form 2H08. If domestic and local currency international advertising remains in a positive territory it will be very god news.
I also look for further upside in margins which have been expanding greatly under the current management team and ticked up a level since the company restructured last September from a tracking stock to an asset-based company.
DISCA shares are trading at a well deserved premium to other TV advertising sensitive companies. Additional upside surprises are probably necessary to kick the stock up another 20%. I think that is a distinct possibility.
The shares are also supported by takeover potential as the company would be a superb fit with the big entertainment conglomerates.